focusing on flexibility but not in the traditional sense for office chairs, the VITRA 'rookie' by konstantin grcic removes complicated levers and, instead, encourages versatile use with only a minimal number of adjustments. the small, simple design's seat and backrest are height-adjustable, offering a high level of immediate comfort for spontaneous use. as such, the chair is suited for modern offices as an object for many to use, rather than as one person's work chair.

the super flexible office at VITRA work 2018 features grcic's 'rookie', 'stool-tool', 'hack' and 'scala' designs
all images courtesy of VITRA
first revealed at orgatec 2018, the VITRA 'rookie' shares an aesthetic connection with their 'allstar' chair, which was also designed by konstantin grcic. both designs display a refined and organic style, with the new chair simply sculptured to support the necessary parts of the user's body. it is composed of a gas-assist injection molded plastic seat shell that is only available in two colors: light and dark gray. in contrast, the chair is available in a selection of various fabrics, making each piece different in a flexible office space.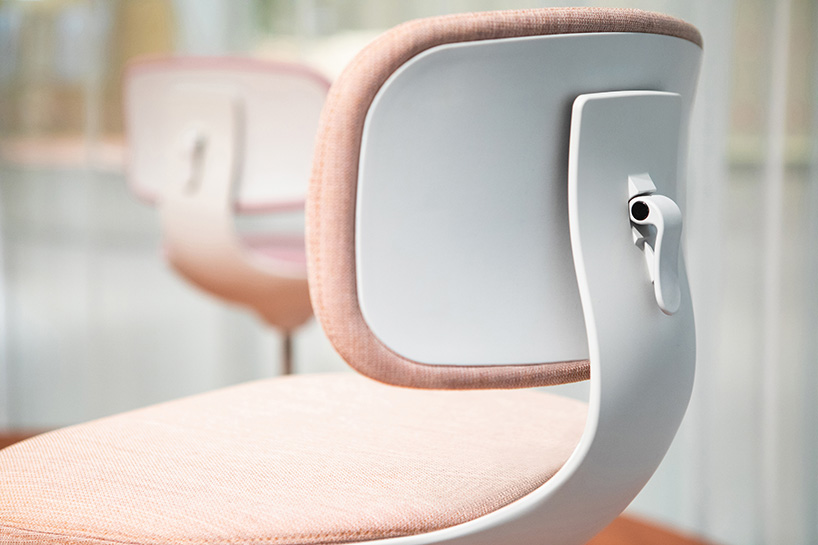 copyright VITRA, creator: dejan jovanovic
at the debut of 'rookie', designboom visited orgatec to experience the VITRA 'work 2018' project. the chair featured in the super flexible office concept, also designed by konstantin, where we interviewed the designer.
designboom (DB): after many years of collaborating with VITRA to develop concepts for flexible working, how was 'rookie' the natural evolution for this partnership?
konstantin grcic (KG): almost a few weeks after orgatec 2014, where VITRA and I launched the 'allstar' chair, I had drawn the basic outline for the new 'rookie' chair. we were very happy with the 'allstar' and the specifications it met, but, at the same time, I knew how many other ideas we wanted to explore. I believed that there was a need for a much simpler chair with only the necessary functions. VITRA and I started developing 'rookie' with these ideas and knew that it would fit environments such as educational buildings and young, flexible offices.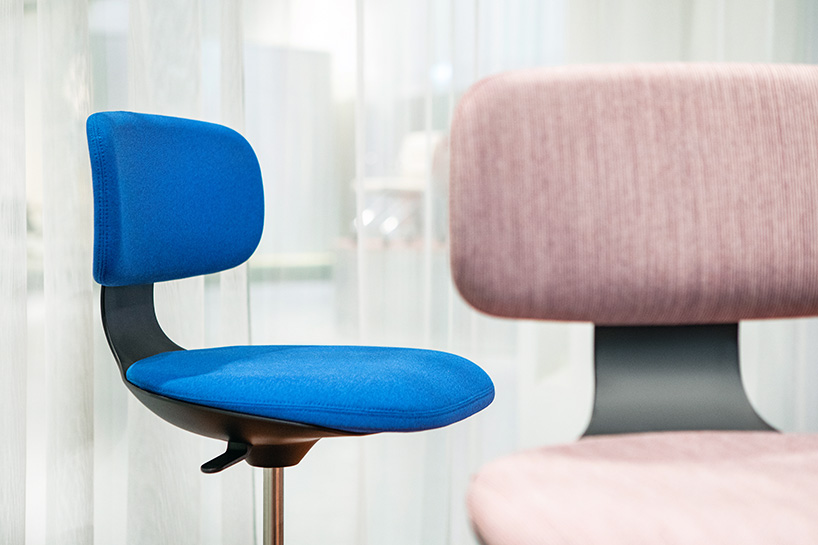 copyright VITRA, creator: dejan jovanovic
DB: with the product taking four years to complete, what was the development process like?
KG: for such a simple product, you could question why it took four years to develop. in the end, I am very glad we took this time to go through the necessary evolution. if not, the chair might have looked the same but be made differently, with less technical refinement, and thus a higher pricing. the development time helped us rationalize the design. the result is beautifully executed and exactly as we wanted.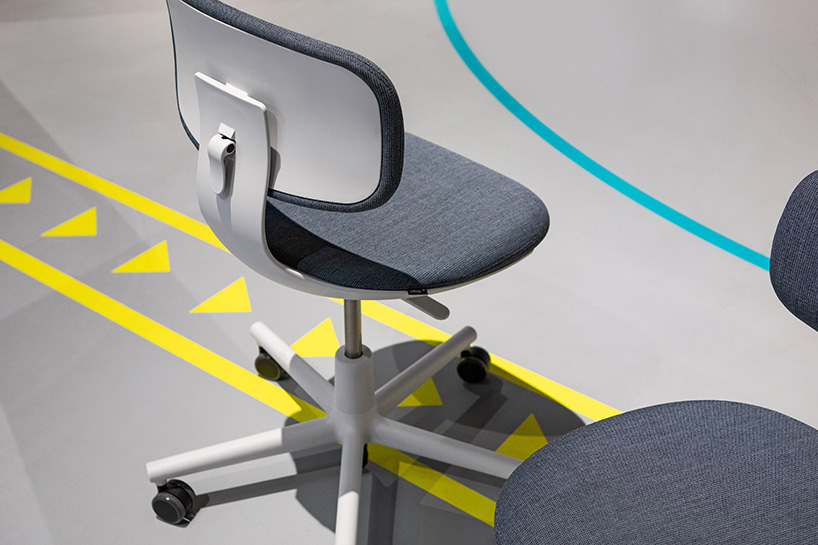 copyright VITRA, creator: dejan jovanovic
DB: as part of VITRA 'work 2018', can you explain what the super flexible office is?
KG: the idea of the super flexible office is basically the empty space. it features items from the VITRA catalogue – including my own – that are either on wheels or lightweight and stackable. users can fill it, create certain scenarios that they need, and then change them again by clearing the space for something completely different. at one moment, an area – like the 'scala' sofa – could be a workspace, an auditorium or a place for relaxation and presentations.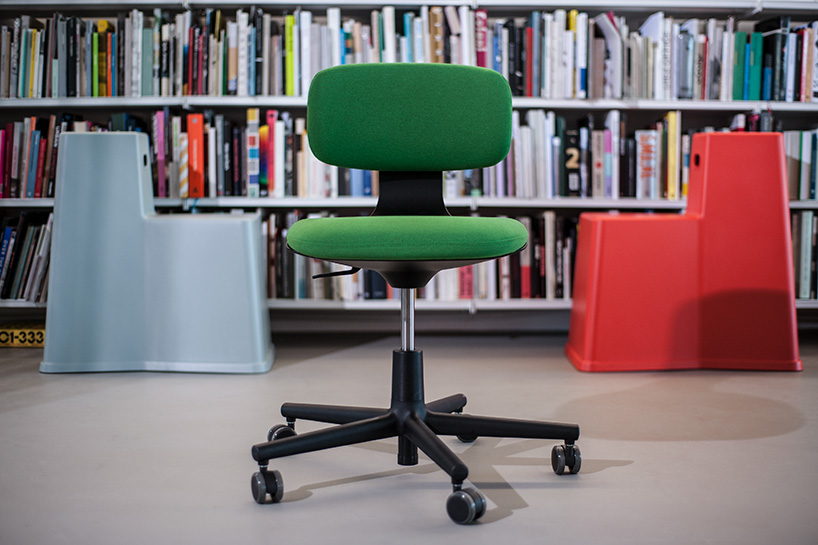 DB: how does the design of the 'rookie' fit into working scenarios like the super flexible office?
KG: naturally, 'rookie' fits a flexible space. it has been designed as an office chair that is used by more than just one person during a regular working day. every person needs to adjust a work chair differently. with 'rookie', users can only adjust the height of the seat and backrest. these two things are easy enough for someone to change for themselves. a lot of office chairs have become completely overloaded with functions. as a result, people end up sitting on chairs that are completely wrongly adjusted because nobody knows – or simply couldn't be bothered to use the leavers and buttons correctly.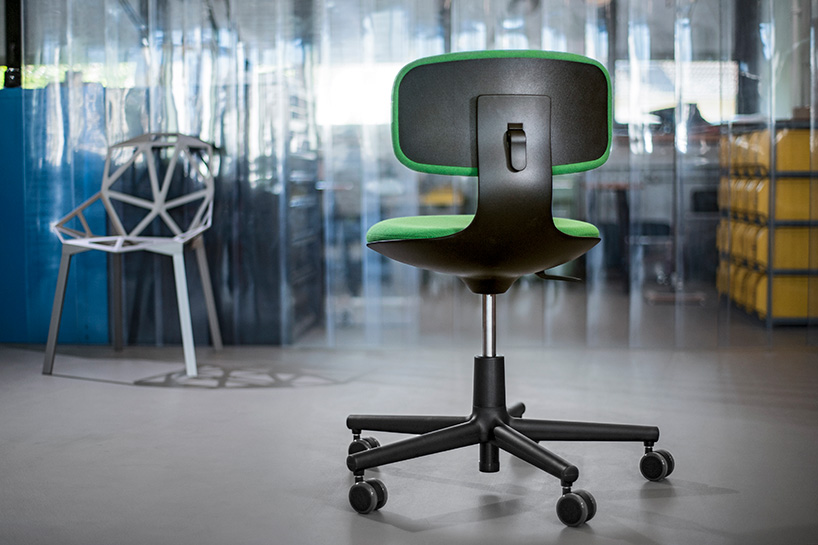 DB: with only two variants of the chair, what customization options are available?
KG: determined to create a very simple yet uncompromisingly high-quality chair, we deliberately cut down on variety. 'rookie' comes in two different heights: the normal desk chair and the higher counter model for working at standing height. the structural parts are available in either black or light gray plastics – whilst the upholstery of seat and backrest can be very varied. the chair has no armrests or other add-ons. I think the 'rookie' is complete as it is.

konstantin grcic discussing the 'rookie' chair whilst sitting on the 'stool-tool'