The phrase "utility fabric" doesn't exactly have the cozy connotations of "cashmere blanket" or the sheer decadence of "silk sheets." But don't let the moniker deceive you—these oft-overlooked fabrics can add pops of visual interest throughout your home. Best of all, they're inexpensive and as durable as the day is long.
Yep, we're talking about burlap, dropcloth, grain sacks, denim, and more—and these utility fabrics are ready to make the leap from workaday duties to a starring role in your home decor.
"These tough pieces are a great deal for the money and can be picked up at Lowe's, Home Depot, and on Amazon," says Jeanine Boiko, a home blogger at Okio B Designs and a real estate agent with Exit Realty Gateway in Wantagh, NY.
And let's be honest: Your home takes a beating from kids, pets, and guests of all kinds—so why wouldn't you incorporate utility fabrics wherever possible? (Especially in the most trafficked areas, where sticky fingers tend to graze.)
Here's how you can use these hardworking fabrics at home.
Burlap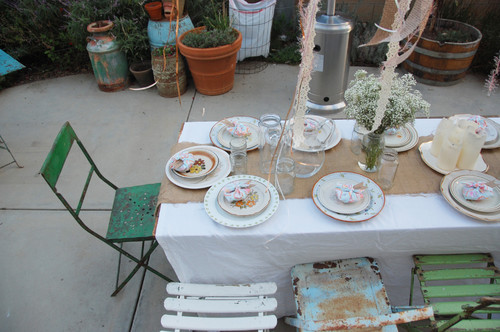 Photo by Rubyellen Bratcher 
Burlap is a favorite for designers who want to infuse a home with a farmhouse-chic vibe. This material, which comes in varying shades and textures, takes well to fabric paint and stencils to create place mats, shower curtains, valances, and table runners.
A word of caution, though: "Burlap can have a smell to it, so it's best to air it out before using it inside," Boiko says.
Want to DIY a bulletin board to hold takeout menus and calendars? Add padding or foam to a piece of plywood and cover it with burlap and decorative ribbon in a crisscross pattern, says Karen Gray-Plaisted of KGP Design Solutions.
You can also lay strips of burlap in picture frames and use pushpins to attach photos inside, suggests Sarah Hollenbeck of Offers.com.
Or take it outside: "Wrap burlap around your outdoor potted plants for a minimalist look," she says.
Dropcloth
Photo by Mustard Seed Interiors 
This sturdy, neutral fabric looks like linen, but is only a fraction of the cost. Pick it up at the hardware store to upholster furniture, hang as curtains, or craft a sink or bed skirt.
"This material is coarse, so bleach it first to soften it up," says Boiko, who turns dropcloth into pillows.
Jason Oliver Nixon, co-founder of the design firm Madcap Cottage, installed dropcloth curtains in his Brooklyn basement.
"It was a great, inexpensive way to bring utilitarian style to a hardworking space," he says.
Dress up the dropcloth with inexpensive grosgrain ribbon trim, he adds—your tailor or seamstress can layer this into the mix easily.
Dropcloth can also be draped over a gazebo or pergola, offering protection from the sun and rain, Hollenbeck notes, and can be used to cover all-weather cushions.
Muslin
Photo by Prairie Home Styling 
This lightweight cotton is usually an afterthought in the fabric world, reserved for cutting out sewing patterns. But because it takes well to dye and stamp patterns and is easy to piece together, DIY homeowners use it everywhere.
Put muslin to work on slipcovers for chairs or as a casual shower curtain in the kids' or guest bath.
Denim
Photo by Rentfrow Design, LLC
Got teens? These kids lounge all over the home, so covering furniture with denim (or its softer cousin, chambray) is a smart move. A wardrobe workhorse, this material wears well and washes up easily, making it a prime candidate for bench covers, place mats, pillows, and rugs.
Grain sacks
Photo by Dreamy Whites 
Typically off-white, with a red or blue stripe or the name of a farm, grain sacks are coveted flea-market finds for their vintage appeal.
"One of my friends grew up on a rice farm and used the grain sacks as pillow covers, which fit in nicely with a relaxed, bohemian style," recalls Drew Henry of Design Dudes.
Grain sacks make for excellent chair cushions, tote bags, and stair runners, too. Not handy with a sewing machine? Wayfair has a wide selection of grain sack pillows to brighten beds and couches.
Linen
Photo by Honka UK Ltd 
Nope—we're not talking about fancy linen here. Instead, seek out the less expensive variety at home goods and fabric stores. Breathable and durable, linen is best in the bedroom (duvet covers, shams, window treatments), but keep in mind that wrinkling is a factor with this material.
Ticking
Photo by Schroeder 
Durable ticking is a cotton or linen textile known for its simple stripes with a tight weave. It's usually used to cover mattresses and bed pillows to prevent down feathers from poking through. But you can use this fabric elsewhere!
It's perfect for a French country kitchen (window panels, breakfast bench cover) and in kids' rooms, used as bed skirts or covering comforters and headboards.