So what is Happy Place? That's the question I've had to answer after going for a 10 a.m. slot on Saturday.
In a nutshell, it's a traveling sensory exhibit and giant photo booth currently in a warehouse in the Riverwest neighborhood of Chicago. The website claims that it spreads happiness by surrounding people with all things happy: larger than life size installations, multi-sensory immersive rooms and dozens of moments. So I visited the place with two friends for a day trip to Chicago to see if I really felt happier afterwards.
From the outside, besides the giant happy face in front, the building is plain and doesn't look too exciting. But as soon as you walk through the front doors, you are greeted with loads of color, sparkles, bright lights and all things goofy.
We received free M&Ms in the first room, which had giant high-heeled shoes made of "candy." The second room had palm trees with silly faces, and the third room was basically a party room. Streamers, strobe lights and rainbow disco lights joined us as we danced to music. Next were three smaller rooms in a row – the first with loads of tiny mirrors on the wall, the next with dozens of chains hanging from the ceiling, and the third a yellow tub with plastic balls inside and rubber ducks on the walls.
After that was an upside down room – bedroom decor on the ceiling of the room – so you could pose on the floor and then flip your photo upside down to make it appear as if you're on the ceiling of a normal bedroom.
With the free candy at two locations and taking some pretty goofy photos with my friends, I would say I was having a pretty happy time. I was laughing, making weird poses, and enjoying the excitement of what sensory exhibit was next. While most exhibits were easily photographable, the one complaint I had was that the room with the flowers and diamonds hanging from the ceiling was too dark. The photos didn't come out well and there were too many spots allowed where people could stand. I was always seeing heads of people photobombing my pictures in that room.
I won't spoil the surprise of the rest of the exhibit, because part of the fun is not knowing what'll be in the next room. But I will say that my favorite part was probably jumping off a smiling rainbow platform into a pot of gold ball pit. I haven't jumped into a ball pit since I was a kid, and since then, ball pits have become seemingly obsolete. Plastic balls weighed me down, making it difficult – but fun – to move around.
Near the end of the exhibit it had a small food stand, with a rainbow of drinks, unicorn cotton candy, rainbow unicorn mac 'n' cheese and rainbow grilled cheese. So yes, a lot of rainbows and unicorns. We tried the grilled cheese and the mac 'n' cheese, and while they were delicious, they just tasted like normal mac 'n' cheese and grilled cheese. The colors were purely for aesthetic purposes.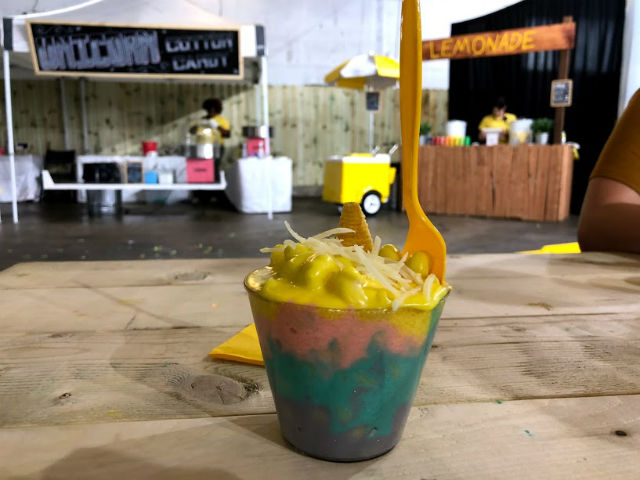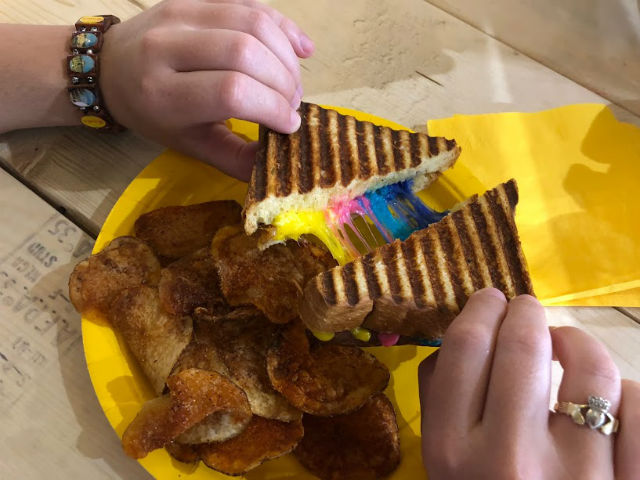 The lines did get long at times waiting to take pictures or jump into the ball pit, but it wasn't too bad. Generally you move throughout the rooms pretty quickly – and once you leave one room, you aren't allowed to go back, which was a plus for avoiding crowds.
At the end, when I walked out of the exit doors, I had a smile on my face big enough to rival the one that greeted us at the entrance. So yes, I'd definitely say I walked out of Happy Place feeling happier.
Interested in finding your own happy? Happy Place is in Chicago until Sept. 3! For information and tickets, check out its website.