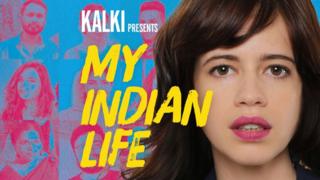 Long before television brought moving images to our homes, there was radio.
As a child growing up in the eastern Indian city of Kolkata (formerly Calcutta) in the 1970s, I remember my mother always had the radio playing in the background as she did the house work.
It was the size of two bricks and the state-run All India Radio was her prime source of entertainment. She got her news from it and heard Bollywood songs on it. On the nights my father would be away travelling on business, my sister and I would get into her bed and the three of us would together listen to Hawa Mahal, a hugely popular programme which aired fictionalised radio dramas.
Though television made its first appearance in India in 1950, it invaded our homes only in the 1980s. We huddled around TV sets watching soaps, Bollywood films and songs; and radio was relegated to the sidelines.
Listen to Kalki Presents: My Indian Life
But over the past two decades, the internet has created yet another shift in how we access content – younger generations consume most of their content digitally.
In the print industry, magazines and newspapers are being displaced by websites, books are being replaced by e-readers, video is being streamed on YouTube, Netflix, Hotstar and Amazon Prime, and audio is being played on music apps.
To get a sense of how plugged-in young Indians are, you need not go far. On the Delhi Metro, thousands of young men and women are glued to their smartphones, with their earphones plugged in. Some are watching videos, but many others are listening to audio content.
And as we launch Kalki Presents: My Indian Life, the new BBC World Service podcast, we are focused on these millennials.
The potential is huge. India is a young country – of its 1.2 billion people, about 600 million (or more than half of the country's population) are under 25 years old; and more than 423 million (or one in every three Indians) are between 15 and 34 years of age. There are 450 million smartphone users and 414 million internet subscribers. And by the end of 2018, about 530 million Indians are expected to own smartphones.
The sheer numbers, says journalist and writer Snigdha Poonam, makes young Indians "important for the futures of their own country and that of the world".
Poonam wrote a book called Dreamers that came out at the start of the year. It's about the challenges the youth face – and present.
"This generation is a bundle of contradictions and lives between extremes," she told the BBC.
The Indian woman using her body to fight for equality
The man who fought to be a belly dancer
"They are more connected and global than ever, they are concerned about the place of India in the world and their own place in the world. They are raised with the cultural values of their grandparents, but the life goals of American teenagers: money and fame."
They have dreams and expectations, they have worries and concerns; they are ambitious and believe that they are born for bigger and better things; they can be India's biggest asset, but they also have the potential to be its biggest liability if their expectations are not addressed properly, she says.
It's stories of these dreams and expectations, and worries and concerns, that My Indian Life explores.
"I'm bringing you the most amazing stories about young Indians for young Indians. Some of the stories are uplifting but some are pretty raw," Bollywood actor Kalki Koechlin who's presenting the 10-part series said.
"I won't be shying away from tackling some pretty tough subjects – sometimes ones that you or people you know might consider to be taboo. I'll be lifting the lid on some issues that matter to young people in India today."
Although aimed first and foremost at young Indians, the podcast will appeal to anyone interested in compelling stories about issues facing young people around the world.
The series tackles issues of family conflict, sexual abuse, harassment, caste discrimination, victim shaming, body insecurity and the controversial subject of sex education.
It also includes incredible and uplifting stories, including a woman who talks to Kalki about the crucial role she had in India's space mission to Mars, and a musician's determination to succeed against all odds.
Durga Raghunath, CEO of Indian Express Digital, says podcasting in India is at a very nascent stage and though there has been some programming in the non-music audio content space over the past couple of years, the entertainment genre still dominates.
We still have a long way to go, she says, but there is huge potential for news, information and storytelling in the digital audio landscape.
The first episode of Kalki Presents: My Indian Life will be launched on Saturday 4 August 2018, with a new episode released each week and there will be ten episodes in this series