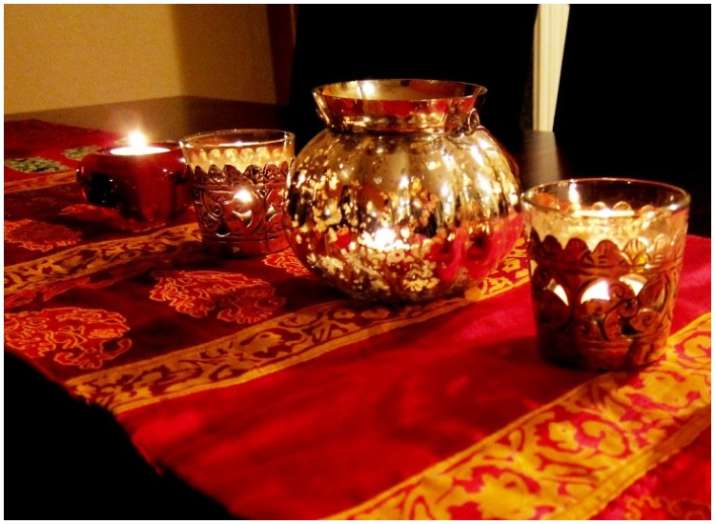 Decorating homes for the festive season ahead uplift our spirits and sets the mood for the year of festivities. So let's add the right spark and colour to our home while adding few accessories this season.
Well, we did the needful. We have doled out six easy tips to make your abode festival ready!
Add light with hanging lamps
Hanging lamps always create an oriental atmosphere. It is energising to see these lamps on a terrace, balconies or entrance foyer areas or even in room corners. There are cork finish, cement finish, textured handmade paper lamps and plastic fibers and jute paper lamps.
Tip: Lighting diyas is another most ancient custom in India. When there was no electricity, diyas were used to brighten up the homes.
Brighten up with matt gold
With festive season and Diwali round the corner, sprinkle some shimmer. This season, you can experiment with bolder colours like deep red, burnt orange and sunny mustard. Pair these up with cushions in woven textiles and traditional motifs like paisleys. Try to use matt gold. It's all about mixing of pastel colours with matt gold, matt champagne and matt rose gold with blush pink.
Wall decor is mandatory
Decorative mirrors and art are easy options for dressing the walls and accessorising corner tables and consoles. You can also try wall art which is the latest home decor trend. A wall of the room exhibit most of the personality and adds little drama to life. 
Also Read -Wall art is the new trend, 5 home decor tips for happy homes
Paint a pop of colour
Sometimes a little contrast can do amazing things. If your room is feeling stale and monotonous, go and pick a colour that contrasts with the colour scheme you have been witnessing for a long time in your space. 
Add layer to your lighting
Lighting is the one of the most important features in a room. Home or office requires the correct amount of and relevant light. Bathrooms where we groom need ample lighting especially around the mirror. Table lamps, floor lamps, elaborate ceiling lights can serve the purpose of light and aesthetics. Kitchen area should be lit, the artwork should be highlighted.
Also Read -Lighting trends to jazz up your home in 9 easy-to-do ways
Corner has to be eye-catching
The best way is to declutter and then start filling again. You would be able to junk a lot of stuff and fill corners or blank spaces very creatively with various sized frames, lamps and so on.
Tip: A collection of antiques and figurines kept in one corner can look very impressive. It can be an assortment of colours, sizes and so on.
So, this festive season make sure you are adding spark not just to your clothes but homes too!
(With IANS Inputs)
For latest Lifestyle updates, check out our Facebook page!
Also Read -7 things to keep in mind before shopping online home furniture
Also Read -How to naturally purify home and office air
Also Read -Turn-down these 5 myths around traditional home cleaning