People rotated in and out of Rep. Bob Goodlatte's office. They expressed their gratitude for working with him over the years. They posed for photos with him. One woman pulled out a picture that ran in a newspaper and had him sign it.
"They took his name off the sign outside of his office," another woman mourned.
Papers, books and decorations filled boxes scattered about Goodlatte's office at the Rayburn Building in Washington. A coffee pot and props used for presentations on the floor of the House of Representatives filled a dumpster. Goodlatte tried not to let anyone leave without offering something from his office. The going-away gifts included art depicting farms and rural towns. It all needed to go by the end of that week, the last in November. Someone else soon would move in to his coveted office with a view of the Capitol.
"I've had more than a year to prepare for this," Goodlatte, 66, said, smiling. "I'm ready to move on to something new."
After 26 years, Goodlatte is leaving Congress as the longest-serving representative of Virginia's 6th District, which stretches from Roanoke through the Shenandoah Valley. A mainstream conservative, Goodlatte spent the first half of his political career helping other Republicans get elected until he decided he wanted to run himself. He became a major player in Washington, chairing two committees — Agriculture and Judiciary — and emerging as a leader in technology and patent reform as well as landing a seat at the center of national debates on immigration, criminal justice and government collection of people's data.
"There's plenty of good work that has been done, and I've been honored to be a part of it, and there's plenty of good work that can still be done," Goodlatte said.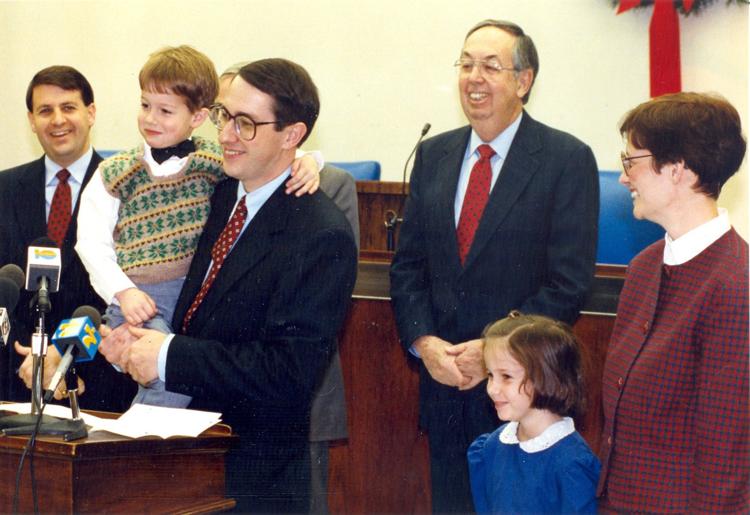 Serious policymaker
When Republican Rep. Lamar Smith talks to high school students in his district in Texas, he names Goodlatte as the ideal member of Congress.
"It's somebody who is knowledgeable, persistent, cheerful and a strategic thinker, and Bob has all of those attributes," said Smith, who's
been Goodlatte's closest friend in Congress and his tennis doubles partner.
Goodlatte is a policy wonk. It's what he says he'll miss most when he leaves Congress.
"There are so may show horses up there in Washington, but he's a workhorse," said Robert Hurt, who served as the Republican representative of the neighboring 5th District for six years, starting in 2011. "He would dig into the policy and care deeply about the policy."
Rep. Collin Peterson, a Democrat from Minnesota, said Goodlatte earned the respect of his colleagues because he knew what he was talking about and could articulate his arguments.
"In this place, for the people who are serious legislators, that's a very important thing," he said.
Goodlatte quickly carved out a niche in technology. He joined the congressional internet caucus co-founded by Rick Boucher, who represented the neighboring 9th District for nearly three decades and teamed up with Goodlatte on numerous technology issues.
"Rick and I recognized that the internet was like the railroad was in the 19th century," Goodlatte said. "If it came to your community, it boomed. If it bypassed your community, you were going to become a backwater. So we were all very much about making sure that the incentives were there for internet service providers to expand and provide for services. It's still a challenge in smaller cities and rural areas, but it's not nearly the challenge it was back then."
One of Goodlatte's proudest accomplishments is the Internet Tax Freedom Act passed in 1998, which meant people wouldn't have to pay taxes for internet access. President Barack Obama later signed a permanent ban. Goodlatte says not taxing the internet allows everyone to have internet access and encourages investment in technology, which is crucial to economic development.
Boucher already had been working on an overhaul of telecommunications law before Goodlatte arrived in Congress and helped shepherd legislation through. Approved a decade after it was introduced, the Telecommunications Act of 1996 further encouraged expansion and competition among cable, phone and internet providers and led to the increased deployment of broadband internet lines.
"You have to be persistent, and you have to be patient, and you just have to pursue it until you get it done," Boucher said. "Bob understood the value of that, and that was a key reason for his success."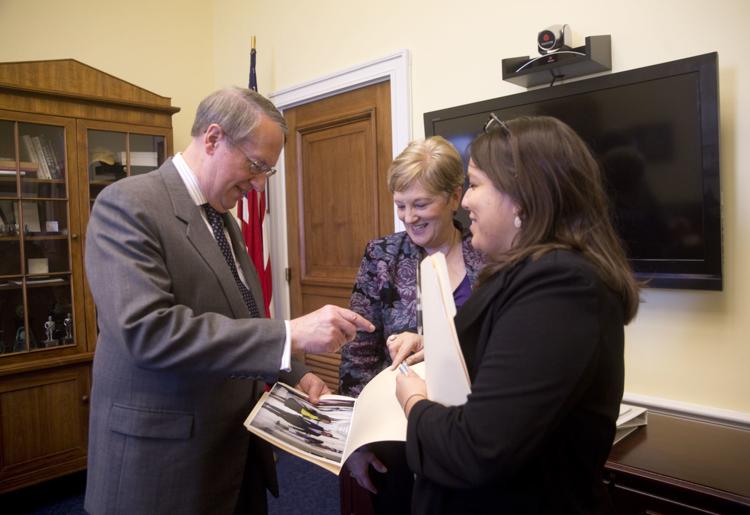 Goodlatte's peers in Congress said he had a knack for working across the aisle, a style that has grown increasingly rare in a deeply polarized political climate.
"Bob works hard, and he doesn't let the political environment put up walls among colleagues," said Stephanie Herseth Sandlin, a former Democratic representative from South Dakota who worked with Goodlatte on the Agriculture Committee.
"He's a serious policymaker who forms relationships readily because I think he's just a good person. So when we had to roll up our sleeves and work through thorny issues, things often didn't break down along political, party and partisan or regional lines."
As the senior Republican on the Agriculture Committee, Goodlatte worked with Democrats on a 2008 farm bill he hoped would attract enough support from his own party to pass.
"We learned how to work the way you're supposed to work in this place, and we figured out a win-win deal," said Peterson, chairman of the Agriculture Committee at that time.
The resulting bill represented a strong bipartisan compromise, but President George W. Bush refused to sign it.
" 'Goodlatte, I love you, man, but I'm going to veto your bill,' " Goodlatte recalled Bush telling him.
Smith said anytime Goodlatte lost a vote, "he still had a smile on his face, thinking about how he could come back and succeed."
Congress overrode Bush's veto.
"I led the override effort," Goodlatte said, grinning during a recent interview at his Roanoke County home.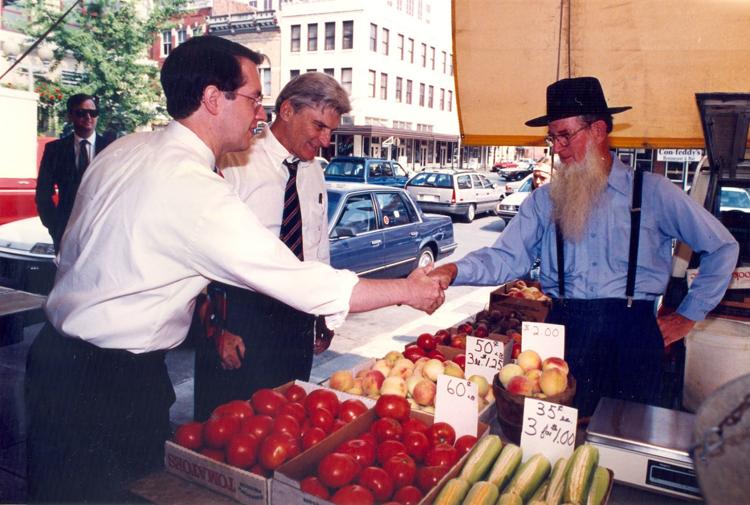 Longtime Republican
Goodlatte's grassroots activism began at an early age.
He was born in 1952 into a middle class family in western Massachusetts. His father owned a Friendly's ice cream restaurant in Springfield. Goodlatte, like his sisters, flipped burgers, made ice cream sundaes and washed the dishes.
Goodlatte's father was a Republican, but he hid that fact and registered as an independent. His restaurant was located in a Democratic neighborhood, and he worried people wouldn't eat there if they discovered his political affiliation . So when he voted in a Republican primary, he went to the registrar the next day and switched his registration back to independent.
His son wasn't so discreet.
"Somehow, I found headquarters for Republican candidates and would get some signs and as an 8-year-old boy I would march up and down the street for these Republicans who had no chance of getting elected in Massachusetts for the most part," Goodlatte said.
At Bates College, a small, private school in Lewiston, Maine, Goodlatte majored in government and was president of the chess club, College Republicans and the student government. He appointed Maryellen Flaherty — a fellow Christian Scientist — as the student government treasurer. A romance blossomed.
After graduation, both moved to Lexington in 1974. Bob started law school at Washington & Lee. Maryellen enrolled a year later. They wed and became the first married couple to attend the law school together.
Goodlatte graduated and eyed a Capitol Hill job. Sixth District Rep. Caldwell Butler needed someone to run his district offices, so Goodlatte reached out. Goodlatte and Maryellen moved to Roanoke and for the next two years he served as Butler's top aide, speechwriter and researcher.
By 1979, Goodlatte had left Butler's office and gone into solo practice before joining a firm known for its work in business law. He developed a specialty in immigration law. Among other things, he worked with General Electric when the company transferred international employees to facilities in the United States.
Goodlatte also became involved in local Republican politics, becoming chairman of the Roanoke and 6th District Republican committees.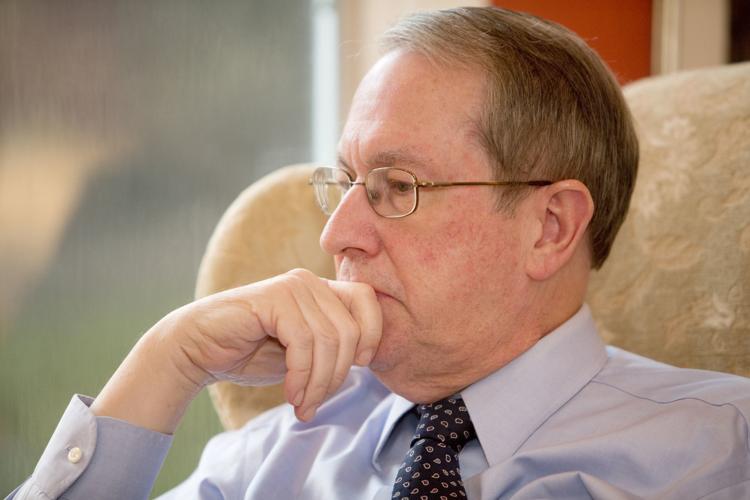 'Conscience of the district'
Goodlatte didn't dare run against Rep. Jim Olin, Butler's successor.
"That would have been a suicide mission," he said.
Republicans held the 6th District seat for 30 years until Olin, a Democrat from Roanoke, won it in 1982. By the late 1980s, people, including Butler, were urging Goodlatte to challenge Olin. Goodlatte went to a National Republican Congressional Committee class but knew he'd never oust Olin.
"Timing is everything in politics," Goodlatte said.
Word traveled inside political circles that Republicans wanted Rep. George Allen of Albemarle County to move into the 6th to challenge Olin. Newly elected Allen had been lumped into a new Virginia district with another Republican congressman by redistricting.
Meanwhile, Goodlatte got a tip from a reporter who heard Olin planned to make an announcement at a press conference in a week. Goodlatte figured no one holds a news conference in December to announce a run for re-election.
"He's announcing he's not running for re-election," Goodlatte recalled thinking.
Goodlatte immediately started calling district Republican leaders to gauge whether he had the support for a run. By the time other Republicans tried to get in on the race, Goodlatte had already shored up support, making his path to the nomination easy.
Goodlatte and Democrat Steve Musselwhite, an insurance executive from Roanoke, ran intense campaigns, with dozens of debates and joint appearances. In the end, Goodlatte won comfortably, collecting 60 percent of the vote.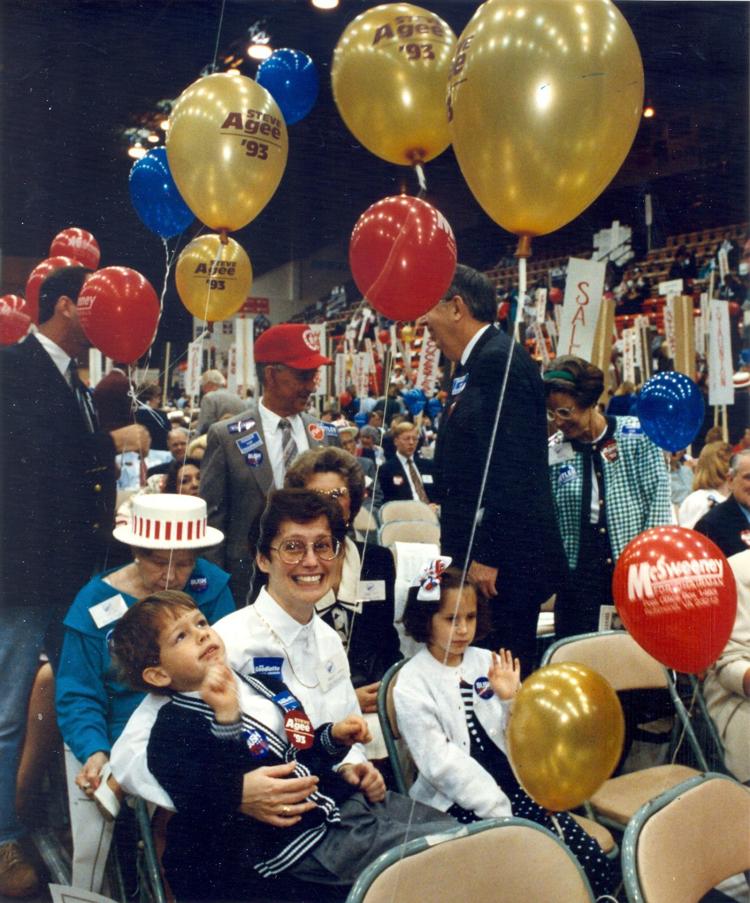 Goodlatte never took less than 62 percent of the vote in 12 subsequent re-election bids, and faced Democratic opposition less than half the time.
"I think Goodlatte was right in that middle ground of where you wanted to be, and that was the conscience of the district," said Dave "Mudcat" Saunders, a longtime Democratic strategist who lives in Roanoke County and counts Goodlatte as a close friend. "I think that's why he did so well electorally."
As his political stature grew, Goodlatte opted against running for the Senate or statewide office.
"I think part of it was because I could actually accomplish more as a senior House member and chairman of first the Agriculture Committee and then the Judiciary Committee than I could as a brand new senator," he said. "I've done well with campaigns, but I'm much more interested in the policy than I am in just running for office just to get to a higher office. And by the way, House members don't think of senators as being in a higher office."
Later in his career, Republicans began challenging him in primaries. They complained he had become too entrenched and had lost touch with the district's constituents. Yet Goodlatte easily defeated Republican challengers in 2012 and 2016.
"Bob met those challenges with a smile," said state Sen. Mark Obenshain, R-Rockingham. "He never took his nomination or his election for granted, and as a result, he won re-election by wide margins."
Goodlatte campaigned the first time partly on only serving six terms, a pledge he said he blurted out in response to a reporter's question after Goodlatte declared members of Congress should have term limits. He broke that promise and it resulted in some backlash. He said he still supports term limits, but they're not effective unless they're applied to everyone. Term limits on committee chairmanships, he said, are useful in forcing turnover of powerful positions.
The end of his term on the Judiciary Committee created a natural break for Goodlatte to leave the House, he said.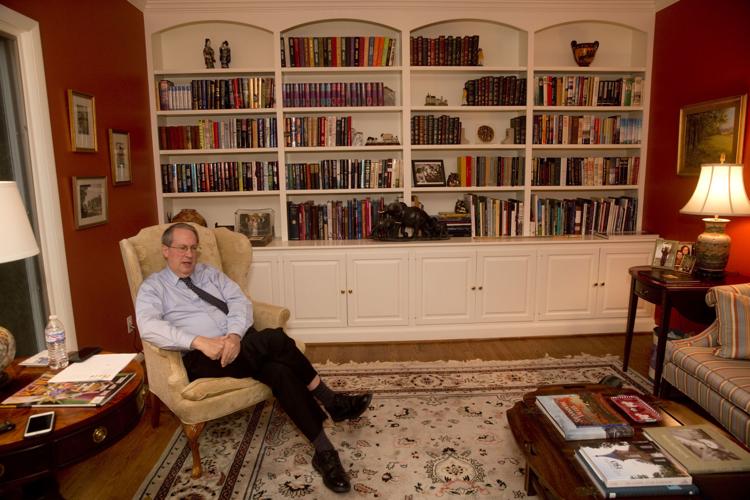 'Enduring force'
On Saturday, the first day of the partial government shutdown, Bob and Maryellen Goodlatte went for a walk on the Roanoke River Greenway.
The immensely popular trail system exists in large part due to Goodlatte because, as he says, timing is everything in politics.
Roanoke's flood reduction project had been stuck in the muck. After the flood of 1985 that killed 10 people, the city developed a plan to improve the capacity to handle flooding. For years, city officials pleaded for help with funding.
Then voters chose Goodlatte in 1992. He arrived at an ideal time because two years later, Republicans would take over Congress. Goodlatte's influence would increase over the years, eventually landing him the seat of chairman of the Agriculture Committee. Over several years, he'd secure chunks of millions of dollars to send to Roanoke for the project, which was finished in 2012.
Not only has it reduced flooding problems, it also gave rise to the greenway system that Bob and Maryellen walk upon nearly every week.
"It is the proudest thing I have helped with for Roanoke," Goodlatte said.
From the archives
Read more about Rep. Bob Goodlatte's work bringing Roanoke's flood control project to life in this 2005 Roanoke Times story.
At a ceremony to celebrate the project's start earlier this month, Roanoke Mayor Nelson Harris said: "This groundbreaking is happening because of one reason. And that reason is Bob Goodlatte."
Goodlatte also resolved numerous disputes and worked on problems behind the scenes back home.
The first challenge Goodlatte faced when he got to Washington played out in his home district.
Amherst County officials and environmentalists proposed setting aside part of the national forest there as a "wilderness area" to protect a municipal watershed. Timber industry leaders said that designation would lead to logging being banned in other areas of the forest.
During his election campaign, Goodlatte voiced opposition to wilderness areas.
An avid hiker, Goodlatte went for a walk in the woods with people on both sides of the debate. He encountered a man and his son fishing from a stream. They asked that he find a way to protect the area, but not with the wilderness designation. If it became a wilderness area, the son would not be able to drive to the stream, which his artificial leg required.
Goodlatte found middle ground. His first bill passed by Congress created the Mount Pleasant National Scenic Area.
He worked across the aisle to help extend Amtrak's passenger rail service to Roanoke.
Funding for the long-proposed Interstate 73, which would connect Roanoke with Greensboro, North Carolina, remains uncertain. But Goodlatte helped guide the official route to Roanoke in the 1990s.
Liberty University President Jerry Falwell Jr. said Goodlatte helped his international students obtain visas.
"These students couldn't vote for him, and they were going through extremely difficult circumstances," Falwell said. "He went out of his way to help them, and he understood the importance of helping people even before he got to Congress."
Goodlatte retained support from district Republicans with his grassroots efforts at home amid his work in Washington. He recruited and advised Republican candidates from county boards of supervisors to the General Assembly. He campaigned and raised money from the Southwest Virginia coalfields to the Washington suburbs.
He campaigned for Ben Cline, the Rockbridge County Republican who will succeed Goodlatte. Cline served as Goodlatte's chief of staff.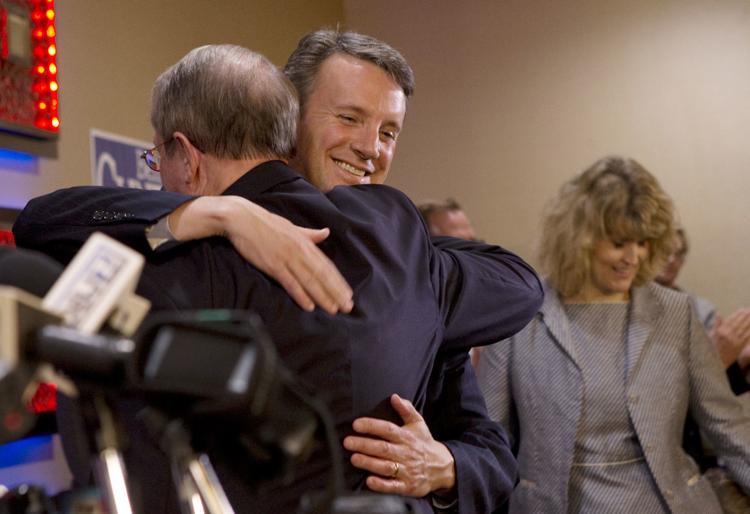 "One of the things that made Bob an enduring force was his strong connection to his district, his commitment to the grassroots, his understanding that you have to maintain that connection no matter what," Obenshain said. "No matter what he did in Washington — believe me, I know how the chattering class is; as you walk through the halls of the Capitol it's 'Congressman this' and 'Congressman that' and 'Mr. Chairman this' and 'Mr. Chairman that' — back home, he was Bob."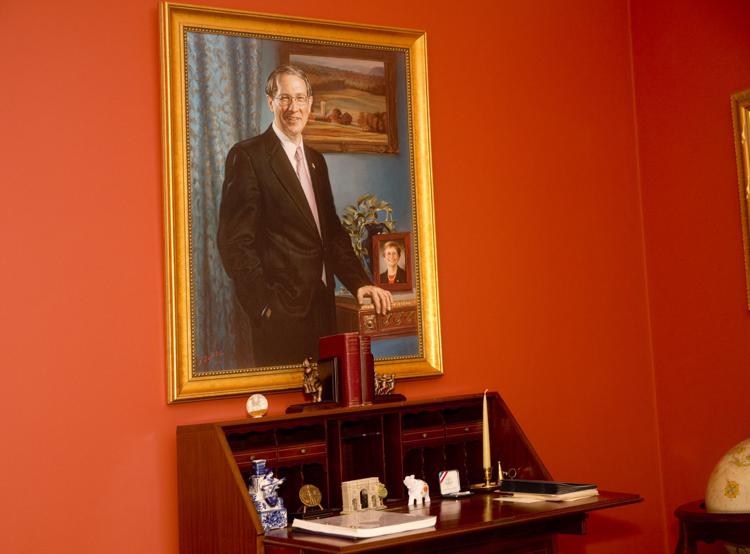 Center of attention
Sitting at the powerful perch of two committees, the mild-mannered lawmaker from Virginia was at the center of debates on major issues.
As Judiciary Committee chairman, Goodlatte helped craft the USA Freedom Act, which ended the National Security Agency's collection of phone data and spelled out how and when the government could access that information.
He was a key player in proceedings to impeach President Bill Clinton in 1998. But when Republicans called for Obama's impeachment, he rejected them.
The upside of being a committee chairman — deciding which bills live or die — is also the downside. The Judiciary Committee, takes up more hot-button issues than the Agriculture Committee. As a result, Goodlatte has bourn his share of recent criticism.
Congressional lawmakers have accused Goodlatte of holding up bills for political reasons. Sen. Heidi Heitkamp, a Democrat from South Dakota, has called out Goodlatte this month in the media for blocking her bill to curb violence against Native American women and girls. Goodlatte said he sent proposed bill changes to Heitkamp , and now it's stalled in her office. Goodlatte expressed frustration with how he's been characterized by Heitkamp in the media.
"I'm not going to engage in the kind of stuff she engaged in," he said.
Roanoke officials and business owners expressed frustration when Goodlatte hit the brakes on the Marketplace Fairness Act after it sailed through the Senate. The act was designed to capture sales tax revenue often not collected on internet sales. Proponents said online retailers' exemption from sales taxes put brick-and-mortar store retailers at a competitive disadvantage on pricing.
One of his earliest confrontations with the public came in 2004, when Goodlatte was chairman of the Agriculture Committee. He wouldn't allow a vote on a bill to stop the slaughter of horses because he said it might enhance equine abuse and neglect . At a town hall in Lexington, people brought their horses and expressed their frustration.
Over the years, Goodlatte's town halls would dwindle to none as he stuck with conducting such meetings via telephone .
The most contentious issue was immigration. Goodlatte, the lawyer who once worked to help immigrants, authored a bill this year that would restrict legal immigration. Immigration hard-liners embraced his legislation, which was ultimately rejected.
Rep. Morgan Griffith, R-Salem, disagreed with depictions of Goodlatte as an "anti-immigrant politician." He anticipates that future immigration bills will build from the foundation Goodlatte has laid.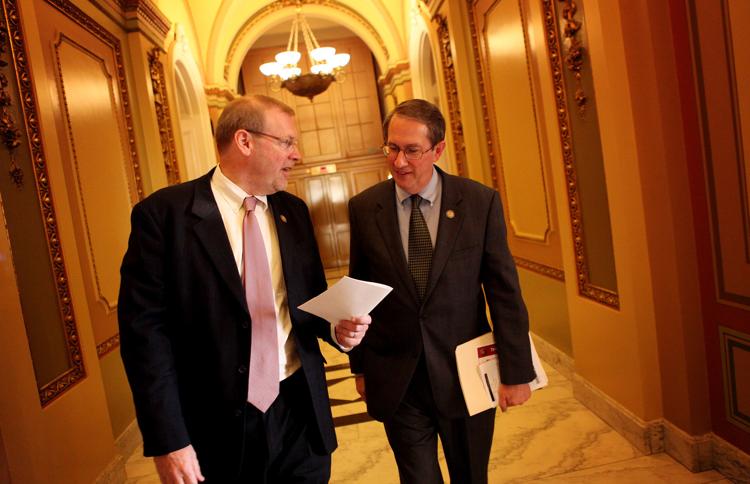 "If you're looking for a rational immigration system that lets people into the United States who want to share in the American dream but also secures our borders, Bob Goodlatte has put together several plans that would make that happen," Giffith said. "Are they perfect? Of course not, but I think they would have moved us in the right direction."
The immigration fight and Goodlatte's role in it struck a sour chord in Roanoke, where the number of residents born outside the United States has surged since Goodlatte took office. Protesters repeatedly staked out his office in Roanoke to hold vigils. They carpooled to Washington seeking an audience with him . They collected handwritten stories of Roanoke-area immigrants for delivery to Goodlatte, pleading for him to listen. Goodlatte did not meet with them.
From the archives
Read more about how Rep. Bob Goodlatte's role in immigration policy struck a chord in Roanoke in this 2013 Roanoke Times article.
For 20 nights in a row, they held vigils outside Goodlatte's office at the corner of Jefferson Street and Franklin Road. They car pooled to Washington, hanging out near the elevator of his office there and hoping for an audience. 
Roanoke City Councilman Bill Bestpitch said Goodlatte's "lack of initiative" on immigration reform was his biggest disappointment with the congressman.
"With his background in immigration law, if anyone had the ability to understand the issue and that it's not just about the border, it's him," Bestpitch said. "To be in Congress for 26 years and not work with others and not even have pieces of reform along the way was a disappointment."
This summer, Goodlatte oversaw a joint session of the House Oversight and Judiciary committees during which FBI agent Peter Strozk faced questions about his early role in the ongoing investigation of Russia's electoral interference. The hearing devolved into personal attacks and partisan exchanges. Goodlatte said Strzok needed to answer the Republicans' questions and suggested the possibility of having him held in contempt.
Goodlatte's performance attracted both praise and condemnation.
"I saw a boldness in him because he was willing to question people on things that are not popular to do if you're a weak-kneed politician," Falwell said. "It was kind of out of character for him, but it was the right thing to do."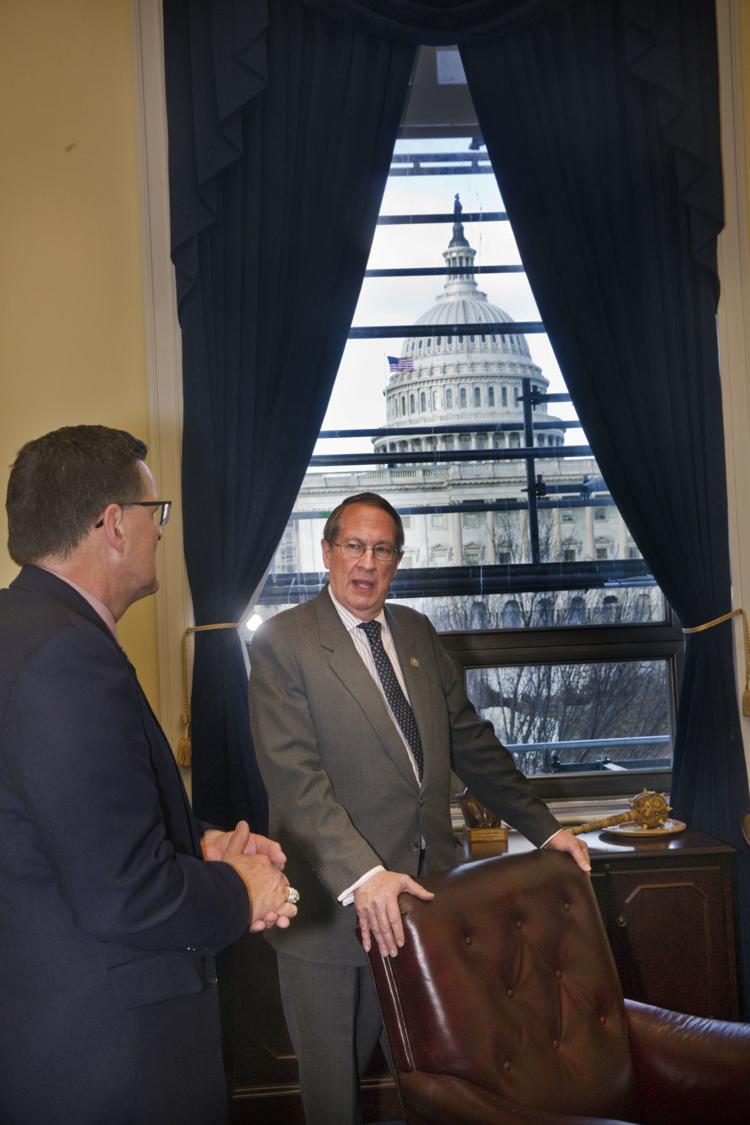 Two months later, in a tweet that captured national attention, Goodlatte's son Bobby said he was "deeply embarrassed that Peter Strozk's career was ruined by my father's political grandstanding." He called the committee hearing a "low point" for Congress and thanked Strozk for his service.
For someone who says he doesn't relish media attention, Goodlatte's work on the FBI's investigations of Hillary Clinton's emails and Russian election meddling attracted a great deal of notoriety.
"I don't enjoy it," Goodlatte said, frowning.
Goodlatte laments the way social media and television have influenced politics and the legislative process. Yet those are President Donald Trump's preferred methods of communication. Before he took office, Trump embarrassed Republicans and Goodlatte over his plan to gut the Office of Congressional Ethics.
"I would agree with a lot of people who are concerned about some of the things that he tweets out, but I've been able to work with him and the people surrounding him on legislation," Goodlatte said.
Unlike some Republicans, Goodlatte hasn't openly criticized Trump. Goodlatte's Democratic friends and colleagues say they feel like Goodlatte has been stuck with bad options.
After Trump's election, Herseth Sandlin said she called Goodlatte.
"I just expressed my concerns, but also hopes and beliefs that people I have served with would continue to do what they thought was in the best interest in the country, despite how hyper-partisan and really uncertain so many people were feeling after the 2016 election," she said.
Boucher sympathizes with Goodlatte. He said it probably wouldn't "do a lot of good" for Goodlatte to get on Trump's bad side if he wanted to pass legislation.
Goodlatte believes the nature of Congress occurs in cycles, and now it is disharmonious. But he still sees glimmers of hope that Washington isn't broken.
Amid the partisan rancor that led up to the government shutdown, Trump on Friday signed the First Step Act, hailed as the most significant criminal justice reform bill in a generation. Goodlatte assembled a task force years ago to study the issue.
"Good things can happen, even in this environment," he said.
Between a bitter nomination fight over Supreme Court nominee Brett Kavanaugh and the heated midterm elections, Trump signed the Music Modernization Act into law in October. It's one of Goodlatte's final major accomplishments. Intended to overhaul music copyright law in the digital age, the bill is the most significant revision to United States copyright law in decades. Goodlatte worked on it for years, bringing together lawmakers, musicians and technology companies to build support.
"The best stories that people tell in Congress are of the things that they actually got done," Goodlatte said "And the things we actually got done, I can't think of a single one — and I've had scores of bills I've introduced over the years and passed into law — where I didn't get it done without the help of Democrats. I think it's important that members keep that in sight."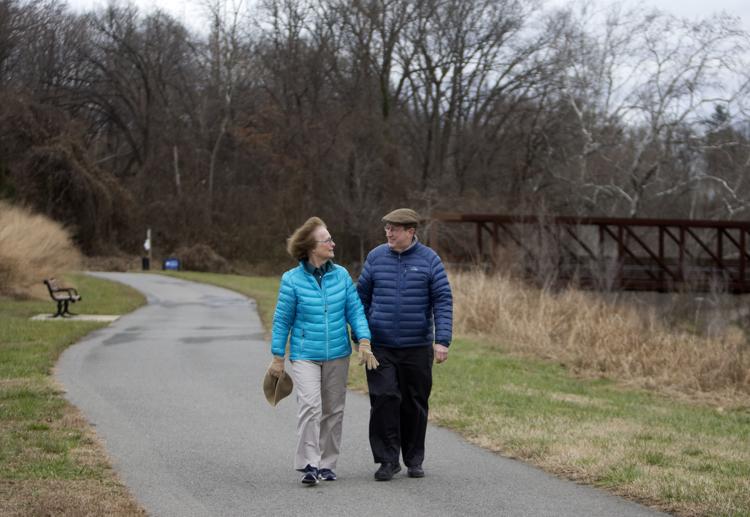 Remaining true
While others in Congress slowed down during the post-November election lame duck session, Goodlatte geared up. It didn't matter that he was a vagabond without a permanent office.
He scheduled Google CEO Sundar Pichai to testify before the Judiciary Committee in December.
"It was very indicative of his initiative," said Smith, who serves on the Judiciary Committee and joked that he hoped to coast during the last few weeks before he retired as well.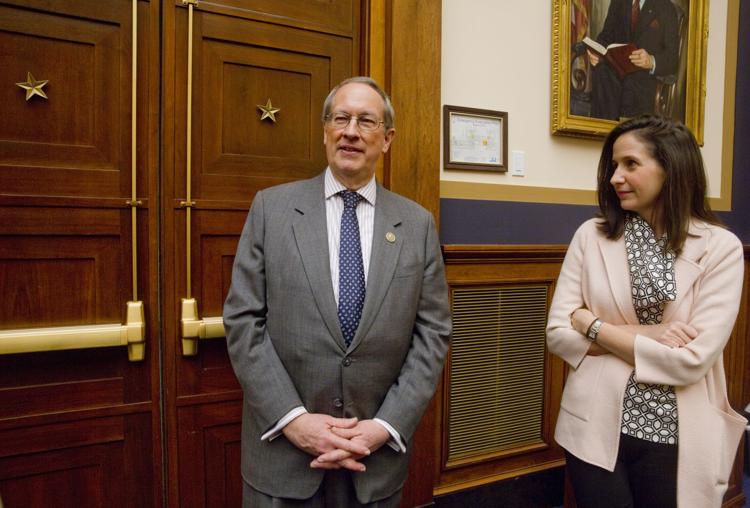 Issues like health care, immigration and government spending will be long debated after Goodlatte is gone. He said his biggest regret is failing to achieve a system for controlling federal government spending . He has introduced a balanced budget amendment in each Congress for the last decade.
Goodlatte said he believes he's stayed true to himself, his values and what people elected him in 1992 to accomplish.
"It's a real challenge sometimes, but I think for the most part, the things that I have believed in and voted for and supported early on, I still believe in and vote for and support," he said.
Goodlatte hasn't decided what's next for him. He has no plans to seek office and doesn't think that's in his future. But, he said, "It's always smart to say never say never."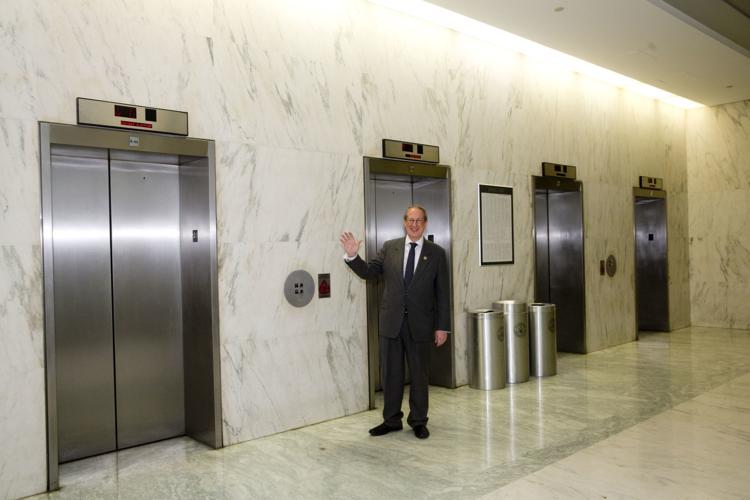 In the meantime, he looks forward to spending more time with his family. His daughter works on Capitol Hill, so he saw her and his two granddaughters often. He and Maryellen, an attorney at Glenn Feldmann Darby & Goodlatte in Roanoke, would like to travel to Australia. He credits Maryellen — whom he said he called every night when he was in Washington — for keeping him on course during difficult times.
"I have the most amazing wife in the world," said Goodlatte, who also had Maryellen depicted in his official portraits, paintings that hang in the Agriculture and Judiciary committee rooms. "The hardest part about this job is being away from your family."
Goodlatte also needs to complete a goal: visiting all the presidents' homes.
From the archives
Read the 2005 story detailing Rep. Bob Goodlatte's quest to visit a home of every president here.
"Oftentimes the history of our country is traced through the various actions and activities of our presidents, so when you visit these homes, you learn a lot about the history of the period that they were president and sometimes the times leading up to that."
More than a decade ago, The Roanoke Times published a story about that quest and Goodlatte's ability to rattle off random facts about the country's leaders. When Goodlatte saw the younger President Bush at the White House, he brought the newspaper story. Bush laughed and invited him to his home in Texas.
Goodlatte hasn't made it there yet. He also has Obama and Trump on his list.
Hopefully, Bush has forgotten about that overridden farm bill veto, Smith joked, because he'd like to visit Bush's home with his friend.
"I wonder if the invitation still stands," Goodlatte said.