What to Know
Temperatures plummet overnight into Tuesday, creating a risk that slush will freeze into ice on the roadways.

Many public schools will operate on a two-hour delay on Tuesday. Some are closed entirely.
The D.C. area welcomed a sunny day after a weekend-long winter storm, but all that melting snow is slated to cause serious problems on the roads after it freezes again.
Temperatures plummeted into the low-20s and teens in some areas Monday evening, causing leftover slush on the roads to turn to ice, Storm Team4 Chief Meteorologist Doug Kammerer said.
Beware of Black Ice as Slush Freezes on Roads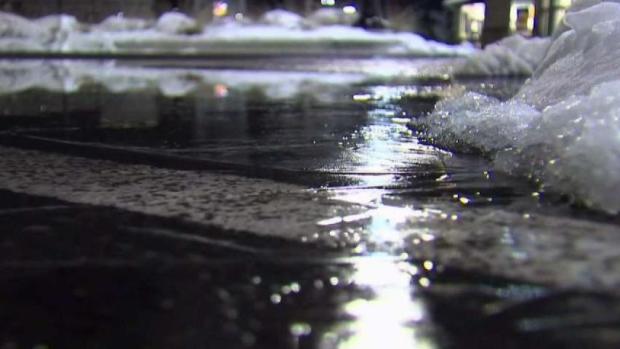 Prepare for a messy commute on Tuesday morning, especially on secondary roads.
Montgomery County Fire and Rescue Chief Scott Goldstein says the county saw a spike in crashes between 6 a.m. and 8 a.m. as commuters drove onto slick roadways.
"Folks got on the road, overestimated the road conditions," Goldstein said.
Traveling will be safer after the sun has come out and melts any slippery ice and snow. If you can, commute after 9 a.m., Kammerer says.
Northern Virginia Plows Clear Roads Before Refreeze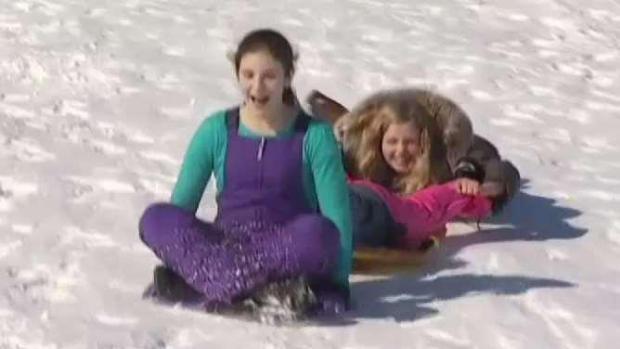 The threat of the refreeze prompted the federal government and many schools to schedule a delayed start, and others canceled.
Arlington Public Schools will be closed Tuesday. Offices will open at 10 a.m. Culpeper County Public Schools, Fauquier County Schools, Fredericksburg County Schools, King George County Schools, Spotsylvania County Schools and Stafford County Public Schools will also close on Tuesday.
Federal offices in D.C. will open two hours late on Tuesday for employees who are not furloughed, the Office of Personnel Management said.
The public school systems in Alexandria, Anne Arundel County, Arlingon, Calvert County, Fairfax County, Falls Church, Frederick County, Loudoun County, Manassas city, Montgomery County, Page County, Prince George's County, Prince William County, Rappahanock County, Spotsylvania County and Warren County are among many schools on a two-hour delay Tuesday.
D.C. schools will open on time.
See the full list of school closures here.
Another refreeze is possible on Wednesday, but conditions should improve ahead of Thursday's commute. Storm Team4 is tracking more winter weather Thursday evening and during the weekend.
This was the biggest storm to hit the area since the blizzard of January 2016.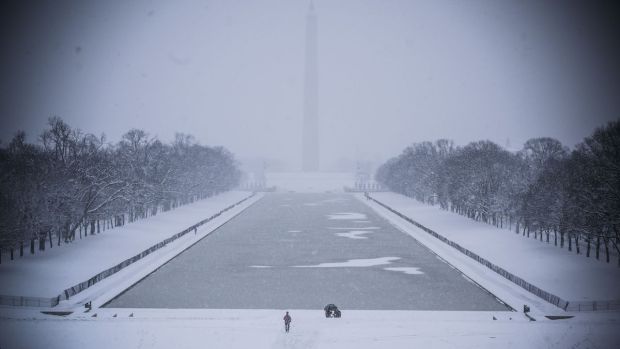 Photos: Winter Storm Blankets the DC Area in Snow
Federal offices in the D.C. area were closed Monday. Non-emergency employees who are not furloughed will get weather and safety leave for the hours they were scheduled to work. Emergency and telework employees must report to work.
Before sunrise, delivery driver Koloni Brown said he was frustrated by the slushy, icy side streets. He was headed from Waldorf to Alexandria. 
"Ter-ri-ble. These roads, there's nothing like it. And I've gotta go to Alexandria. So, Amazon, you guys owe me," Brown said, pointing into the camera. "I'm doing your packages today on the strength of — I know you guys need it." 
Be careful on the roads! A word from a driver out delivering your Amazon packages: pic.twitter.com/tabZE7BUfl

— NBCWashington (@nbcwashington) January 14, 2019
Aside from the disruption caused by the wintry weather, many people in our area are out having fun in the snowflakes. Dozens of people are competing in Pat Collins' first Snow Stick Challenge of 2019. This time around, Pat asked viewers to put on their best snow outfits, strike a pose and send photos.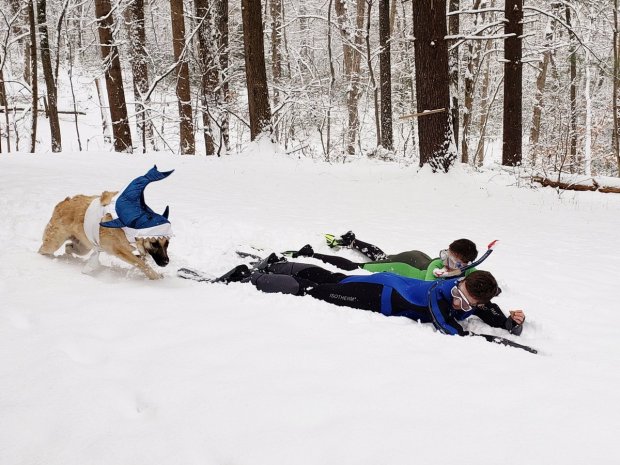 Entries for the Sunday Snowsuit Snow Stick Challenge
The first Pat Collins' Snow Stick of 2019 went to Connor Sudol of Springfield, Virginia, for his "Great White Snow Shark" design.
'Great White Snow Shark' Wins the Pat Collins Snow Stick
Here's how much snow had accumulated as of Monday morning: 
D.C., National Zoo: 10.2 inches 
D.C., Rock Creek Park: 8.8 inches 
Reagan National Airport: 10.3 inches 
Dulles Airport: 10.6 inches 
Baltimore/Washington Airport: 6.6 inches 
City of Alexandria: 8 inches 
Annapolis: 9.8 inches 
Aquia: 7 inches 
Arlington, Ballston: 10 inches
Bethesda: 11 inches 
Chantilly, 10.9 inches
College Park: 10.7 inches 
Columbia: 13 inches 
Damascus: 12.4 inches 
Fairfax: 9.2 inches 
Leesburg, 11 inches
Tracking January's Winter Storm Snow Totals
Crews were out Monday clearing roads with plows. Local authorities urged people to stay off the roads during the storm. Go here to see live traffic info from NBC4. 
Metro trains are running with regular service.
Metrobuses are running on a Severe Snow Plan, operating only on major roads. Passengers should expect delays. Go here to see if there's service on your route.
MetroAccess service is set to run on a normal schedule. However, customers are encouraged to cancel all non-essential travel.
All VRE service and offices are closed Monday. Regular service is planned for Tuesday. Go here for more info.
MARC trains are operating on an "R" schedule. Go here to see if your train is running.
Measuring the Snow With Mayor Muriel Bowser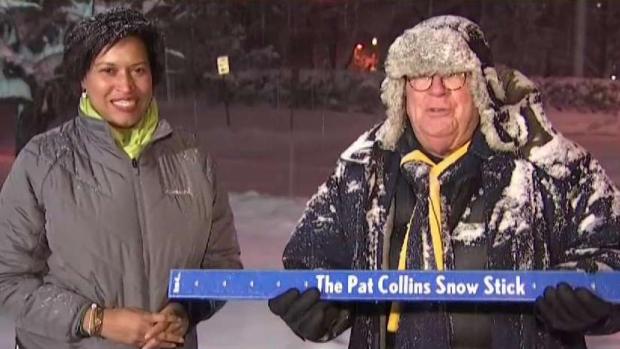 Many flights headed into and out of D.C.-area airports were canceled. The FAA implemented a ground stop at Dulles International Airport Sunday evening because of the weather, affecting inbound and outbound flights. It was lifted before 9 p.m.
The Metropolitan Washington Airports Authority advised travelers to double check the status of their flights before going to the airport.
The icy mix in the mid-Atlantic region knocked out power, canceled flights and contributed to hundreds of car accidents.
Virginia State Police said the driver of a military surplus vehicle was killed late Saturday after he lost control on Interstate 81 because of slick road conditions.
Police said Ronald W. Harris, 73, of Gainesville, Georgia, died after his vehicle was struck by two tractor-trailers. The two tractor-trailer drivers were taken to a hospital for injuries that were not considered life-threatening. The state medical examiner was expected to determine later whether Harris' death was storm-related.
From midnight to 5:30 p.m. Sunday, Virginia State Police said they responded to 324 traffic crashes and helped 196 disabled vehicles. Sixty-eight of those crashes and 81 of those disabled vehicles were in the Fairfax district, VSP said.
Maryland State Police said 197 crashes were reported between 7 p.m. Saturday and 3 p.m. Sunday.
The storm knocked out power for nearly 200,000 people in Virginia and North Carolina on Sunday, according to PowerOutage.us.
In Baltimore, a man was fatally shot as he shoveled snow early Sunday morning. Police said a 43-year-old man was outside shoveling at 4:40 a.m. when an unidentified suspect shot him in the shoulder and head. The man died at a hospital.
A number of local government offices were closed Monday, including in D.C. and St. Mary's County.
Many areas, including Falls Church, Frederick, Leesburg and St Mary's County, declared snow emergencies that affect where you can park your car. Check for signs and with your local authorities.
Gov. Ralph Northam declared a state of emergency in Virginia, allowing the state to mobilize more people and resources to clean up the snow.
D.C. Fire and EMS released a list of resources for anyone who needs shelter. The city's Cold Emergency Plan is in effect in the District until further notice.