Voice recognition is not a new phenomenon. It has been around ever since your mother hollered, "Your father wants to speak with you, NOW!" as you crept home from a school date, way past the curfew hour with a gin-soaked "study" companion in tow.
It was an accurate system and ears were regularly boxed and bottoms paddled to ensure it stayed in trim.
Fast forward to modern times and you cannot open your mouth without some device instantly responding to offer some recondite gem.
Phones, televisions, tablets, radios, cars, vending machines, lifts and even refrigerators may join in the chorus as you strain to enunciate just right to silence your crazed hyperventilating gizmos. There's something about that disembodied voice and flat atonal digital delivery that makes you want to actually run outside and hug a human, something many Asian societies consider alien and embarrassing.
The contagion has spread to hotels. It started with computers, tablets and iPads, then moved to Siri on your iPhone, followed by Alexa and other voice-activated devices designed to do your bidding. Aloft, Marriott, Best Western, Wynn and a host of others have launched trial balloons in various locations.
In China, perhaps unsurprisingly, Alibaba has taken the lead to help guests unpack and send Alexa packing. In 2017 it came up with a visionary plan to install smart speakers in 100,000 hotel rooms. Then, in a fit of techie fervour, in December 2018 Alibaba launched its 290-room FlyZoohotel in Hangzhou, China, staffed entirely by robots. While not exactly cuddly, the mobile assistants are friendly, a far cry from the grimacing T-Rex receptionists at Japan's Henn-na hotels.
A spokesman for the Chinese technology giant says this boosts efficiency as "robots are not disturbed by human moods". It is good to see that robots are handling guest abuse and passenger rage with unruffled equanimity.
I met one recently at Seoul's Incheon International Airport in South Korea. It whirred past with large blinking eyes. I chased after it with the zeal of a man surrendering his body to science. "Hey, hi… hello," I called out in polite fashion. Chappie sped on insouciantly. Was I being ghosted by a robot? I changed intonations and language. "Anyeonghaseyo?" No reaction. My friend reversed into a charging dock and the eyes closed as a notice flashed up, "I am sleeping".
"Hello… hello..?"
I would have to fly back to Seoul another time to get a live demonstration of its voice activated check-in skills and artificial intelligence.
Earlier at a Seoul hotel kitted out in classic Louis XVI decor but equipped with visionary technology, a hotel attendant proudly demonstrated the genius of voice control. Kneeling reverentially beside a small touchscreen voice-responsive tablet, he said, "Genie-ya, I need shampoo." Genie-ya (as in "hey Genie") is the wake-up trigger for the latest artificial intelligence foray by telecom company KT.
"Genie-ya I want shampoo," I said. "I'm sorry I do not understand."
"Genie-ya, is the WiFi free?"
"I'm sorry I do not have that information."
"Genie-ya I need shampoo."
"Could you please repeat that?"
Clearly some fine tuning is necessary. The Korea JoongAng Daily reports if the tablet is set to Korean language mode and you ask for English it may simply say (in Korean), "It would be embarrassing to speak English because I'm not good at it." Hmm.
Elsewhere, Aloft is experimenting with voice commands for everything from room lighting to turning on the TV. Preset commands like "relax" instantly create a warm dark atmosphere, while "review" turns on the television.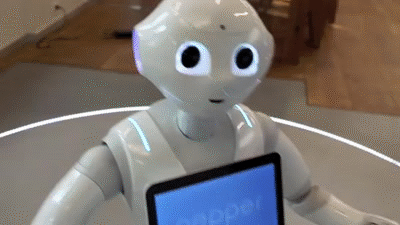 "Relax, honey" your wife may bark after a bad day at the mall, plunging you and your white-knuckle Grisham in semi-darkness. You will need to say "reset" to get the lights back to the default setting. The St Regis has a penchant for shortcuts too without relying on digital wizardry. Room lights offer button controls for various settings like "romance", "movie" and "reading" but you cannot turn on just a single bedside lamp.
New Delhi's Park Inn by Radisson offers a voice assistant to manage in-room dining, laundry and check-out in six suites. Presumably here you do not need to sound like Brad Pitt to get snappy service. But what if Brad Pitt checks in?
While clever commands save minutes if not hours of angst figuring out tech-speak, we might need to spend a few minutes (or maybe the rest of our lives) learning new commands and shortcuts. As a seasoned traveller, I use a very simple shortcut. I turn off hi-tech devices and anything that beeps and I use the room master switch to turn lights on and off.
Don't forget to say a polite goodnight to Alexa. Hell hath no fury like … Remember HAL the supercomputer in 2001: A Space Odyssey?
Vijay Verghese is a Hong Kong-based journalist and the editor of SmartTravelAsia.com and AsianConversations.com.