Thomas Lester, September 28, 2018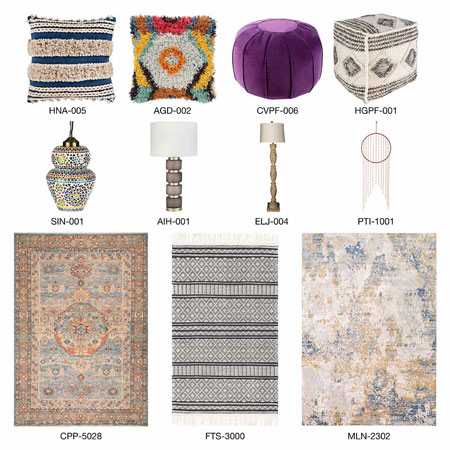 Rug and home décor manufacturer Surya's new introductions for October's High Point Market number past 1,000.
The Cartersville, Ga.-based supplier will showcase these offerings in rugs, lighting, accessories, soft goods, wall décor and more from its Showplace 4100 showroom.
"As a customer-centric design company, we select our accessories with our customers in mind, first," said Satya Tiwari, president of Surya. "We use our passion for good design to uncover the emerging trends within every lifestyle and apply that information to provide you with the best quality accessories in a wide range of styles and price points. This is all done with the goal of making inspired, personalized living environments for all lifestyles."
Highlights include:
Rugs
Alpine: Machine woven in updated traditional and modern designs of varying shades of blue paired with cream and brown touches.
Ararat: Updated traditional center medallion, Oushak and bordered designs machine woven in blue, orange, yellow and gray color palettes.
Amelie: Machine woven in distressed, updated traditional designs with blues, grays, golds, and rust color palettes that provide a classic look with a modern twist.
Bahar: Machine woven with high-low texture and grid lines in traditional, Moroccan and modern designs in blue-and-white and black-and-white palettes.
Milano: Machine woven, modern abstract and updated traditional patterns in subdued color palettes with a high low texture for a modern luxury look.
Mumbai: Machine woven collection includes distressed updated traditional and bohemian patterns in trendy colorways ranging from simple black and white to bold yellows and purples then to black and bright orange ombre looks.
Quatro: Resembling a concrete mural worn over time, the machine woven collection has a gray base with bold, contrasting color and harsh distressed effects that resemble brushstrokes that bring modern style with a daring edge.
Farmhouse Tassels: Hand woven, bohemian designs in colorways of neutrals paired with blue, black and gray for a contemporary appeal, while the high-low textured surface and long, 5-inch fringe add visual interest.
Hygge: Hand woven, neutral colored rugs with high-low textures in traditional Nordic patterns. Coordinating poufs are also available for this collection.
Napels: Hand woven with a blend of viscose, wool and cotton in neutral and brown, diamond lattice patterns with braided texture.
Buenos Aires: Hand crafted, hair on hide rugs with no pile, shaped edges and navy blended among the dark brown animal hairs. A black and white colorway with metallic silver accents is also available.
Patagonia: Hand crafted, hair on hide rugs with varying shades of gray and beige with a cream border.
Panipat: Hand-hooked with both bold and subdued color palettes in updated traditional designs made of 100% wool.
Piastrella: Hand tufted in uniquely distinctive, tiled mosaic designs across soft, neutral palettes.
Cappadocia: New colorways of top-selling designs hand-knotted with 100% wool in low pile, traditional center medallion designs, updated traditional color palettes with fringe details.
Lighting
Emory: Pendant ceiling lights with casually spun, oil-rubbed bronze wire to create a multi dimensional nestlike design. Available in three different sizes.
Santillian: Pendant ceiling lights with multicolored glass mosaic canopies with Moroccan-influence accented by an antique brass trim.
Aminah: Modern, white or dark purple painted glass, tiered body table lamps with soft gold-toned fixtures and white linen drum shade.
Elijah: Coordinating table and floor lamps with traditional style, natural and whitewashed, distressed bodies that provide a vintage, artisan-crafted aesthetic.
Donia: Modern table lamps with round, hand finished iridescent glass bodies with a burnished satin brass that coordinate perfectly with Surya's Donia accent vases. Small and large sizes available.
Pillows & Poufs
Helena: Hand woven pillows with textural embellishments and fringe create an unmistakable bohemian look, while tapping into the popular blue, black and neutral color combinations.
Emilio: Hand woven, embroidered pillows with colorful stitching for a global aesthetic.
Santiago: Globally inspired, shag pillows in both multicolor and blue and white colorways.
Hygge: Hand woven, neutral and gray colored poufs with high-low textures in traditional Nordic patterns Coordinating rugs also available.
Cotton Velvet: The newest additions to the top-selling pouf collection features soft, rich navy and deep purple, cotton velvet material and round, global style with piping.
Renzo: Hand woven, boho global pouf with multicolored cotton striped pattern.
Yukon: Hand woven with 100% wool in a textured wrap style.
Wall Decor
Teresina: New wall hanging with high and low woven and looped textures in varying shades of gray and neutrals.
Ponti: Burnt orange wall hanging hand crafted in a contemporary minimal aesthetic with subtle bohemian traits.
Santiago: Hand-knotted wall hanging made of 100% wool in yellows, oranges, greens, and blues that coordinate with the Santiago pillows.

<