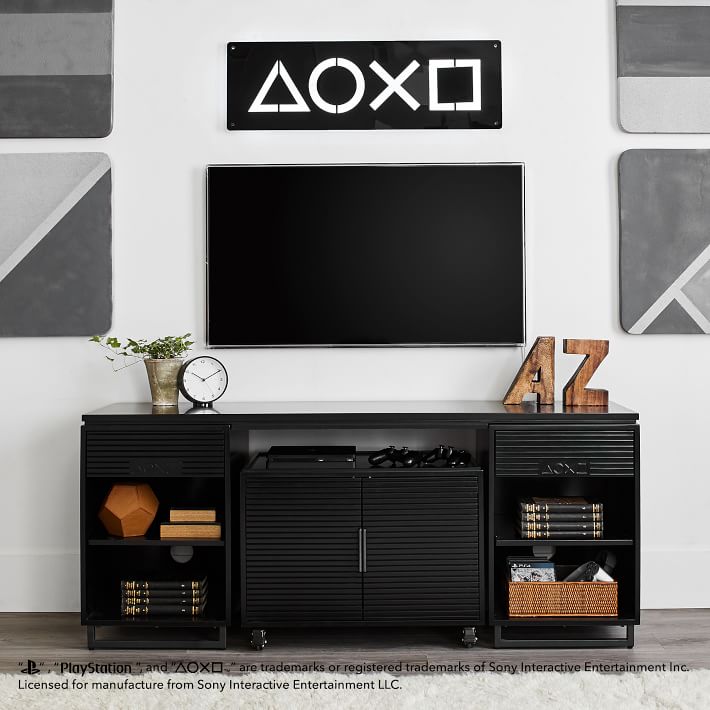 The collection's media console features specialized gaming storage and PlayStation symbols on the front cabinets.
SAN FRANCISCO- PBteen, a Williams-Sonoma Inc. retailer focused on teen furniture and décor, has launched its latest collection in collaboration with Sony Interactive Entertainment, the makers of video game brand PlayStation.
The collection, which is made up of furniture, lighting and home décor products, is inspired by the aesthetics of the latest PlayStation console, the PlayStation 4. Using a dark color palette of grays and black with metallic accents, the pieces are meant to come together to create a "complete gaming lounge for single or multi-player gaming," according to a press release from PBteen.
"PlayStation's reputation as a key innovator in the interactive and digital entertainment space made it the perfect partner for an exclusive gaming-inspired collection," said Jennifer Kellor, PBteen's president. "We saw a need to develop gaming lounge pieces that are functional, stylish and of the utmost quality for the entire family to enjoy."
In addition to utilizing the PS4's color palette, pieces from the collection feature PlayStation's signature symbols and logos in its designs, and all have a focus on sleek silhouettes and shapes, much like the body of the PS4. Each piece in the collection was also designed with video game and video game accessory storage in mind.
"This partnership with PBteen, a company known for its stylish design that resonates with the youth market, is a perfect complement to the PlayStation brand," said Asad Qizilbash, vice president of marketing for Sony Interactive Entertainment. "There's an impeccable attention to detail within each piece of the collection that PlayStation fans will truly appreciate, delivering a fun and personal way to decorate their gaming space."
Key pieces from the collection include a media console and a lounge table that have a high-gloss black finish, matte black metal legs and specialized storage for gaming accessories. Other important pieces from the collection, like a bean bag and wall light, both utilize PlayStation symbols and logos to create fabric and art designs on the products.
Priced between $69 and $1,099, the full collection is available online now.