Attending  ITB Singapore is stressful enough in its own right so sorting out accommodation is just one extra hassle that is not needed. Flying into Singapore (probably the day just before the event), only to discover that your hotel is an awkward journey away from Marina Bay Sands, or that the property itself is just not up to scratch, must be one of the most demoralising ways to prepare for the most important travel conference in the region.
Fortunately, this was not the case for TD's sales director Paul and me, as I learned when our cab from Changi pulled up to the One Farrer hotel and passed a quirky apple-shaped water fountain at the hotel entrance.
Indeed, you know that you're on the right track when the very ITB closing party is scheduled to take place at your home for the next few nights. This would, of course, prove very useful when all the business from ITB was done and dusted and minds turned from work to play.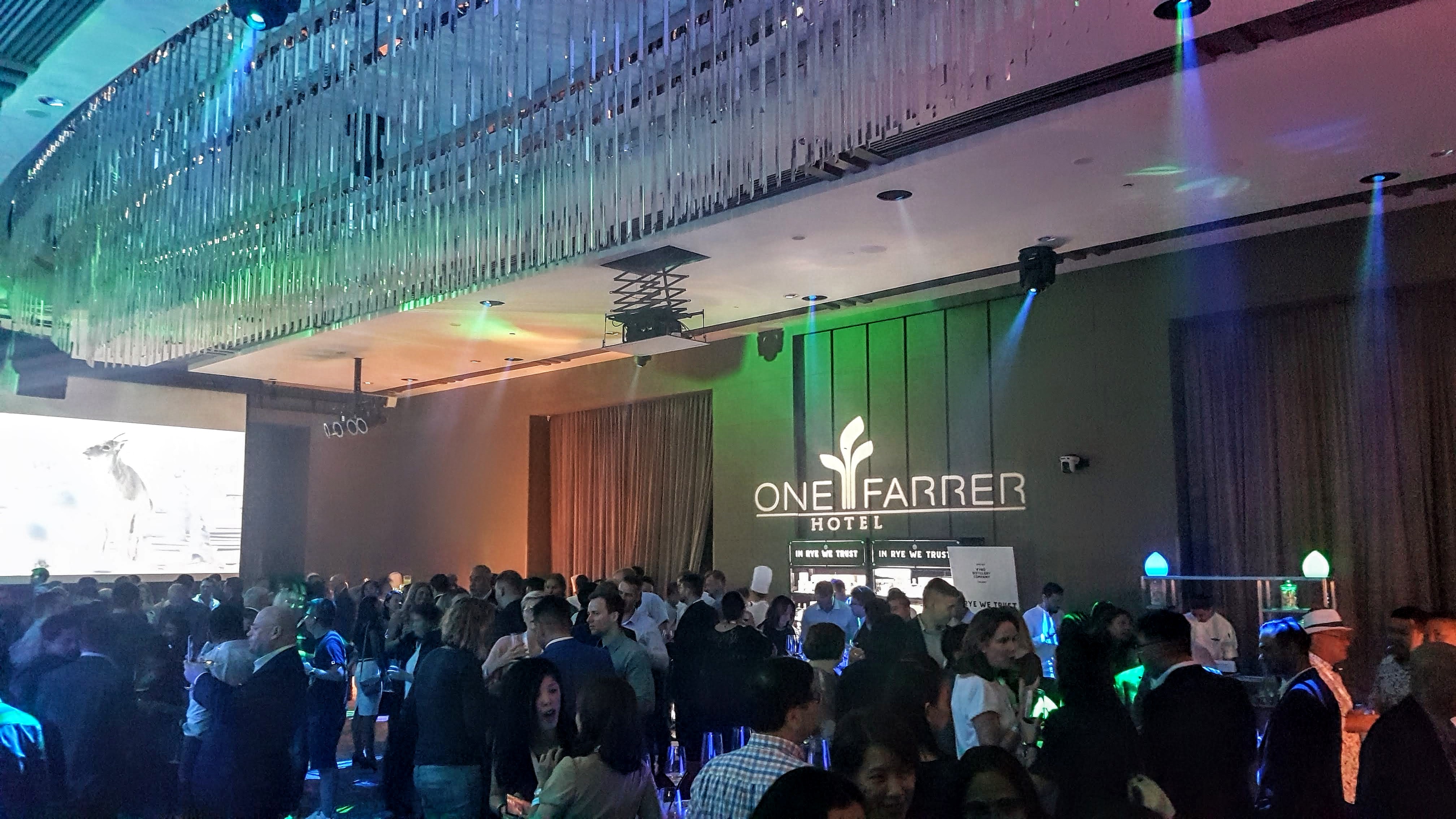 No doubt the evening's frivolities would create a few jaded revellers who would be forced to stumble around looking for a taxis to their hotel or a club, whereas all I had was an elevator ride, up to my beautiful room on the 18th floor in the 'hotel within a hotel' concept next to the high-end Skyline Lounge.
The Skyline product, as the name might suggest, is an exclusive area spread over three floors. Naturally, there is a private restaurant – which proved incredibly useful for busy mornings when a quick 'fuel up and go' was required – and a minimalist peaceful swimming pool, looking out over the stunning Lion City backdrop.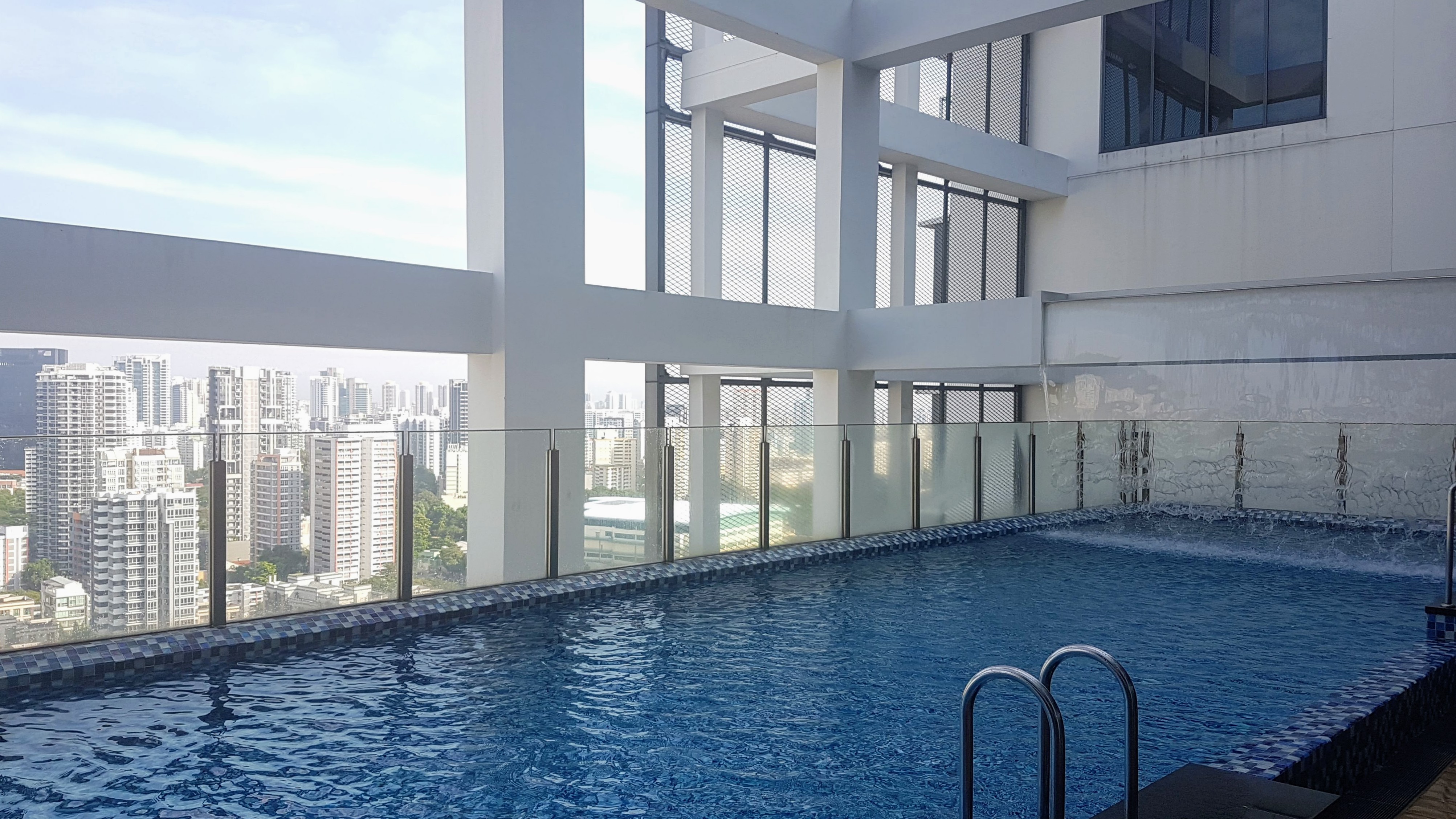 The rooms themselves also lived up to the top-level branding and price point and featured a king-size bed, bay windows that ran the entire width of the room and a 55-inch smart TV. My enormous en suite, finished in an alluring yet subtle marble decor, not only had a roll-top bath but separate spaces for both rain shower, wardrobe and toilet.
There was a more-than-adequate minibar than was replenished daily, more coffee than you could shake a stick at, and mood lighting plus blackout shutters for a very restful stay during a stressful week.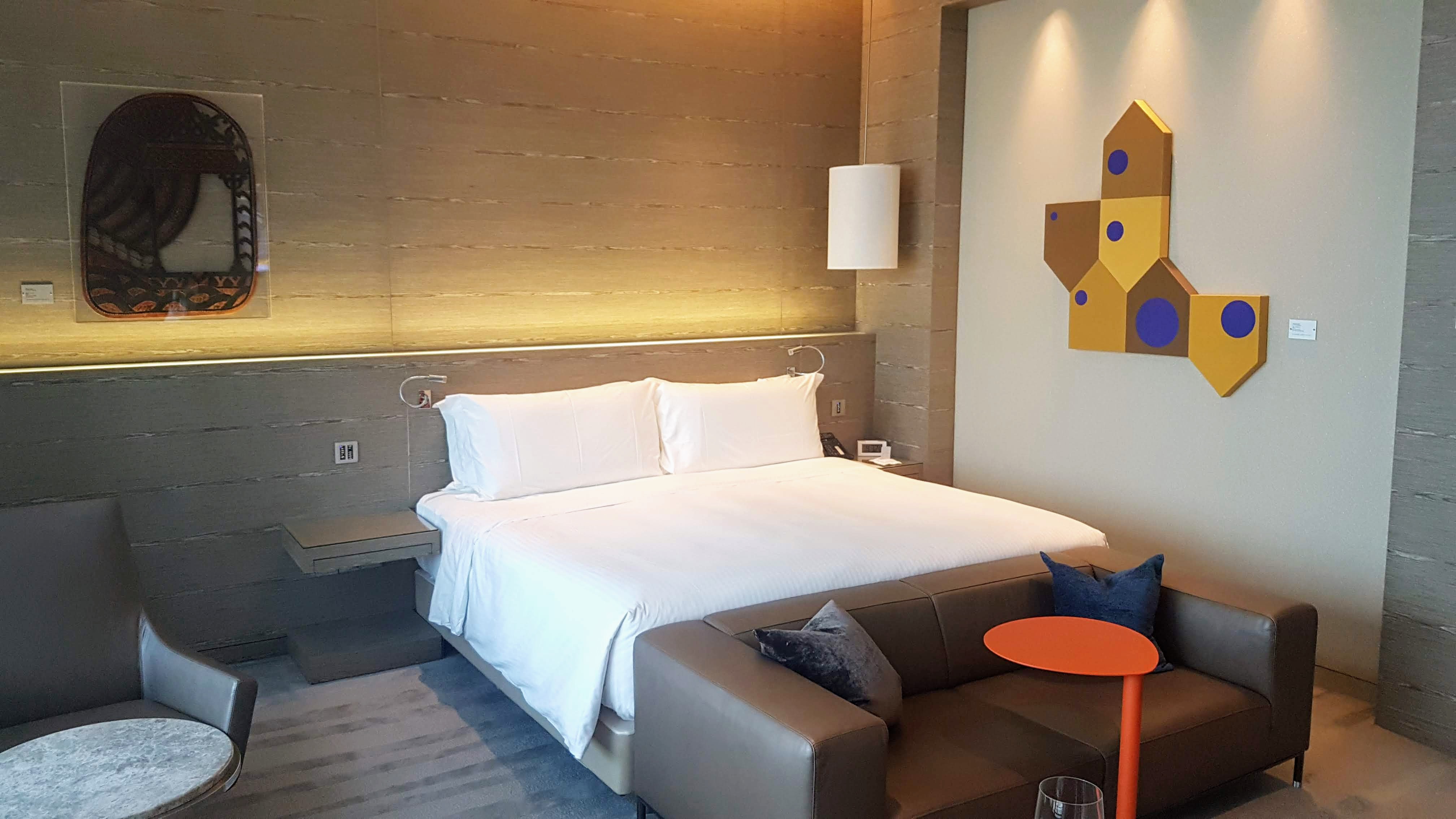 Guests of the Skyline rooms also have access to their own private gym for peace and focus during their workout, but course there was also a gym on the lower levels of the hotel for all guests.
During my tour of the property, I learned that this main gym is open 24 hours a day. There were five widescreen TVs on the wall, plenty of cardio equipment, and a solid range of weights for even the most hardy of fitness fanatics.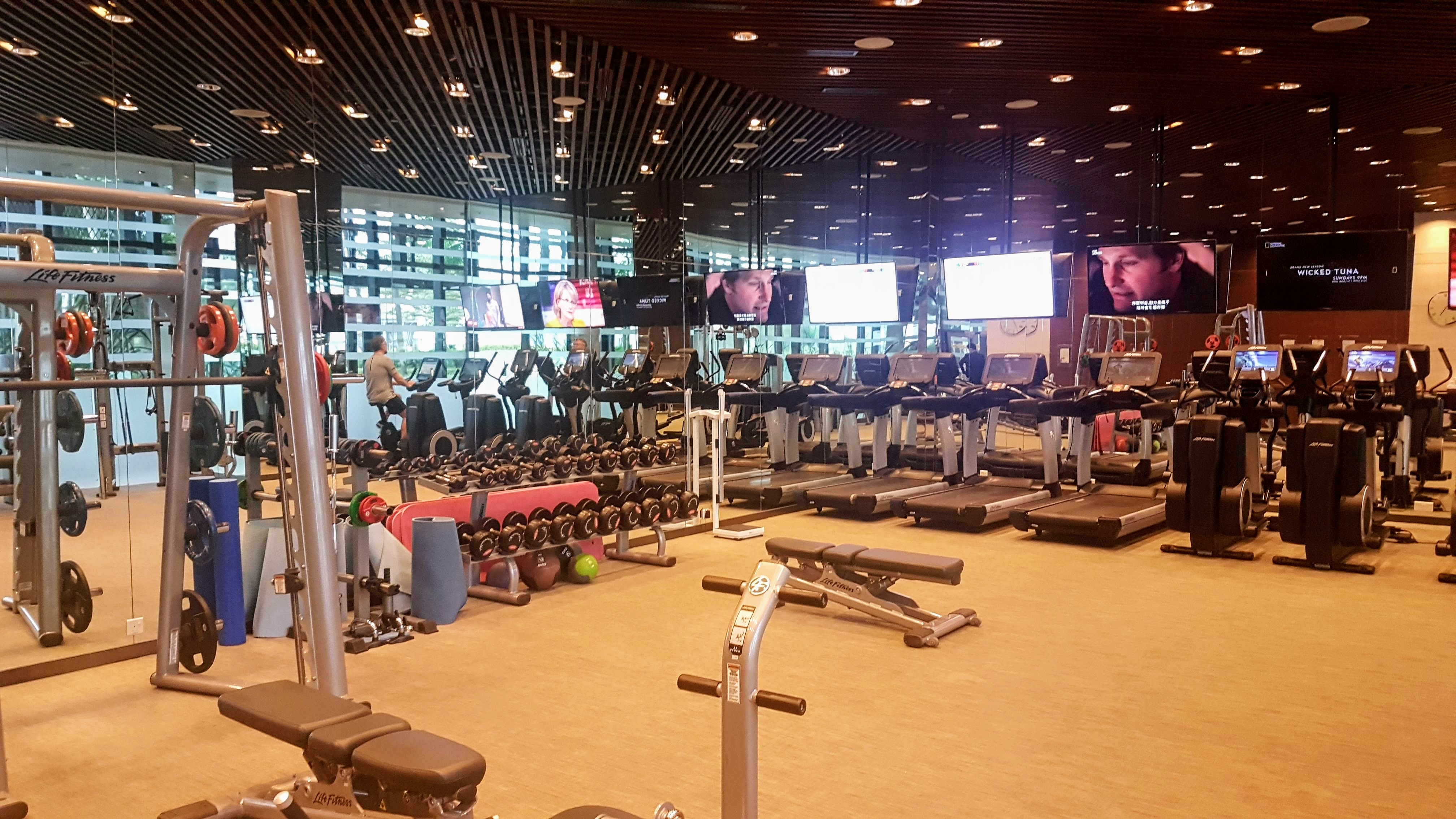 Moving past the gym was the spa and sauna facilities, with a sauna and gorgeous onsen spa for a peaceful moment in a Japanese-style oasis, right in the middle of the Singaporean metropolis.
Given the central location of the hotel, the swimming pool itself is even more impressive: it's an enormous flat blue square against a sea of soaring grey cuboids. The poolside Sunset Bar no doubt gets lively in the evenings – if only I had had the opportunity to enjoy it.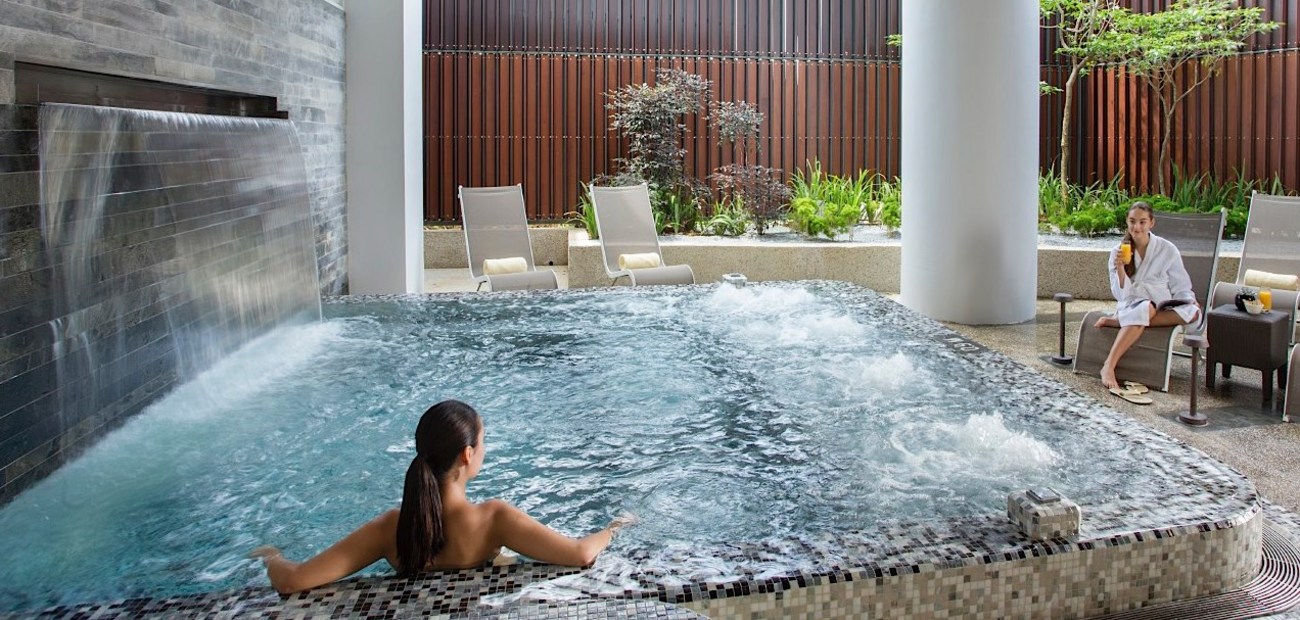 One of the most surprisingly impressive features of the hotel is its rooftop garden space. When I say garden space, I do not mean a simple lawn terrace for sun lounging; I mean a fully functioning allotment, with everything from foodstuffs to decorative shrubs to herbs and spices.
As we toured the garden space, we learned that all the ingredient flora would be incorporated into the menus at the hotel, in a farm-to-table concept. It must be no coincidence that the on-site cafe is called Local Fresh Seasonal (LFS).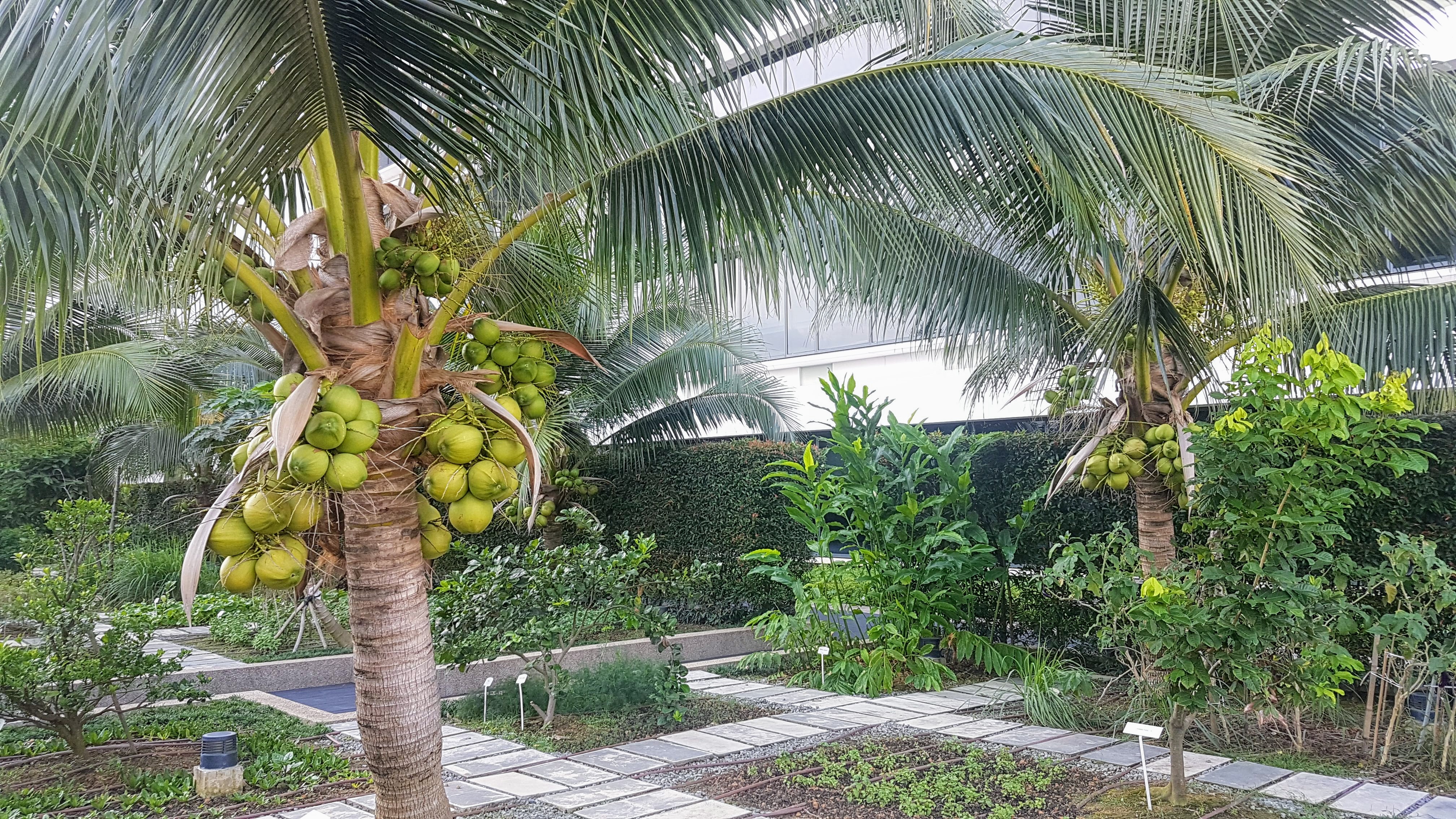 The main F&B outlet for the property, the all-day dining Escape Restaurant & Lounge, was a hubbub of activity during conference week.
The live open-kitchen concept saw the hotel chefs churn out a steady line of Singaporean and western dishes, to hungry and hurried ITB attendees as well as families, business people and families.
I'm happy to say that the entire hotel staff seemed to know that conference week is a stressful time for all of us and were obligingly attentive and welcoming. I look forward to staying at One Farrer the next time I visit Singapore.
More information
To learn more about the hotel, visit the One Farrer hotel website.