When it comes to cruising, there is no-doubt your tastebuds are spoilt for choice.
At every turn, there is either a divine dining experience, a tempting dessert or a poolside snack.
From à la carte to all-you-can-eat, most food offerings are included in your cruise fare.
The only downside is the struggle to fit into your pants towards the end of the journey. But remember – you're on holidays.
I'm travelling on Carnival Legend's short four-night cruise from Melbourne to Hobart to Sydney. We have two sea days which essentially means eating to your heart's content.
I'm particularly keen in savouring the ship's three new food and drink offerings and two poolside bars after the 294-metre long vessel returned to Australia in October following a dry dock in the US.
These include Alchemy Bar (a vintage-themed cocktail "pharmacy"), Guy's Burger Joint (developed by Food Network superstar Guy Fieri and delivering fresh-off-the-grill burgers), and Bluelguana Cantina (offering freshly-made soft tacos, burritos and homemade tortillas). The new poolside bars include Bluelguana Tequila Bar (Mexican-themed) and Red Frog Rum Bar (Caribbean-themed).
For those wanting to eat healthy, there're endless options in a range of cuisines including Japanese, Greek, Italian, Mexican, American, Indian and French.
Free 24-hour pizza and ice-cream is available, as well as 24-hour room service at an additional charge.
During an average week, the approximate 2000 guests on the Carnival Cruise Line's ship consume more than 3000 steaks, 2268kg of chicken and poultry, 1500 tomatoes, 13,700 potatoes, 5320 bananas and 3000 apples.
They'll also drink enough juice, tea and coffee to fill the three swimming pools three times over.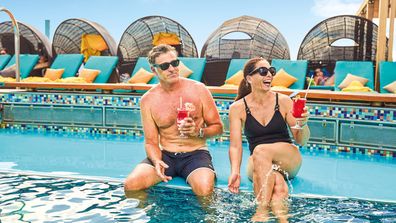 Here are my top seven feasting favourites:
1. Two-deck Truffles dining room on Deck 2 (included)
This is definitely my go-to place for breakfast and dinner as it offers a variety of tasty, gourmet food in an elegant setting without an additional cost. Apart from the delicious à la carte menu, the staff are friendly and it doesn't take long to become on a first-name basis. "Good evening Kim, how was your day?", headwaiter 'Chubby' asks me while placing a napkin on my lap.
Admittedly, the food can be a bit of a hit-and-miss. Some mornings my breakfast is served lukewarm and other days it's scrumptious.  
During the brekkie window, go for the avocado on wholemeal toast with lemon and chilli flakes (it's a light option), while at dinner time you can't lose with the vegetable spring rolls for entrée and the salmon fillet for main. And don't leave without trying the Carnival melting chocolate cake for dessert — although I usually lean towards trying new dishes, I find myself going back to this one night-after-night.
It's treacherous territory, as no matter what is stated on the menu, you can make requests and order as much as you like. Breads, croissants and pastries are served on the side when you're seated as well.
2. Bonsai Sushi on Deck 2 (not included)
If you're feeling like something light and fresh, look no further than this Japanese gem.
It's an ideal spot for lunch. Try and get a seat near the large windows – eating while looking out at the peaceful ocean is so calming.
Bonsai brings more to the table than just sushi. If you're travelling with a few people, be sure to ask for the sushi boat. Served in a wooden boat-shaped bowl, it's filled with a variety of sushi and a really yummy salad with home-made ginger-carrot dressing (I could eat this for days).
The menu is great — you simply tick exactly what your palate desires. I opt for miso soup for a starter, the wagyu kakuni (slow-braised short-rib on dumplings) with caramelised onion and teriyaki sauce (this is definitely a stand-out for me though the bite-size serving leaves me wanting more), and the sushi boat.
The Japanese beers go down nicely with your meal, too.
3. Lido Restaurant on Deck 9 (included)
Decked with a range of comfortable seating and pink lighting to match the unicorn feel, the casual all-you-can-eat buffet dining area accommodates for every craving with 10 international food stations.
Passengers can walk around and choose as much or as little as their stomachs desire. 
The restaurant is jammed-packed from noon to 2pm, and it's almost impossible to find a vacant seat at times, so believe me when I say do not collect too many plates at once.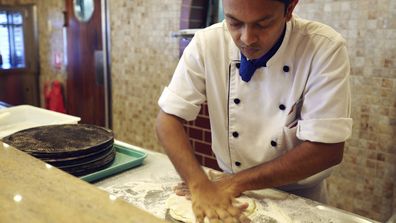 Pirate Pizza prepared fresh 'wildfire pizzas', cooked to order in just a few minutes. 
The self-serve tea and coffee is very basic, so we recommend Legends' Cafe; sure, there's an additional charge but it's worth it for the real stuff. The coffee shop and patisserie is open from 6.30am to 11pm daily.
4. Nouveau Steakhouse on Deck 10 (not included)
For something more upmarket head to the ship's French offering on the top floor, where delectable dishes, stylish decor and ocean views abound. 
The fine-dining steakhouse has a hand-picked wine list which complements nicely with the mouth-watering steaks, but it'll cost you ($55pp for dinner/$15 under 12).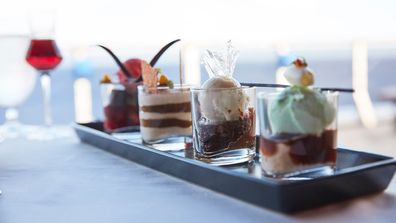 Among the entrees, guests can indulge in classics including escargot, ahi tuna tartare and baked onion soup. Even the sides ooze decadence — my salty and sweet brioche bun come with three butter flavourings; butter, eggplant and pumpkin. 
The surf and turf (maine lobster tail and grilled fillet mignon) are a hit among cruisers, but I can't go past the fillet mignon with three peppercorn sauce — I'm at a steakhouse, after all. There's a range of mouth-watering sides to choose from, but I opt for the wasabi potato mash, creamed spinach with garlic and steamed broccoli.
Consider yourself warned, the dessert portion sizes are, erm, generous. I order the chocolate sampler featuring bittersweet chocolate cake, banana pannacotta, tiramisu and chocolate marquise, but only get through half.
5. NEW: Alchemy Bar on Deck 2 (not included)
Alchemy Bar is known among patrons as "the pharmacy" as you can order whatever "medicine" you desire, staff member Amel tells me.
"It doesn't have to be a recipe," he says, while flashing a menu that lights up when you open it.
It's easy to linger here, and I can personally vouch for The Perfect Storm, Cucumber Sunrise and The Quick Fix from the cocktail menu – perhaps not all at once, of course.
6. NEW: Bluelguana Cantina and Guy's Burger Joint on Deck 9 (included)
For lunch or a quick and easy bite, particularly ideal for families, the Blue Iguana Cantina and Guy's Burger Joint are go-to foodie spots.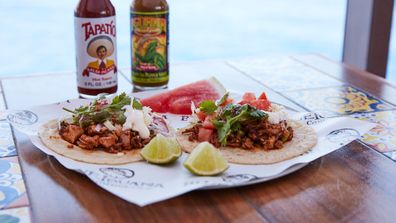 The former is a Mexican haven. Simply choose your base and toppings. It's not pictured in the window, but if you ask nicely, you can enjoy your taco toppings in a giant crunchy hard shell, El Del Paso-style. 
Guy's Burger Joint channels a roadside burger shack, serving American-style burgers and hand-cut fries. But the best part is DIY component — yep, you can take your fresh-off-the-grill burg to the toppings bar and go to town.
7. NEW: Bluelguana Tequila Bar and Red Frog Rum Bar on Deck 9 (not included)
Afternoons are best spent relaxing by the pool and sipping on something delish from Bluelguana Tequila Bar and/or Red Frog Rum Bar.
Most cocktails are Mexican-leaning at both drinking holes, including a range of signature margaritas, which I'm told get the most love from guests.
Frog's frosty Island Iced Tea is a must-have beverage when you're craving something refreshing.
Carnival Legend departs from Sydney, Melbourne and Brisbane to Sydney, Hobart, Moreton Island, South Pacific Islands and the Transpacific until April this year. For more information or to book a cruise, visit carnival.com.au.