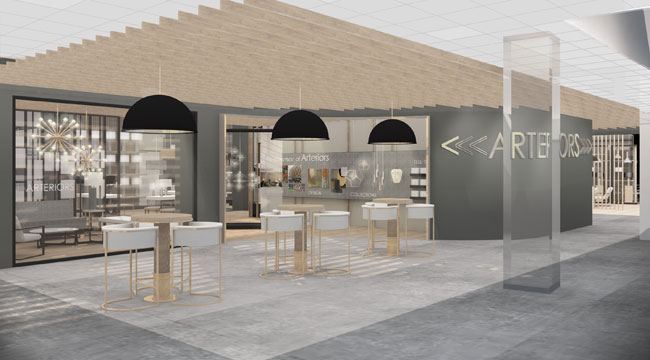 Arteriors is moving to the ground floor of the C&D Building for October's High Point Market. Here's a digital rendering of what the entrance of the new space will look like.
Since its founding in 1987, home décor, furniture and lighting manufacturer Arteriors has been a High Point Market mainstay.
At the upcoming Oct. 13-17 market, the Carrollton, Texas-based company will have a new home, on the ground floor of the Commerce & Design Building.
"I've been attending High Point Market for nearly four decades, and Arteriors has shown at market since I founded the company in 1987," said Mark Moussa, founder and creative director of Arteriors. "As a company and a team at Arteriors, we have continuously worked on evolving the brand to better serve our customers. This fall marks an important milestone in this evolution with the opening of our brand-new showroom in High Point. It's not only an opportunity for us to showcase our products in a bigger and more accessible space – it's a representation of the future direction of the company."
The new location will be about twice the size of Arteriors' previous showroom in the IHFC with higher ceilings, to boot. Moussa said with the additional room to showcase product, the company's assortment will be able to shine.
Mark Moussa
"The assortment will reflect our signature lived-in luxury, simplicity in living and immersive design with bold new pieces and even new product categories – we will be launching our first assortment of outdoor furniture this fall," Moussa said. "Longtime partner Windsor Smith will be launching her third collection with Arteriors through our guest designer program, which we are celebrating with a space dedicated to her collection within the new showroom. We think customers will enjoy new materials and combinations and feel inspired in new ways when they see the fall assortment depicted in our curated vignettes."
Additionally, IMC, which owns the C&D Building, is working with Arteriors to create a lounge space in the building's lobby with seating, tables and lighting.
Moussa said the space, developed in collaboration with Callison RTKL, is designed to focus on the customer journey, showcasing product in ways that make it easier for customers to see through to their specific needs
"We believe that our customers will appreciate a more streamlined and open experience in a space that is more than double the square footage with higher ceilings and beautiful, inspiring vignettes that express the bold and broad capabilities of the Arteriors assortment," he said.
The High Point showroom move is one of two fall openings for Arteriors, which is also moving into a larger showroom in the New York Design Center.
"Last year, we celebrated 30 years as a company. With two new showrooms opening this year, and an incredible line-up of new debuts for fall High Point Market, we couldn't be more excited to kick off the next 30 years," Moussa said.
To celebrate the new High Point space, Arteriors is hosting a grand opening celebration on Friday, Oct. 12 from 6-8 p.m. On Sunday, Oct. 14, it will host its annual brunch with Windsor Smith from 11 a.m. to 2 p.m.
"We could not be more excited to invite our customers into the showroom – we think they're going to instantly feel inspired, and at home," Moussa said.