You've packed your closets to the gills. You've filled every drawer and cubby to overflowing. And you still don't have enough room to store all your stuff. Right?
Wrong. Hidden pockets of underutilized storage space abound in your home … that is, if you know where to look. Here are eight unexpected storage areas you're probably overlooking, and how to make the most of them.
1. Above the fridge
Photo by Moon Architect and Builder
Think "up" when you're designing or renovating the kitchen or installing living room bookshelves, urges Justin Riordan of Spade and Archer Design Agency.
"Make sure cabinets go all the way to the ceiling, so you're utilizing the entire wall and not leaving space you'll have to dust later," he suggests. This above-the-fridge space is an ideal spot for a basket (toss your junk in—and it's hidden).
Or line up your cookbooks above the fridge, suggests Sarah Hollenbeck of Offers.com.
2. In the kitchen island
Photo by Intimate Living Interiors 
This low-to-the-ground spot cries out for some smart utility. A pet feeding station or cubby to hold a pet bed is a good way to enhance the end of a kitchen island.
"By removing the lower set of cabinets, your dog can enjoy a nice hideaway, but still be in the hub of all the action in the kitchen," says Karen Gray Plaisted of Design Solutions KGP.
3. Nook under the stairs
Photo by Tom Hurt Architecture 
Wish you could work from home but don't have a room to devote to an office? A stair cutout is the perfect fix.
"You can also create shelving and drawers for additional organization," says Gray Plaisted. Other options for this spot include storage for bikes, a stroller, or sports gear.
"Staircases are an excellent place for storage—underneath stairs, on the stairs themselves or even inside the stairs—think pullout drawers," adds Riordan.
4. Stair landing
Photo by Visbeen Architects
The turnaround in the middle of your staircase or a wasted spot in a long hallway can be transformed into a kids' art center or a pretty book nook. Add lighting, a built-in bookshelf and a cozy cushion on the bench, and then hang wallpaper to define—and beautify—this space.
5. Under the bed
Photo by atmosphere kitchen and bath
Whether it's a kid's room with a loft or bunks or your own queen-sized sleeping space, the area under the bed is often overlooked, say the pros.
"Store out-of-season clothes, shoes, and boots under your bed," says Jamie Novak, author of "Keep This Toss That."
Riordan likes to utilize the space under a kid's bunk bed for a fort, homework spot, or an extra closet.
6. Bedside and end tables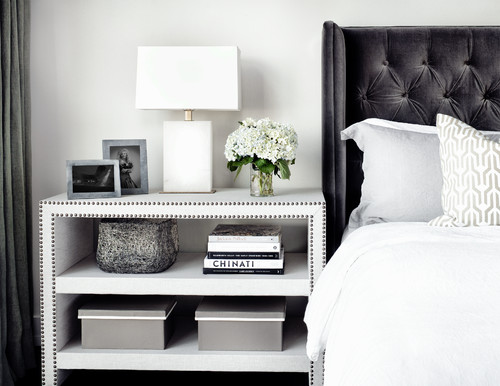 Photo by 
A few books and a box of tissues are fine in these spaces, but you can improve your storage options by keeping sleek bins or decorative boxes here. Novak puts her end tables to use with a basket for games, video controllers, remotes, magazines, cozy throws, and dog toys.
7. Skinny kitchen spots
Photo by Craftsman Design and Renovation 
The little vertical space between appliances and cabinets is prime real estate for certain hard-to-store items, including utensils, baking sheets, platters, and trays. Or look to the spot between the fridge and your kitchen wall, suggests Hollenbeck.
"If this area isn't too dirty, it's a great place to store cleaning supplies, like a broom and a flat-head mop," she says.
Bonus: Your cleanup gear is close at hand, but won't ruin the room's aesthetic.
8. Crown molding and ceiling perimeter
Photo by Maxwell & Company Architects
You can find overhead space in various rooms around the house. Novak suggests installing shelves that are 18 inches below the ceiling around a room's perimeter for book collections.
"And you can put in a wide piece of crown molding over a bathroom door frame to hold extra paper products," she adds.
Hard-to-reach spaces may not seem like obvious spots for decor, but they can help take your home to the next level, says Hollenbeck. Try a floating shelf up high that's filled with fake plants or a set of lined-up photo prints, she suggests.