Minneapolis – Home was the leading category in a quarter that saw sales gains across the store at Target.
Home comp climbed nearly 10% during the second quarter. Standouts included the new Made by Design collection that launched June 23, décor, kitchen and seasonal as well as a very strong start to Back-to-College (BTC), executives said during this morning's quarterly call.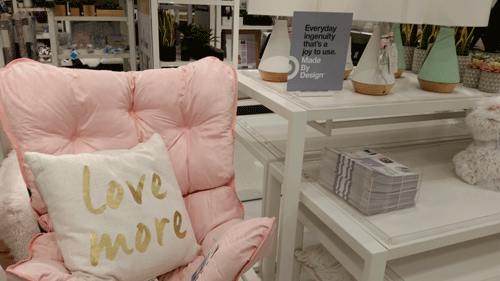 "The comp growth in the home category was amazingly strong," said Target chairman and CEO Brian Cornell.
Home was also a big winner on July 17 during Target's one-day digital promotion on Amazon Prime Day. The event gave Target its highest online sales day so far in 2018, with more than half of sales coming from home merchandise.
"We're currently benefiting from a strong consumer environment, perhaps the strongest I've ever seen," said Cornell.
The second quarter ended Aug. 4 generated impressive results:
• Traffic growth of 6.4% was the highest since the company began reporting traffic in 2008;
• The 6.5% comp increase was the best at Target in 13 years;
• Comp growth from stores rose 4.9%;
• Comparable digital sales jumped 41% – on top of 32% growth in the year-ago quarter.
Quarterly net earnings climbed 19.9% to $799 million or $1.49 per share. Total sales rose 7.0% to $17.6 billion.
For the first half, net earnings grew 12.5% to $1.5 billion, or $2.84 per share. Sales were up 5.3% to $34.1 billion.
Based on first half results, Target raised its fiscal year guidance this morning. The company now expects GAAP earnings per share from continuing operations and adjusted EPS of $5.30 to $5.50, compared with the prior range of $5.15 to $5.45.