Home2 Suites offers extended comforts
Hilton Hotels and Resorts is building Home2 Suites by Hilton, a 95-room extended stay hotel on N Sanders St. by Interstate 15.
The first of its kind in Helena, the hotel caters to visitors who intend to stay 30 days or longer.
"These people are trusting us with their experience," said Callie Aschim, general manager, Home2 Suites by Hilton in Helena.
The Home2 extended stay brand focuses on socialization and technology.
"This is a fun, new brand," Aschim said. "This will be a fun property with great rooms. Staff is local and enthusiastic about tourism.
The hotel is less about quick check in and out (although the process is fast and efficient) and more about longtime comfort. Suites offer more of a studio apartment feel and have fully-equipped kitchens, including full-size refrigerator and dishwasher. There is a Gathering Zone, which encourages socialization and meeting your neighbors.
The studio and one-bedroom suites are going to be finished with windows facing mountain views.
Hotel amenities include heated indoor pool, 24-hour business center, laundry and fitness room. Meeting space is available with conference rooms that accommodate 10 or up to 140 people.
Complimentary breakfast in in the dining area, which touts an "Inspired Table," outfitted with power outlets to allow visitors to plug in and keep electronics charged.
The coffee and hot drinks station is open 24-hour hours to encourage people to sit and socialize at all hours and a mini market is open for guests to grab items on the go.
Aschim said Helena is in a prime location for this type of hotel because government business drives extended stay needs.
Rates are based on longer stays, about $102 a night, but there will be suites available for those staying a night or two.
Being part of the Hilton corporation, Home2 guests can utilize the loyalty program and accrue points and miles.
This is Hilton's first corporate managed Home2Suites. The company has been building them since 2011 primarily as franchises. This is the second in Montana, the first located in Billings. The closest one outside the state is in Idaho.
The hotel anchors one end of the Trinity Center project development proposed by the Diocese of Helena. The diocese has contracted with Trinity Restoration in Bozeman to develop 80 acres, including 450,000 square feet of leasable space that incorporates the hotel, commercial and retail space, and multi-family housing. A storage unit business will be at the other end.
Home2 Suites is on schedule for an early May grand opening. Bookings already are being taken online at home2suites3.hilton.com.
Helena's Sage & Oats Trading Post: Celebrating culture with a Montana flavor that tantalizes the senses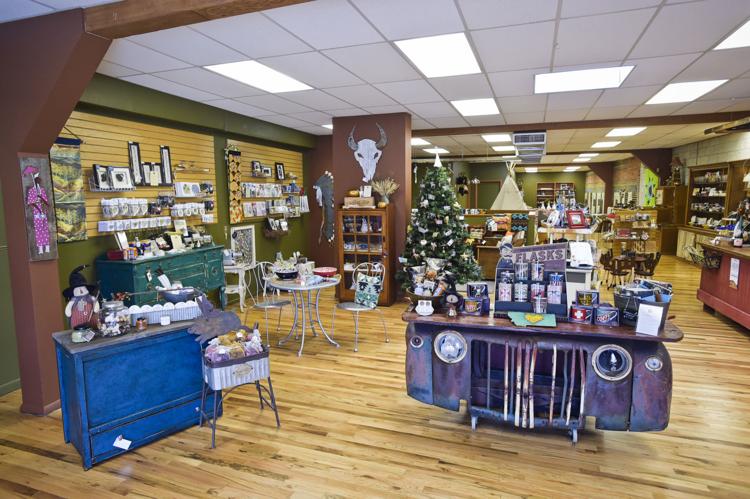 Wander into Sage & Oats Trading Post in Helena and the scents percolate feelings of warmth, comfort and nostalgia.
Shelves, tables and even wagons are decorated with beautiful displays of gifts and goods that celebrate all cultures.
The space at 330 N. Jackson St. is laid out to allow shoppers to flow in every direction and discover items from Native American artisans, Made in Montana craftspeople, imports from Scotland, Ireland and more.
Sage & Oats is the combined effort of owners Major and Michelle Robinson. Major is Native American and registered member of the Northern Cheyenne Tribe. Michelle is Scotch Irish and from Florida.
Twenty years ago they both worked at Universal Studios; she was in retail design in Florida and he was in architectural design in Los Angeles. Her studio sent her to L.A., where they met.
Several jobs and moves later, one of which saw Robinson appointed by Gov. Brian Schweitzer as acting director of Indian affairs and her working in labor and industry for the state, they landed in Helena (for a second time) to settle down and allow them to pursue the retail store.
The store is a dream 10 years in the making and was born from a desire to combine their talents and share their love of travel and culture. They kept a dream book and jotted down ideas and added images to develop a unique store concept. The name, Sage & Oats, is a combination of his Native American and her Scotch/Irish heritage. 
They said, let's delve into this and find all the different cultures in Montana. The couple began their research with the book "Montana, A Cultural Medley."
"We are trying to celebrate the cultures relevant to Montana," Michelle said.
Because the store is a cultural mix, not everything is made in Montana. Some of the items Michelle selected are because they represent a part of the state or because they are a cultural import to the state.
There are Japanese obi belts that have been repurposed into wall hangings and table runners by Hiiragi Asia in Missoula. The materials are from Japan and represent the Japanese culture alive in Montana.
Irish and Scottish home décor items are intermingled with Native American beadwork jewelry and other crafts.
Handmade soaps and candles have been created by local craftspeople especially for the shop in scents that remind Michelle of her time spent living on the reservation with the family. Soap scents include Indian frybread  and honey, braided sweet grass, and the store exclusive, Sage & Oats.
Major is the creative design for the overall space of the nearly 2,500-square-foot store. Michelle's retail design background from the theme park gave her the expertise to decorate the space.
For more than 40 years, the shop space housed a children's store. Then it was a children's clothing consignment shop and, previous to Sage & Oats, was the second floor for Montana Book Co.
The Robinsons moved in and promptly removed the carpeting and refinished the existing wood floors. They discovered one of the most preserved ghost signs in the area on an interior wall, which is the exterior wall to The Painted Pot and the original wall to Eybel's Café.
The wall, which reads "cafeteria," is in the area of the shop that will eventually become a working art studio, complete with art classes.
The Robinsons have two daughters, Jorian, 18, and Kyra, 15, who are each artists in their own right. Kyra may eventually help teach art classes and with Major's contacts at Disney and Universal Studios, the shop hopes to live stream in other artists. Area artists also will be invited in to teach techniques.
The back also is office space for Major's personal business, Redstone Project Development, a design consulting business. When he is not designing for theme parks around the world, he is available for local projects.
Longtime visitors to the shop space will be happy to know the Robinsons kept intact the child-size entry door from Jackson Street.
The trading post's exterior makeover was partially funded by the Montana Business Improvement District. Major used his talents to create a building facade that was attractive and different from anything else.
"We wanted something that people would see, come up, and say, 'hey, what's going on in here,'" he said.
The signage outside is hand-carved by a Little Shell tribal member who lives in Montana City. He is the same artist who carved the CM Russell interactive piece that sits outside the Montana Historical Society museum.
The couple opened the store using their own savings and didn't want to go overboard with purchases that might not sell. They purchased some product outright and consign with artists on other wares.
"It can be pricey to put a lot of stock in that much space," Michelle said. "It's a good way to test if the product will sell in the store."
The same soap maker who designed the shop specialty scents, Studio B Soapworks of Anaconda, put out a Harry Potter influenced line of soaps that inspired Michelle to create a Harry Potter-themed display cabinet including a Golden Snitch Bath Bomb, chocolate frog soaps, Floo Powder bath salts, Skelegro Bubble Bath and Polyjuice Potion lotion.
Michelle went to her son, Colton, 10, for a few additional Harry Potter props to round out the theme-park worthy display.
Kamut, a Made in Montana snack food, sits on a shelf next to Irish and Scottish candy and by the Guinness chips. Scottish and Irish soda is available to wash it all down.
Drums made by a Blackfeet tribal artist are surrounded by a display of Greek Turkish bowls and native fleece blankets and pillows. Upcyled faucet lamps and teepee lights work well next to each other.
Finding the artists was luck, but intentional, Major said.  Working in the office of Indian Affairs plugged him in to the Montana tribes. He knew the artists were out there, knew some of them personally, and inquired within the Native artistic community.
If there's one thing Major hopes to come from this venture is to encourage artisans to keep doing what they are doing.
On a more personal level, he wants to encourage other American Indians to not only do their art, but to get out there and take a chance with having their own business.
"Take that step," Major said. Even if that means doing business out of your garage. I really, really believe in entrepreneurship, especially American Indian entrepreneurship. I really believe and hope this encourages other tribal members to invest in their dreams."
Michelle doesn't want to compete with other stores that sell Montana products and so she and other store owners in Helena visit each other's stores and get an idea of inventory so they don't copy each other. This also enables them to send shoppers from one store to another who are looking for a specific item.
"This is too small of a town to compete," Michelle said.
Helena's new indoor soccer arena allows sport to continue during winter
More info
Queen City Football Club in Helena Indoor Soccer Arena
Where: 1035 ½ Mill Road
Information and registration: queencityfc.org/indoor
Phone: 406-594-2371
Just in time for the cold and snow, indoor soccer has come to the Helena area.
Queen City Football Club of Helena rented the space at 1035 ½ Mill Road and transformed what used to be a warehouse full of dirty, greasy equipment into a 100 foot by 50 foot soccer court.
"The club has wanted this for two years," said QCFC President Bridget Johnston. "The space became available and we jumped on it. We're always fighting for gym space around town. There's a need for Helena kids to do soccer in the winter."
The building was leased Oct. 1. Volunteers and the board cleaned and painted the building. They took down walls and erected 4-foot-high arena walls.
People hear about it and want to know if it's truly a soccer court or another gym, Johnston said. It is a soccer court. Adult leagues play full court and for youth teams, the court can be divided into three play areas.
"The building is insulated and heated," she said. "It's actually quite warm."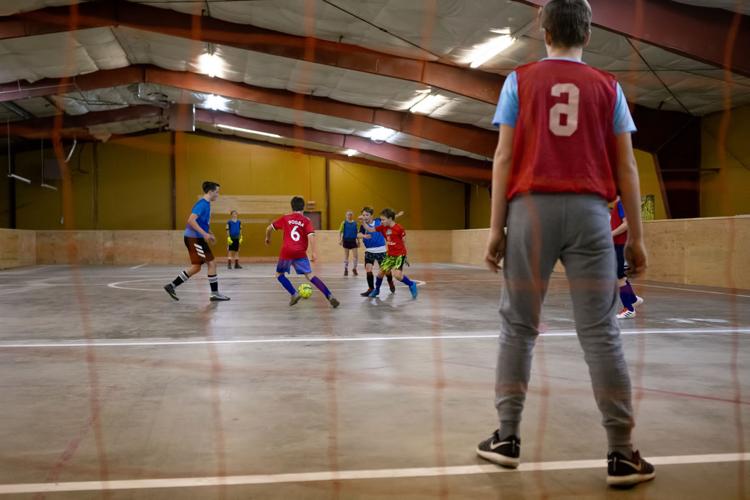 Throughout the winter, classes and team play for adults and children will be available. There are indoor leagues for youths from age 3 to 18. Adult league will be Monday night for anyone 18 and older.
Competitive teams will be practicing for spring. Interested adult players can register for league, form teams, or be placed on a team.
There has been talk of open times when players can drop in and play but nothing yet is scheduled. There also is the possibility of adding pick-up games later if there is enough interest.
For now, adult pick-up games are scheduled from 6 to 8 p.m. Nov. 12 and Nov. 19. League games will start Nov 26. Registration for adult and child leagues can be done online at https://queencityfc.org/register.
Montana's Olympic Development Program rented the space for practice over the winter. The U.S. Youth Soccer Olympic Development Program is made up of players in each age group from which a National Team is formed for international competition.
"We also hope to host events for youth in town that don't necessarily have to be soccer related," Johnston said. "Like a youth lock-in or parents' night out, where kids can come and hang out and play dodge ball or something."
There is a classroom for referee training and coaches clinics as well as a concession area with food, foosball and television. Johnston said they are hoping to make it a place "where kids just want to hang out."
When children are practicing, parents and siblings can be comfortable staying for an hour and have coffee.
"With practice for only an hour, you can come in and be warm and wait," Johnston said. "There are indoor soccer leagues all over the country. With the cold here, it's crazy we didn't already have one."
While there won't necessarily be retail space, club apparel and necessities, including shin guards, will be available. Online orders from soccer.com may also be delivered there.
"We don't want to compete with anybody locally selling," Johnston said. "We will just have things available if you need it for a Sunday game."
Queen City Football Club of Helena has been using its own money to fund the venture. Funds have been raised by selling wall board advertisements within the building.
One of the last big projects is the installation of the shock resistance sports floor. While the concrete floor is playable, Johnston said it's not preferable. There is one more available big sponsor.
Johnston said the club wants to add The Outreach Program for Soccer to its schedule. TOP Soccer, a program through U.S. Youth Soccer, is for children with special needs. Johnston said it is volunteer driven and there already are about 20 people committed to the program.
She said the plan is to begin in January. Great Falls is the only other area in the state with this program.
"With this controlled environment, we will be able to launch a good program," she said.
Helena's new 1889 Coffeehouse brews up fresh options with drive-through convenience
Monday morning, those seeking a cup of coffee and fresh baked goods will have a new option with the opening of 1889 Coffeehouse in Helena.
The name of the coffee shop was crafted to reflect the date Montana became a state, Nov. 8, 1889.
Brett Wiensch, along with his wife Heather and daughter Ashley, have been busy on this project for about 20 months, from teardown of the site, which housed a gas station and car lot, to opening. Delays included soil inspection by the Department of Environmental Quality, which unfortunately changed the planned opening date of Nov. 8.
Weinsch said much thought and research went into what is now a coffeehouse with fresh food selections. His daughter desired to open a bakery. Weinsch has restaurant management and beverage brokerage in his background. They put their heads together and, since he didn't want to rely on just a bakery and compete with the other established bakeries in town, they kept looking for a focus. Born was the idea for a place that would offer coffee with baked items and fresh lunch and dinner menu selections.
This is a small business start-up original to Helena, Wiensch said. The concept has been in the works for about two years and, Wiensch said, they have done their research to ensure longevity.
In seeking product, Wiensch met up with Ghost Town Coffee Roasters in Bozeman and was excited about the company's 1889 signature blend roasted coffee beans. The beverage will be featured and will be available on nitro, a very cold but not watered-down beverage.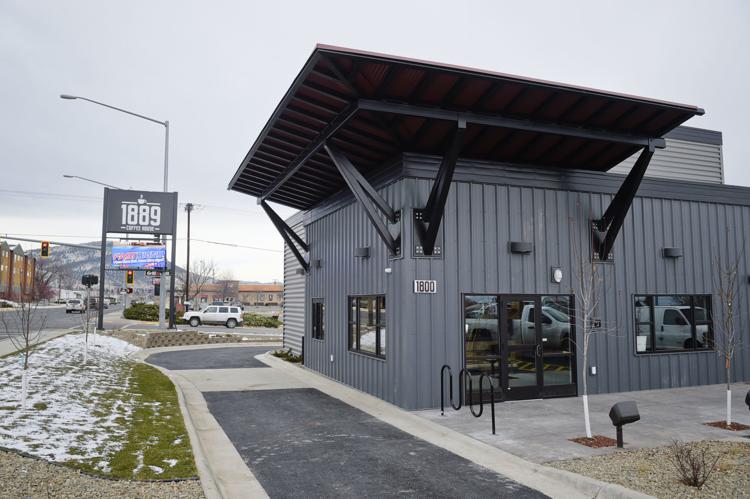 Breakfast sandwiches, soups, salads, sandwiches and burritos will be on the menu.
"We are doing something different in offering a healthier choice," Wiensch said, emphasizing the convenience of the drive-through. "Moms will appreciate that when the weather turns and they don't want to grab the kids and get out of the car."
Everything on the menu will be made fresh. Eggs will come out of the shell. Cheese and butter won't be made from chemicals and bakery items will be baked in-house.
"Nothing will be microwaved and we don't even have a walk-in freezer," Wiensch said.
For three months, Wiensch analyzed the traffic flow in the area and researched prices.
"We won't cut quality or skimp," he said.
Part of the business concept includes giving back to the community. Opening day, part of the proceeds will go to the Montana Historical Society. Additional days will be scheduled during which a portion of the proceeds help Helena non-profit organizations.
Steve's Cafes in Helena sell but stay in the family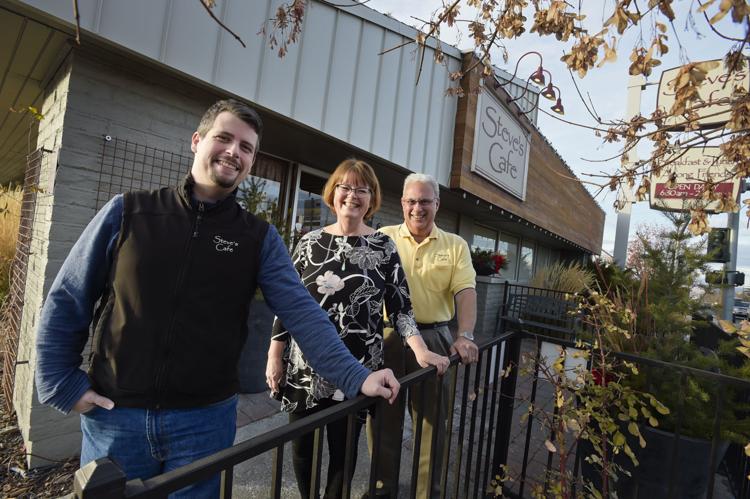 Steve's Café in Helena has sold. However, longtime regulars have nothing to worry about as it's being kept in the family. The new owner is Steven Vincelli, son to founders Steve and Penny Vincelli.
"I don't see any reason to make changes," Steven said. "Maybe little tweaks here and there to improve things, but nothing else."
Steve and Penny aren't going anywhere, except for a planned vacation to Hawaii and a mission trip to Africa.
"But they have to come back," Steven said. "It wouldn't be a family business without them."
The Vincelli family has been in the Helena restaurant industry since 1999, when they opened the Montana City Grill. They sold that after eight years and opened the first Steve's Café on Custer Avenue in 2009. A second one followed in Meridian, Idaho, which was run by Steven, and a third opened in 2013 back in Helena on Montana Avenue.
Steven ran the café in Idaho for five years, when it was purchased by an employee in Helena. Three years ago he returned to Helena to help his parents.
"It's time," he said of his parents' retirement. "They keep talking about Hawaii."
While Steven took over Nov. 26, he doesn't want his parents to step away and go "cold turkey." He said running the café is more than a business. Staff and patrons are part of the family.
Penny does the books and paperwork and will continue for a time assisting the new hire who will take on those duties. She enjoys mingling in the cafe and has relationships with many regulars. Steve has been responsible for a bit of everything.
"He's always looking for ways to do better and to improve," Steven said of his father. "Now I'm looking forward to do those things with him and putting his ideas into action. He will be my sounding board."
Steven learned most of the business, from washing dishes on up, at the Montana City Grill. While it may be in his blood to run the restaurant, it hasn't been his only focus. Steven has a degree in elementary education and taught fifth-grade for about four years in Idaho. He said he occasionally misses being in the classroom but looks forward to carrying on the family business.
"He is very capable," Steve said of his son. "He's the boss now."
The recipes at the café truly belong to the Vincelli family. Eating there is a lot like eating in their kitchen, Steven said.
"The Italian sausage is my grandpa's recipe," he said. "Mom is German and is the baker and Dad is the one who comes up with the fancy and creative recipes."
The unique and favored food items, including huckleberry stuffed French toast, slow-roasted corned beef hash and the house made sausages, will remain on the menu.
"We're not changing any of that," Steven said. "We will continue what has made us successful. Our motto is high-quality food in a relaxing and comfortable atmosphere among friends and family."
Steve and Penny are grandparents to nine children, ages 6 to 15. They are very involved in their lives; Penny teaches the girls how to sew and cook and Steve takes the boys hunting and spends a lot of time in the woodshop creating "sawdust" with them.
"I would like to thank the town, Helena, for all the support for these last 10 years," Steve said.
Now, said he is looking forward to sitting in the restaurant and reading the paper, without being concerned about an empty plate sitting on a table or a patron's coffee cup getting too low.
Penny said, "The business is just, business. The most important part is the guests and employees."
Both agreed they have been blessed by very good staff. Steven is looking forward to continuing to lead the same way his parents have before him.
Sears Hometown has new owners and looks forward to new location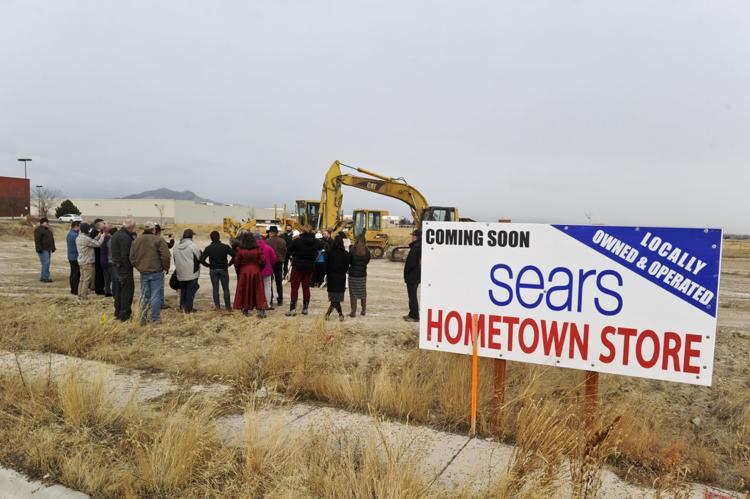 Walter Deege and Sandra Kokoruda, new owners of the Sears Hometown store on Dredge Drive, broke ground last week for a new, bigger location on Market Street by Sherwin Williams.
This will be twice the size of the original store and in a much better location, Deege said.
Deege admitted he didn't know where the Sears store was before he made the purchase because it was in such a secluded location.
Deege and Kokoruda purchased the business in September and have been working with the city on permit approval for the new location.
The two have worked together on real estate transactions for about four years and going in together on the Sears business seemed a natural step. Kokoruda, a Realtor with Uncommon Ground, has helped Deege buy and sell property, including his own home.
Deege said the Sears store fits in nicely with his other businesses, which include Original Digital, office supply and print design; and Deege Associates, home building.
"Sears is a good store," Deege said. "This opportunity came up and just came together."
Sears Corporate and Sears Hometown are two different companies. Sears Hometown stores are locally owned and operated and sell primarily appliances, lawn and garden, tools, mattresses, etc. Sears Hometown is its own independent publicly traded company.
Kokoruda said the nice thing about Sears Hometown is shopping in the store offers that nice "old-school" touch. You can feel the appliances and ask questions, she said. More space will provide the opportunity to expand in-store products.
"It's nice to have options and work with local people," Kokoruda said. "People want to shop local and this is a locally-owned store.
Support of the people in this town is fantastic and their enthusiasm is fantastic, Deege said.
Plans for the new building were drawn by Slate Architecture, construction is underway by Sussex Construction Inc. Sussex expects to finish the project sometime mid-May.
"This has all been well timed," Kokruda said. "We are digging now before the ground freezes."
While Deege owns a construction company, he only does residential construction. However, he said, he will be keeping an eye on Sussex's progress.
Back at the current store, changes in anticipation of the new space already are underway. A service center has opened that offers small engine repairs. This will move to the new location.
The original store will not close until the new store is ready for business. Employees will be a part of the transition and current expectations are to keep the same staff.
"Our employees are under tremendous pressure," Deege said. "I'd like to thank them for struggling through the transition with us. We couldn't do all this without them."
Japanese restaurant and pub replaces Helena's old Fusion Grille
Ramen noodles are in downtown Helena.
Hokkaido Ramen & Izakaya has taken over the old site of Fusion Grille in the Great Northern Town Center.
Izakaya is an informal Japanese pub — somewhere casual to pop in after work for a drink and a snack with friends, said Zack Grobel, kitchen manager and head chef.
"We will have ramen, sushi and appetizers," Grobel said.
The owner, Tom Cai, owns Nagoya Japanese Steakhouse and Sushi in Helena and in Salem, Oregon. In Salem, the ramen became a big hit and Cai decided to bring it to Helena.
"Ramen is traditional food from Japan that's imported from China," Cai said. "It's everywhere. It's popping up in New York and now all over the U.S."
He said this is Helena's first restaurant to serve ramen, which is much different than the instant noodles that might come to mind. There are nine different kinds of ramen on the menu. The ingredients are fresh and each one starts with a broth made in-house. The noodles, Cai said, are the same wheat noodles used in Japan.
There are spicy, saucy and light flavors of ramen. The most common begins with a creamy pork broth and grilled pork meat and includes a soft-boiled egg, marinated to give it a sweet soy taste. Garlic, chilis, scallions and bamboo shoots are added to give extra flavor and a little bit of crunch.
"It's nice to eat hot soups in the winter," Grobel said. "It will be a flavor a lot of people in this town have never experienced."
Hokkaido Ramen & Izakaya is like no other place in Helena.
"It's a Japanese, stand-up, drink-and-eat-with-friends restaurant," said Lawrence Avant, sushi chef. "We have one of these small stores in Oregon and so we're venturing here.
"We are not Nagoya but we will have some, if not most, of the sushi rolls here as well," Avant said. "I guarantee everyone will like the ramen."
The menu is affordable, with ramen offered for about $11, and will include hot and cold appetizers, rice dishes and sushi rolls at "prices that won't empty your pockets," Avant said.
Prices range from $3 to $11.
The drink menu will consist of local beer, wine and an "extremely varied" saki list.
"This is more of a fellowship, good relations, communicating watching the game in good spirits (place) with an attractive menu where you can watch the game," Avant said. "You can eat appetizers and watch the football game on three televisions."
Cai likes to travel back to Japan every few years to see what's new. He originally is from China but learned to cook in Japan
"I want to give a full experience here of what they have in Japan," he said.
Jump for joy: Montana City's new trampoline park is now open
Helena-area families no longer have to travel to Great Falls for Flippin' Family Fun. The trampoline bouncing fun center has arrived in Montana City.
Natalie Riggin, owner and creative mind behind Flippin' Family Fun, started the business in Great Falls six years ago. When her son was 2, she realized "there wasn't enough to do for the 10 months of winter here."
She said she didn't want a franchise and was trying to come up with ideas that weren't already in the area. She saw a trampoline park in Spokane, Washington, and "that was it!"
The idea took hold. She traveled to see other trampoline parks and then developed her own. She found a building and resources and put up her family finances to make it happen.
The park in Great Falls is a success and has been drawing people from outside the area on a regular basis.
"We've had a lot of people specifically come from Helena to Great Falls for us," Riggin said. "Lots of people have come in and said we need to open one in Helena. The last person who said to do it, I was feeling sassy, and said, 'you find me a building.'"
That person connected Riggin with a Helena-area Realtor and within two weeks she had a building and was moving forward on development.
The location, at 5 Wall St. in Montana City, was the former site of Gym406 and was a great space for what Riggin had in mind. She designed the layout herself.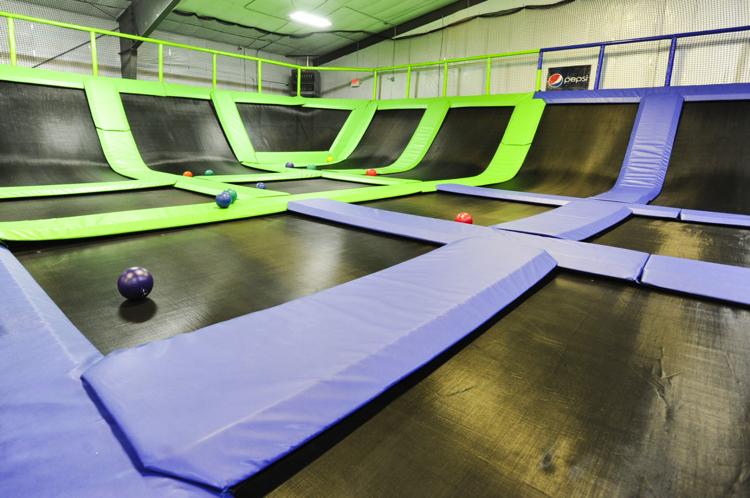 In addition to the trampolines, there is a ninja course. Obstacles include balance platforms, monkey bars and rings.
"This is for all ages," Riggin said. "We encourage parents and grandparents to get out and play with their kids. We want families to participate and to be together.
"It's on purpose," she said, "that seating is limited. I don't like looking around and seeing parents sitting looking at their phones. This is to encourage movement and for them to play together. It's our whole reason for opening it."
The Helena location will offer special hours and days, including Family Night on Monday, Military Night on Tuesday and Cosmic Jump (think laser lights and glow-in-the-dark elements) Friday and Saturday. Drop-in Dodgeball is on Wednesday and Thursday. Twice a month there is Extreme Cosmic Night with a DJ and root beer floats.
Admission is $12 for the first hour for those 8 and older and $8 for ages 3 to 7 for the first hour. There is no fee for those younger than 2 with a paying adult. Those familiar with prices in Great Falls will notice an increase in cost, which is a result of the higher cost to do business in Helena.
Operating any business has its price, but the cost of operating a business that involves trampolines is astronomical. "I pay more in insurance than most people make in a year," Reggin said.
Getting financing wasn't easy, she said. But with help from Mark Menke, director of lending at Montana Business Assistance Connection, she was able to get direction and financing.
"That specialty equipment is hard to finance," Menke said.
Montana Business Assistance Connection is all about economic development, job creation and retention to help grow the community.
"I'm not a lender of last resort," Menke said. "I just try to find out a way to say yes instead of say no. I like to help people like her get (their business) off the ground."
In Reggin's case, Menke said, it wasn't like they were reinventing the wheel. He said with her strong background and business already established in Great Falls, they knew where they were headed.
"Montana is one of the best places to be an entrepreneur and start a business," Menke said. "It there's a niche and a market, favorable people like Natalie can come in and provide that service."
With everything moving so smoothly, the business opened Friday, Dec. 21.
Before jumping, visitors are asked to sign a waiver, even if they have a waiver on file in Great Falls. The waiver can be downloaded online, flippinfamilyfun.com, or at the front desk. Also required are no-skid socks. Socks can be purchased onsite for $3 or brought from home, as long as they have the grip pads on the bottom.
New Helena business brings coveted wagyu beef to the Treasure State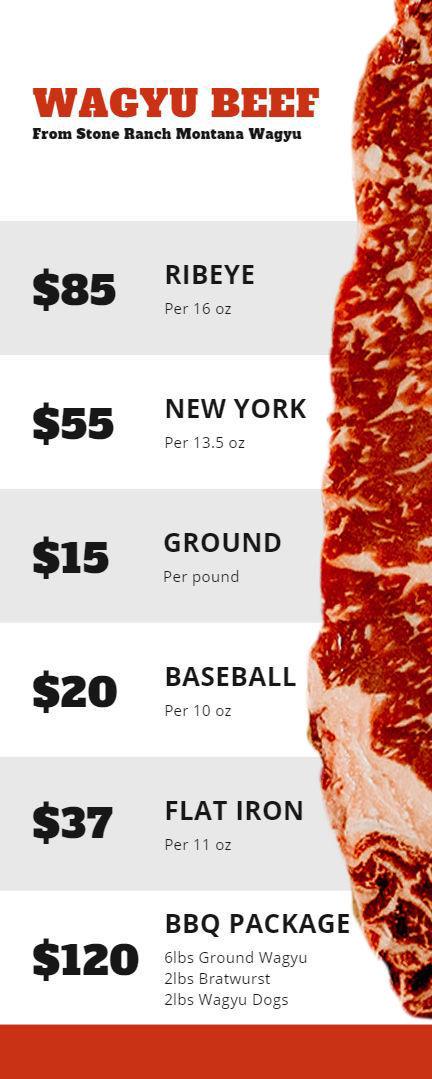 Wagyu beef has made its way to the Helena area.
Jennifer and Darryl James have been working for the better part of a year to establish their new Helena-based business, Stone Ranch Montana Wagyu, to bring high-quality wagyu beef raised in Montana to people in Montana.
Wagyu is a unique breed of cattle native to Japan. Many may be familiar with Kobe beef, the most expensive beef in the world. Kobe is to beef what champagne is to bubbly connoisseurs.
"Champagne is only champagne if it's from Champagne, France. Everywhere else it's sparkling wine," Darryl said. "Kobe is from a very specific region of Japan. Anywhere else and it's known as wagyu."
The high-quality beef is known for its unique marbling of fat interwoven with the meat. It gives the meat a soft, melt-in-your-mouth texture resulting in the rich flavor that is coveted by chefs and consumers alike. 
The Jameses got the idea of bringing wagyu to Montana when they discovered much of the wagyu in the United States came from the Pacific Rim in New Zealand and Australia. They figured if those places were raising wagyu, it could be a viable product for Montana.
After an initial round of caution, the couple convinced Jennifer's father, Jim Peterson, it was a risk worth taking. Her father purchased about 70 head of wagyu cattle as a test run. During this run, he contacted fellow rancher Bill Galt for advice on raising the cattle and Galt jumped at the opportunity to be part of the all-Montana program.
"Bill Galt is the mastermind behind the wagyu genetics," Darryl said. "He picked up some cattle from the Tajima line in Washington about 20 years ago."
Tajima is one of three legendary bloodlines, the other two being Kedaka and Shimane, of wagyu in Japan. Tajima is the rarest and most coveted because pure Tajima bred, raised and slaughtered in the Hyogo Prefecture are the only cattle certified as Kobe.
Darryl said Galt goes 50/50 with his cattle breeding. He breeds a full-blooded wagyu bull with a full-blooded Angus heifer. This results in the heartiest mix for the often harsh Montana landscape and retains the signature marbling that wagyu beef is known for.
The calves are grass fed before being finished on a custom diet of locally-grown grains, which ensure optimal weight, muscle tone and marbling. Darryl said it takes between 12 and 15 months of finishing before a calf is ready for harvest. He noted this is just over double the regular time of Angus beef finishing.
Over the past year, Stone Ranch Montana has grown into a business. The name came from Jennifer's great-grandmother Nettie Stone, who was part of a group of settlers in Judith Gap.
"I grew up on stories of collaboration and community. So I named the business after her," Jennifer said.
Through collaboration with partners, Stone Ranch has since grown to have several hundred head of cattle and partners across the state. The family ranch is southwest of Lewistown. Additionally, Stone Ranch works with two of Galt's ranches in Martinsdale and White Sulphur Springs.
Recently, Stone Ranch has partnered with several local providers to get their wagyu into the hands of local consumers. They are working with Ocean Beauty distributions to get their wagyu into the hands of area restaurants and grocers.
In Helena, Stone Ranch recently locked down its first retail distributor, Super 1 Foods. The store should have Stone Ranch's wagyu on the shelves now.
Additionally, their products are regularly featured at On Broadway, Green Meadow Country Club and The Hawthorn Bottle Shop and Tasting Room. Special runs of their products are available at Lucca's, The Montana Club and The Wassweiler.
Many of their products can be purchased online at stoneranchmontana.com. The shipping system includes reusable insulated packaging and dry ice to keep the meat frozen. However, local pick-up will be cheaper than shipping and orders can be placed online.
Cuts include premiums such as filet mignon, ribeye, New York, flatiron, Denver, baseball and short rib. They also have family cuts such as prime rib, brisket, corned beef, flank steak and more. Ground wagyu, hot dogs, tri tip and skirt steak are also on offer next to pastrami and summer sausage.
Darryl said that even though wagyu is expensive, they try to offer options to keep from pricing out customers. Though wagyu steaks typically sell for $100 or more, he said there will be no $100 steak minimums. Prices vary based on cut and can range from high-end 16-ounce rib-eye at $85 to less expensive ground wagyu at $15 per pound. 
Jennifer suggested that they may sell different products online and at Super 1 Foods for now. This is because she wants potential customers to support the distributors who are supporting them.
"This impacts a lot of families when all things are considered," Jennifer said. "I think these are the projects that can stimulate Montana's economy."
Currently, the couple is working to expand distribution across the state. Several restaurants in resort towns, including Big Sky and Red Lodge, have expressed interest in carrying their products.
"We are really enjoying all of the partners we are finding," Jennifer said. "All of the restaurants and distributors, they've been great."
Editor's Note: This story has been updated to remove incorrect information. Stone Ranch Montana is not the first Montana business to sell wagyu beef to Montana consumers. 
Bobcat comes to Helena: Shepherd's Garage opens new location for the brand
Bobcat of Helena has opened as the newest business under the Shepherd's Garage Inc. banner.
The location, 812 Chestnut St., offers Bobcat rentals, sales, service and parts and is the latest in a long line of Shepherd family businesses dating back to 1945.
"My great-grandfather started the original Shepherd's Garage business in Jackson in 1945," said Toby Shepherd, who now manages that location alongside his wife Kelci. "It was originally a welding and fabrication shop."
In the early 2000s, Toby's grandfather Rich Shepherd got into the business of selling tractors, hay balers, mowers, rakes and other light equipment. In 2006, the business expanded by opening a garage in Dillon.
"We bought the business in Dillion because we saw the market changing," said Shirley Shepherd, Rich's widow and family matriarch.
Toby said the family noticed a need for skid-steers and other light equipment in Dillon. They formed a relationship with Bobcat that led to them becoming an official dealer in that area.
The Shepherd connection in Helena came by way of Toby's uncle Mitch Noack, who owns the Helena Cycle Center. A man who raced motocross with Toby's father owned the building directly behind the cycle center where Bobcat of Helena is now housed.
"We saw an opportunity to fill a need in the area so we decided to pursue it," Toby said. He explained that the plan to open this business actually took quite a while due to getting approval from Bobcat to open a new authorized location.
Banner DeMers, a Jefferson City native, will be the manager of Bobcat of Helena for the Shepherd family. He was hired by the Shepherd's because of his experience in heavy and compact equipment sales.
"I fit the part," DeMers said.
DeMers believes Bobcat of Helena will be a big success because "I've heard over and over again from our customers that this is what we needed in the area."
Bobcat of Helena will maintain a strong trade line-of-communication with the Dillon and Jackson Shepherd's Garage locations, according to Toby. All locations will offer the same services, but equipment availability will vary by demand, meaning that this trade network is beneficial to each location.
While Toby and Kelci run the Jackson business, Evan and Kayla Peacock, Toby's sister and brother-in-law, run the business in Dillon. Evan has been at that location for nine of its 12 years of business.
Shirley has taken a bit of a step back from the day-to-day operations.
"They still include me in everything," she said. "I don't have to go prying or anything. 
"I've been involved in this business for a long time," she said.
Bobcat of Helena is offering sales, service, rentals and parts on compact and farm equipment.