Stormi Webster just turned one, so it's only fair for her to have at least two birthday parties!
While there was a family get-together on Friday, February 1 (her real birthday), mom Kylie Jenner and dad Travis Scott went all out for their daughter's main birthday party on Saturday. It was adorably themed Stormi World, which is a direct homage to Scott's most recent album, ASTROWORLD.
The Kylie Cosmetics owner went all out in terms of decoration and culinary choices, which fits in perfectly with the rest of the Kardashian-Jenner-West kid birthday parties. 
The entrance to Stormi's festivities mimicked the cover of the album, so guests walked through a large blow-up of the birthday girl with an open mouth that reached high above the roof. People even held onto "Stormi World" balloons.
Carnival rides and a butterfly garden adorned the inside of the party.
Food containers were just as festive as the rest of the interior decorations.
Guests indulged in French fries that were placed in pink cartons with Louis Vuitton symbols on them. Instead of the signature LV on them, however, it said SW. There were similar little pink boxes that held mini pizzas.
Yum!
There were even some women dressed up as princesses who stood just beyond the rainbow arch near the butterfly walk. To top it off, Kylie and her family had merchandise available for party-goers, so anyone else who didn't attend will be wearing jealousy on their sleeves.
Take a look at the gallery below to see some photos from the Stormi World party!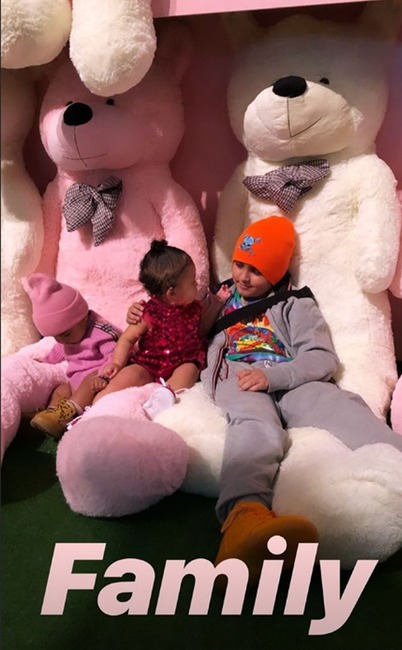 Kylie Jenner/Instagram
Bear hugs

Stormi hung out with her cousin Mason Disick in a row of giant stuffed teddy bears.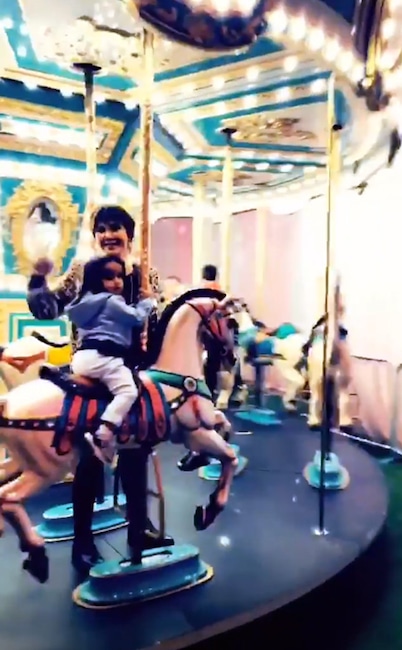 Kylie Jenner/Instagram
Wave like a queen

Kris Jenner and Dream Kardashian took a spin around the carousel.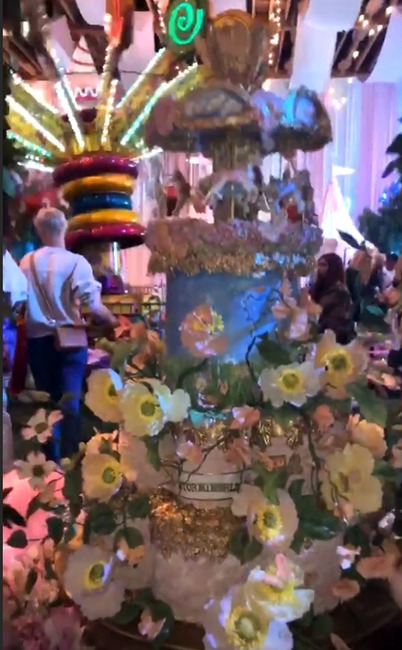 Kylie Jenner/Instagram
Magical cake

Stormi's multi-tiered birthday cake was adorned with flowers and a mini carousel on top.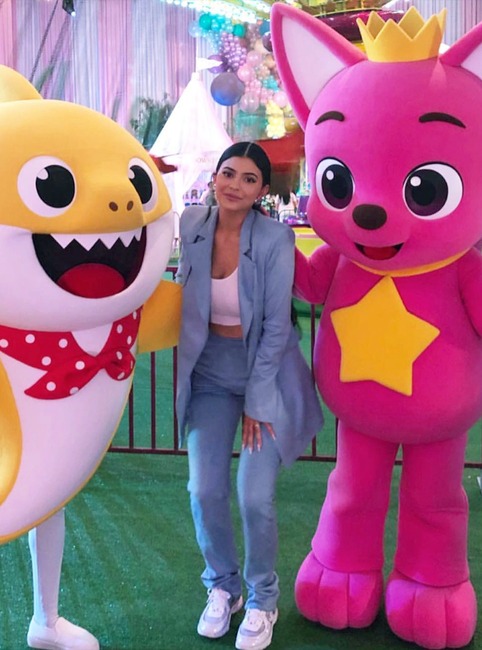 Kylie Jenner/Instagram
Mama Shark doo doo

Kylie Jenner posed with her own version of Left Shark and Right Shark and looked gorgeous in her baby blue custom made Michael Costello suit.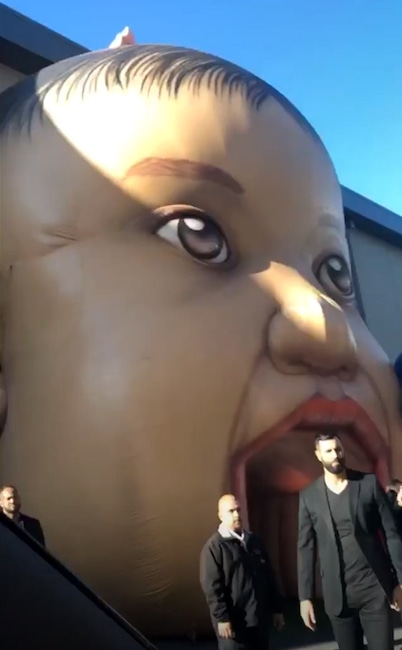 Kylie Jenner/Instagram
Welcome to…

Stormi World!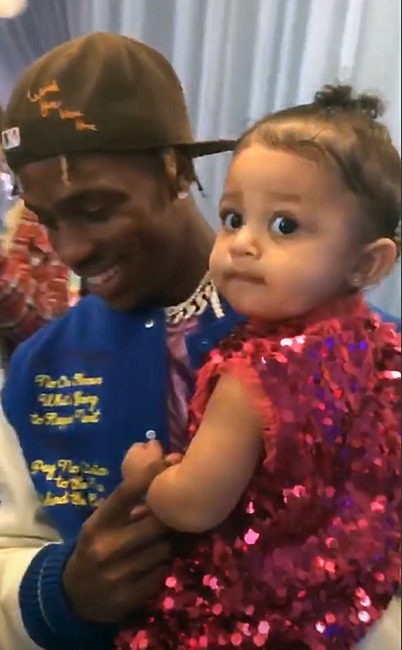 Kylie Jenner/Instagram
Daddy's girl

Stormi and her dad Travis Scott danced along to some music after getting a gift from DJ Khaled himself.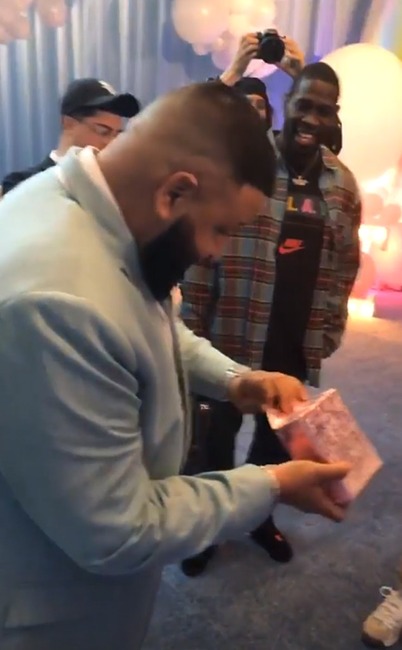 Kylie Jenner/Instagram
Another one!

DJ Khaled was kind enough to gift Stormi with her first ever Chanel purse.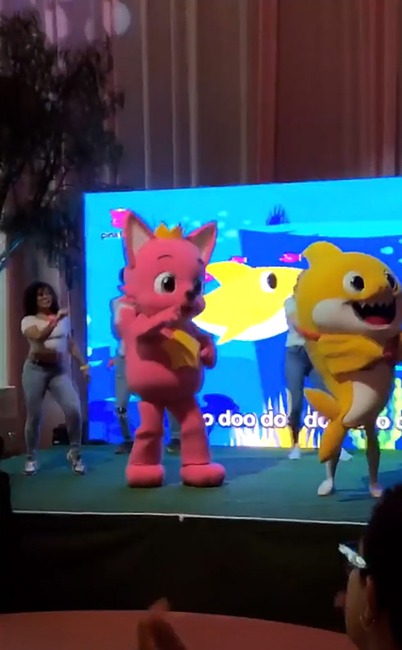 Kylie Jenner/Instagram
Baby shark doo doo

Stormi's party included dancing and singing, especially to hit song "Baby Shark."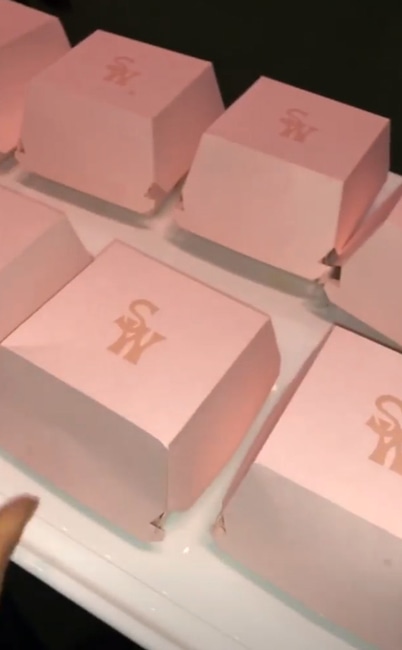 Kylie Jenner/Instagram
Pizza my heart

Kylie Jenner served mini pepperoni and cheese pizzas at Stormi's birthday.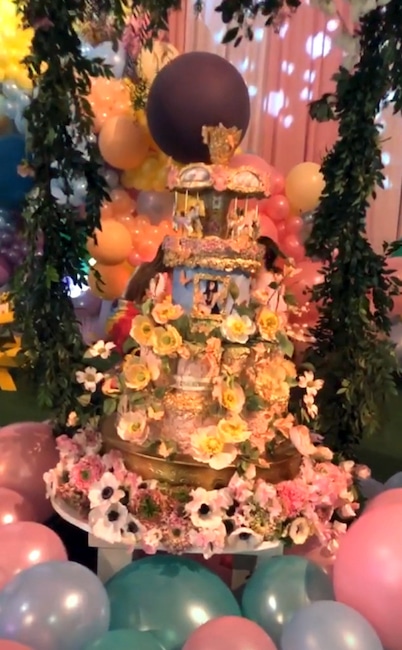 Kylie Jenner/Instagram
Ring around the Stormi

It was decorations galore inside the birthday party.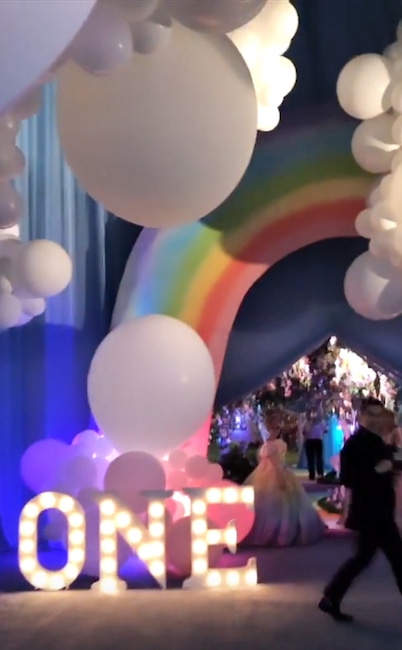 Kylie Jenner/Instagram
A momentous occasion

Guests entered through a rainbow archway with Stormi's age on it.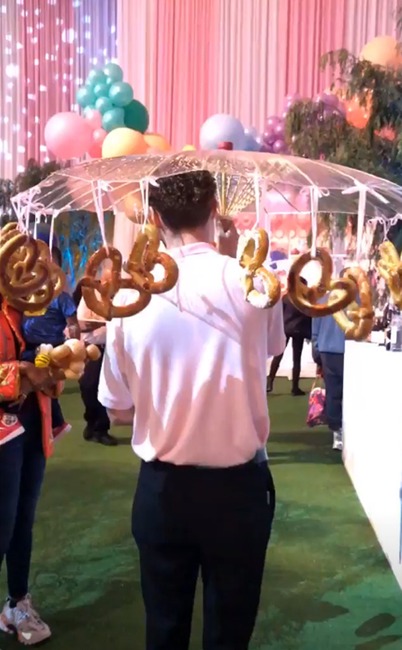 Kylie Jenner/Instagram
It's raining pretzels

This pretzel umbrella hat just gave all other hors d'oeuvre trays a run for their money.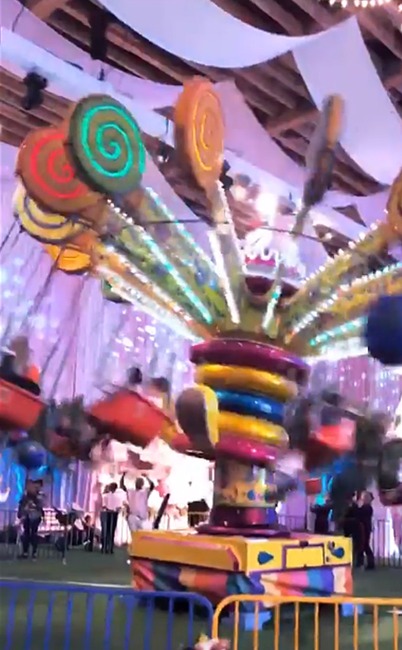 Kylie Jenner/Instagram
Rides, rides, rides

Stormi's birthday party included carnival rides, like this one.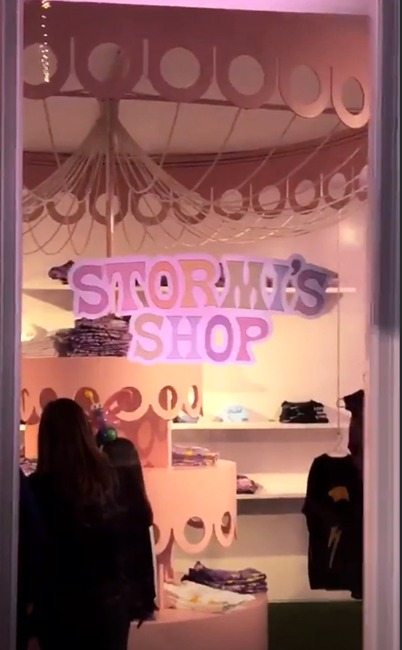 Kylie Jenner/Instagram
Best shop in town

What's a carnival without a gift shop?!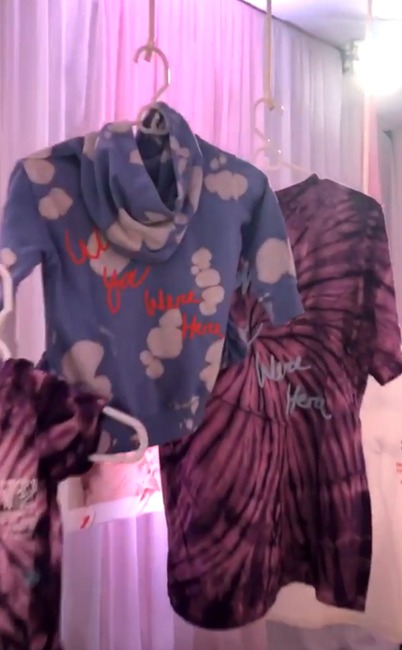 Kylie Jenner/Instagram
Don't forget your merch

Kylie set up shop quite literally at the party. Party-goers were lucky enough to get some Stormi Webster merchandise at the gathering.
Watch the season 16 premiere of Keeping Up With the Kardashians Sunday, Mar. 31 at 9 p.m., only on E!