Jordyn Gaffney picked out the angel wings that top a tree decorated in honor of a grandfather she never knew.
And when the ornaments and gardens were placed on the tree, just so, Gaffney and her parents stood around the tree and had a good cry.
The tears were healing, said her mother, Kathy Goodman.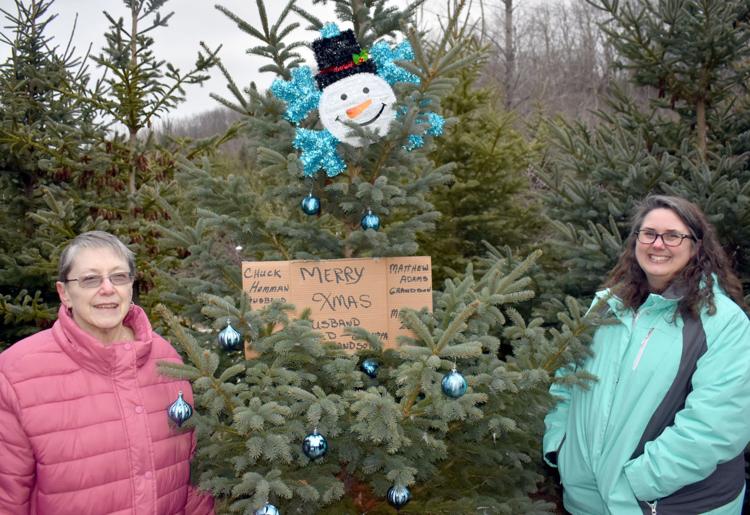 "I feel, for the first time, like I can let go," she said. "I can finally cry."
Goodman and her companion (and Jordyn's father), Dan Gaffney, are regular visitors at the Garden of Angels on Highway 33, just west of Portage in the town of Caledonia.
In warm weather, Joanne Alt plants the garden with innumerable varieties of flowers, and invites anyone to come to the garden to meditate and enjoy the vivid colors, and the bees and butterflies that flit from blossom to blossom.
She created the Garden of Angels to help her cope with the death of her husband, Scott, who died by suicide four years ago.
But this holiday season — long after the garden flowers were gone — people are coming to the garden for a new reason.
The garden is surrounded by hundreds of pine trees, of varying heights, shapes and species.
Many of those pines are now adorned with ornaments, some of them handmade, placed by people who took Alt up on an invitation to decorate a tree, free of charge, in memory of a loved one.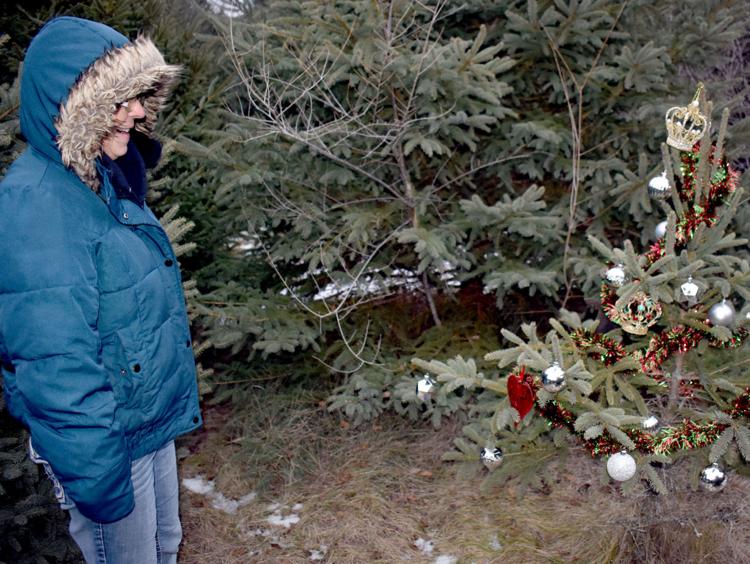 Alt said she got the idea for the tree decoration when she decorated a tree of her own, in teal ornaments, in memory of Scott.
"During the holidays," she said, "it's so hard to decorate a tree in your home when you're grieving."
But decorating the tree in the Garden of Angels evoked tears of closure for her, she said, so it seemed appropriate, and in the spirit of the place, to invite the public to do the same.
Gaffney and Goodman have been regulars at the Garden of Angels during the growing season, so it seemed only fitting to come to the garden on an early winter afternoon, Sunday, to create a decorated tree in memory of loved ones they've lost.
That includes Goodman's father, Robert Goodman, who died in 1996, while Goodman was pregnant with Jordyn.
Alt said she has had people decorate trees in memory of people of all ages, who have died under a variety of circumstances, including murder and suicide.
Some, like Dalene Homman of Rio, bring their own ornaments, including the jolly snowman that sits near the top of the tree decorated in memory of her husband, Chuck Homman, who died in July 2017 just days after being diagnosed with pancreatic cancer, and her grandson, Matthew Adams, 25. who was killed accidentally in May when he stopped to offer aid at a traffic accident scene.
"He was a perfect stranger, and he just stopped to help," Homman's daughter-in-law, Sarah Homman, said of her nephew.
The family had seen TV news spots about the Garden of Angels, and decided to decorate a tree. including a sign with the names of the loved ones who had passed away.
Other trees have decorations that are just as personal and meaningful, including sunflowers, roses, crowns and photos.
Those who want to can get their picture taken with Alt, for possible posting on the Garden of Angels Facebook page.
Alt said she hopes to open the Garden of Angels today for one last opportunity to decorate trees, on Christmas Eve. Hours have been from 10 a.m. to 4 p.m.
Dalene Homman asked whether she'd have to come back after Christmas to take the decorations down.
No, Alt replied. The decorated trees will stay up until it's too cold or blustery to keep them displayed. And then they'll be collected for possible use next Christmas.
After the Goodman-Gaffney group finished decorating their tree Sunday, they walked around to look at other trees — and bowed their heads in prayer at each.
"God rest their souls," Goodman said.
Follow Lyn Jerde on Twitter @LynJerde or contact her at 608-745-3587.