August 01, 2018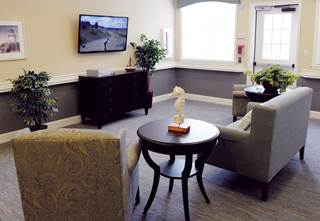 Sudden impact
The importance of marketing to prospective residents is paramount in senior living, and nothing creates that "wow factor" like furnishings. In fact, the interior décor visitors see as they walk in the front door is what conveys that all-important first impression of a community.
Furnishing specialists have various ideas about how operators can make a splash with first-time visitors as well as create interior environments that provide comfort and safety.
"I think the 'wow factor' is created by the entire space, not just the furniture," says Troy Rabbett, marketing manager for Flexsteel Industries. "However, seating plays a huge role in this experience. The 'wow factor' might be created by aesthetic interest or even by the implementation of a product with innovative technology such as USB ports, tablet tables or theater seating."
Open Road President Carl Kennedy agrees that seating provides the biggest "wow factor" for interior décor.
"The lobby area is generally the first impression of a senior living community and its seating is the main attraction," he says. "The style of seating, selected finishes and fabric can set the scene and mood for the entire facility. Seating is also where color and patterns can be incorporated to provide that 'wow factor.'"
Although the lobby is the point of visitors' initial contact, Sarah Wishau, design consultant for Direct Supply, says the lobby and dining room also provide a "high impact" view.
"The lobby needs to make a great impression as guests walk in. It's important to have newer or stylish furniture that has stopping power and makes the space feel like home," she says. "The dining room is also a big focus when showing prospective residents around, so consider having stylish, newer chairs that your residents will love and be comfortable in. It's also important to have senior living-specific dining chairs; family members want to ensure that furnishings are ideal for seniors, and residents will appreciate easier ingress and egress."
Melissa Lallas, national account manager for senior living at LG Electronics USA, says strategically placed flat-screen TVs in each common area and resident room "provide the same platform and linear look throughout the community, saving maintenance and IT teams from having to know multiple TV brands and configurations."
Moreover, she says, using LG's Electronics Pro:Centric server in each room provides community information, events, menus and local area information for residents and guests.
REGIONAL TASTES
From an aesthetic standpoint, furnishing specialists say styles and themes can make strong and appealing statements about the community. Interestingly, tastes are broad within the senior living industry, favoring a wide range of styles.
"We are seeing a lot of contemporary requests," Rabbett says. "Things like quilted backs and tight, crisp upholstery with sled base legs. These are design elements that lend to a lighter look but are still engineered to meet the needs of properties and residents. Most of the trends we're seeing are very heavily influenced by geography and climate, which dictate the type of aesthetic desired. However, functionality and comfort are expected to be a part of the product as well."
In upscale senior living spaces, mid-century modern furniture has been a popular choice, Wishau says.
"It's common right now in the residential and hospitality settings, but many other communities feature more of a transitional style," she says. "It used to be more traditional with Queen Anne legs, but now it's moving toward modern design."
Geography plays a key role in design, Wishau agrees, because it conveys familiar images to residents.
"We do quite a few local artwork pieces for communities to help residents feel at home, and it can even evoke memories," she says. "Using regional patterns in fabrics is big, too. You wouldn't do a Southwestern design in the Northeast. Geography is a huge part of our design because it helps residents feel comfortable."
'HAVE IT ALL'
Form is important, but so is function when it comes to furnishings. Durability, sustainability and strategic placement are essential elements of a safe environment for residents, furnishing specialists say.
"Benches, statement chairs and upholstered items can be used to foster socialization or serve as a place for residents to comfortably sit while waiting for visitors or transportation," Rabbett says. "These are not only beautiful additions to the aesthetics of a property but also serve a function."
Wishau maintains that form and function need to be balanced equally.
"In the past, you had to choose between stylish and durable furniture, but now you don't have to choose — you can have it all," she says. "If you're marketing toward residents, comfort and durability are big. Staff members also appreciate durable furniture that stands up to wear and tear. At the end of the day, the space is for the residents. When we design, we always have residents in mind, so it's important the furnishings are comfortable and feature the proper dimensions for seniors."
With regard to strategic placement, Kennedy says certain furnishings can be used in corridors to prevent falls.
"Tables and chair arms should be able to hold the extra weight of a senior who is walking through the halls and needs to use furniture for support," he says. "Chairs are also included in corridors as a resting point for seniors. Common areas include a variety of seating options and seating arrangements that encourage interactions between residents and their guests."
With the growing rate of obesity in the United States, bariatric-grade seating continues to be of importance in senior living communities, Kennedy says.
"Many furniture offerings, such as dining chairs, seating and benches, now come with a bariatric option," he says. "It's important that the style, fabric and finishes complement the other furnishings in the senior living community, but they should not stand out. Seating in public areas — dining, living, waiting and activity rooms — should all accommodate larger individuals."
Selected finishes on seating and tables can help create a relaxing atmosphere — specifying seating for seniors to provide them with the most comfortable and safe experience, Kennedy says.
"For example, seating for seniors is higher from the floor than average, making it easier to sit and rise from the chairs and sofas," he says.
"Arms on sofas and chairs should be full length from the front edge of the seat to the back to provide more support. Seniors also require a firm cushion and less depth in seating. Furniture should also be easy to clean, inhibiting the transfer of illness," he adds.
TYING IT TOGETHER
Often overlooked in the interior design picture is the importance of flooring — especially for buildings under construction, says Jamie Thorn, national sales manager for Forbo
"Flooring is the last thing to be considered and is commonly sacrificed in the budget," he says. "By the time you go over everything, lowbudget flooring goes in with the idea that it will be replaced later."
Yet nothing takes as much wear and tear as the floor, Thorn says.
"Consider how much foot and wheel traffic the floor has to endure, especially in higher-acuity assisted living, skilled nursing and memory care," he says. "In higher-acuity areas, your concern for function is more important than independent living, because the risk of falls is higher."
Luxury vinyl tile and luxury vinyl plank are popular flooring alternatives to carpeting for senior living communities, Thorn says.
"Many facilities have gravitated toward it because they can't keep the carpet clean, and this is easier," he says. "Unfortunately, the product is noisy, it scratches and scuffs and gets sticky and slippery."
Forbo is promoting its Flotex flock textile surface as a suitable alternative because it is designed to minimize sound, reduce slips and falls, and is durable and easy to clean.
"There is a place for carpet, but not in the high-acuity sector, because it absorbs liquids," Thorn adds.
From the August 2018 Issue of McKnight's Senior Living »
window.fbAsyncInit = function() { FB.init({appId: '', status: true, cookie: true, xfbml: true}); //subscribe fb "like" to Badgeville if(typeof AddBadgevilleShareBehavour == 'function') { FB.Event.subscribe('edge.create', function (response) { AddBadgevilleShareBehavour(); }); } };
(function(d){ var js, id = 'facebook-jssdk', ref = d.getElementsByTagName('script')[0]; if (d.getElementById(id)) {return;} js = d.createElement('script'); js.id = id; js.async = true; js.src = "http://connect.facebook.net/en_US/all.js"; ref.parentNode.insertBefore(js, ref); }(document));
$.getScript('https://platform.twitter.com/widgets.js', function(){ //subscribe twitter share to Badgeville if(typeof AddBadgevilleShareBehavour == 'function') { twttr.events.bind('tweet', function (event) { AddBadgevilleShareBehavour(); }); } });
(function () { var po = document.createElement('script'); po.type = 'text/javascript'; po.async = true; po.src = 'https://apis.google.com/js/plusone.js'; var s = document.getElementsByTagName('script')[0]; s.parentNode.insertBefore(po, s); })();