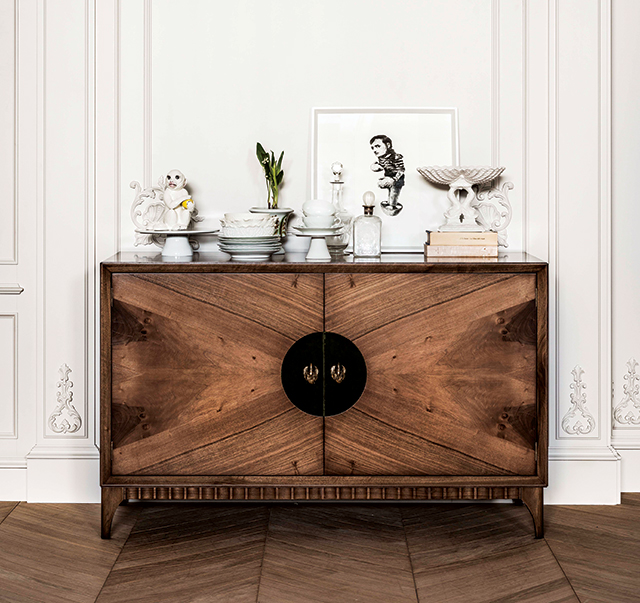 Conarte America
The increasingly popular accent furniture category continues to find favor with consumers seeking to create an individualized style statement at home. According to vendors, a market flooded with lower-quality, low-priced goods presents a challenge to better-made pieces — further compounded by competition from online retailers where quality and value cannot be seen or touched.
Manufacturers are addressing this in a number of ways, including communication and education at the retail level, craftsmanship and by differentiation of design. Mixed media offerings remain hot sellers, particularly in fresh new combinations of natural materials such as reclaimed wood and stone. The craft cocktail movement has also sparked renewed interest in bar carts and related accents, while new classic/traditional styling is on an upward trajectory.
What are the biggest challenges facing the accent furniture industry?
Thomas Andonian, vice president of furniture, Classic Home: We're seeing a lot of similarly styled pieces made with low-quality materials offered at even lower prices. This race-to-the-bottom approach hurts the consumer because it floods the market with bland-looking pieces of inferior quality. We've differentiated ourselves by offering accents that are made with substantial materials, are well-crafted, and are, most importantly, fashion-forward.
Olga Terentieva, vice president, Conarte America: Where do people shop for accent furniture? Many retailers prefer to carry less expensive lines where price is the main factor when deciding what product to show on the floor. E-retailers offer a variety of looks and quality type, but there is no chance to see those items in person, to touch, to open.
Mark Gilmore, vice president of sales, CR Laine: Keeping our lead times down to meet consumer demands and expanding production to meet growth will always be a challenge.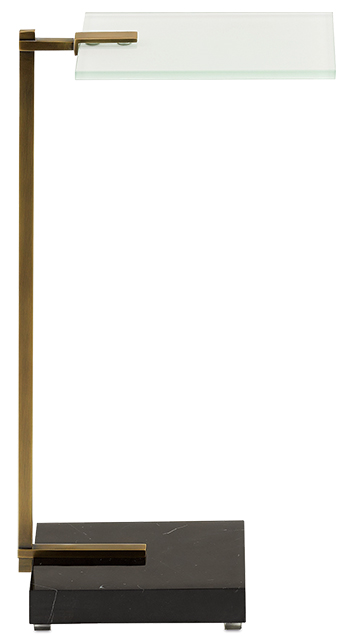 Currey & Company
Aimee Kurzner, director of furniture, Currey & Company: The accent furniture category continues to grow in popularity, which makes it increasingly important to differentiate yourself.
Sean McFadden, vice president of sales, Interlude Home: Communicating value to the customer is the biggest challenge. Accent furniture has a wide bandwidth from ready-to-assemble goods to luxury. The design-focused retailers who traditionally communicate this message for better goods have been under a lot of pressure recently. Staffing, traffic and e-commerce are real challenges for them. We've invested heavily in store training, special events and quality collateral to help with this story.
Mac Cooper, president, Uttermost: The industry is changing rapidly, and this creates many challenges. Especially in accent furniture, the online distribution channel is taking a bigger and bigger share of the market. This impacts every player in the industry in a number of ways. Customers have more options and more information than ever to help them make their decisions.
What are the bright spots?
Andonian, Classic Home: Mixed media pieces continue to be popular with customers and a category we are proud to be innovating in. Stone, metal and other materials give us the ability to create a seemingly endless variety of designs that are as inspiring and intriguing as they are functional.
Terentieva, Conarte America: Consumers are more interested in sustainability and healthy living. Solid wood is a huge plus. Offering the best quality, from artisans with a tradition of craftsmanship, our customers are happy with their purchases.
Kurzner, Currey & Company: There is a demand for unique and distinctive design, which Currey strives to deliver to our customers.
McFadden, Interlude Home: Great design always emerges. When a new style excites it brings momentum with it and makes the process fun again. Expressing trends like geometrics catches the eye of the designer and the fashionable consumer.
Cooper, Uttermost: Accent furniture is a bright spot in general as there is tremendous creativity and fresh designs in the marketplace. It's a great category to step out of the consumer's comfort zone and make a real design statement. It is also a reasonably affordable category, which allows for more frequent updates in the home.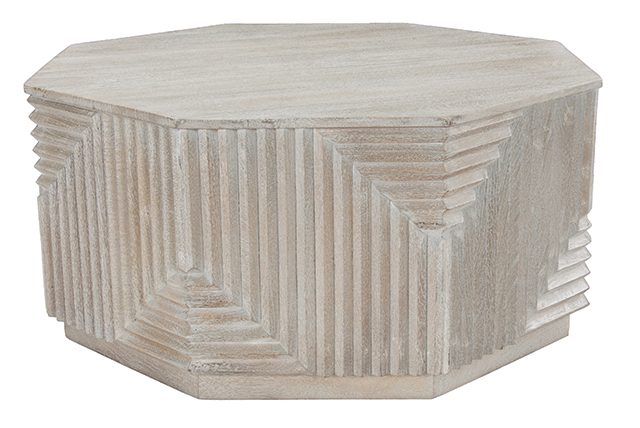 Classic Home
How are you innovating?
Terentieva, Conarte America: Using more natural materials, combining wood with metal, ceramic, glass, marble. We offer a large range of customization to satisfy our customers' demands and taste, not only in size, but design, color, materials.
Kurzner, Currey & Company: We continue to use materials in new ways. The use of mixed materials continues to trend, and we see increased interest in these types of items.
McFadden, Interlude Home: New ceramics that provide the complexity of marble while providing durability and easy care are emerging now. We have begun to integrate these to the line. Specialty sizes in console and side tables that adapt to the new home designs have been an important initiative for us for the past several seasons.
Cooper, Uttermost: Fresh new uses of mixed materials, including more organic materials.
What categories are taking the lead in sales? Why?
Andonian, Classic Home: Everything from small side tables to long sideboards have been strong sellers for us. Their popularity is due in large part to the organic and reclaimed materials we use.
Kurzner, Currey & Company: We are seeing continued interest in our case goods program and accent table business. We have spent the past three years developing the programs to offer our customers distinctive designs that are great quality and value.
McFadden, Interlude Home: Bar is hot. Carts and consoles have had a renaissance over the last few seasons. The craft cocktail movement has produced art in both mixology and in the bottle. People want to show off this when they entertain.
Uttermost, Cooper: This is hard to answer because the entire category is strong. We are having great success in small stools, étagères, bar carts, accent upholstery, etc. It seems that consumers are expressing their individual taste and flair on these items, even more so than with larger case goods and sofas.
What's trending (colors, finishes, fabric)?
Andonian, Classic Home: Mixed media, cleaner lines and usage of reclaimed woods in more refined treatments.
Terentieva, Conarte America: Modern meets classic or new traditional. First, modern colors on classic design, and second, wood with textile décor.
Holly Blalock, vice president of merchandising and marketing, CR Laine: Our silhouettes this season remain minimal incorporating the look of classic/traditional interiors with popular style. In textiles, we're layering multiple textures and patterns in high contrasts rather than a coordinated mix. New fabrics in striking color palettes like delft blue, ochre mustard and charcoal gray require a skillful eye to curate exciting combinations that can be considered a new classic.
Kurzner, Currey & Company: All shades of blue continue to attract customers. Our Kallista cabinet, which has dark sapphire aniline-dyed sycamore doors, is one of our top sellers.
McFadden, Interlude Home: Blush is strong in both fabric and hard finishes. Deeply textured fabric on contemporary frames is very strong in occasional upholstery.
Cooper, Uttermost: We still see tremendous strength in blues and grays, but what is most prominent are natural materials like marble, iron and steel and reclaimed woods.
Click each photo below to see an accent furniture trend