Powell Slaughter, August 17, 2018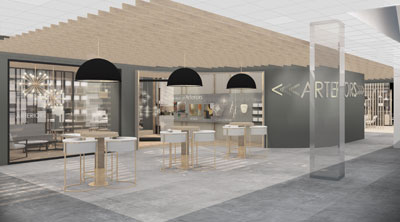 Arteriors' new showroom presence extends into the C&D building lobby.
HIGH POINT – Luxury lighting, furniture and décor brand Arteriors will relocate its High Point Market showroom to a new location on the ground floor of the C&D Building.
At more than 9,000 square feet, the new showroom boasts a footprint that's nearly twice the size of the former 4,975-square-foot Arteriors space in the IHFC building and has higher ceilings.
Arteriors' presence will extend beyond the showroom and into the lobby of the C&D Building with tables and chairs arranged for market-goers to take a break in between showrooms.
Developed in collaboration with Callison RTKL, the showroom design focuses on the customer journey showcasing product in ways that make it easier for customers to see through to their specific needs.
Arteriors as it continues to evolve to better serve customers. Adopting concepts from luxury retail, Arteriors designed unique fixtures that best highlight the beauty of the Arteriors product while also increasing the number of SKUS and keeping true to the Arteriors aesthetic.
In addition, Arteriors will launch a new collection at the October market designed by Windsor Smith and will also launch outdoor lighting for the first time. Arteriors has supplied damp-rated lighting for some time, but uncovered outdoor lighting is a first. These are in addition to hundreds of new lighting, upholstery, case good and décor items.
Arteriors has shown at High Point Market since Mark Moussa founded the company in 1987. In the 30 years since, Arteriors has continually evolved to better serve its designer clients, and the new showroom opening marks an important milestone in that evolution that's representative of the future direction of the company.