Find out how Lenise cleans her car, how Tori keeps her brain tack-sharp and what Alex uses to add a romantic flourish to her bedroom decor. 
Tori Hopper's Pick: The Story of Impressionism Puzzle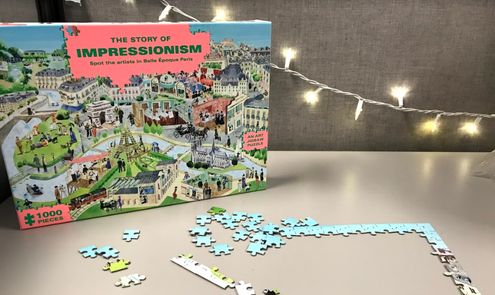 Sometimes, when you have assignments to do and deadlines to meet, the inspiration just isn't there. I'm a firm believer in making sure to take the time exercise both parts of my brain and stopping to get a little perspective. That's why I keep The Story of Impressionism at my desk instead of taking it home for a rainy-day activity. Working on the puzzle throughout the day gives me an opportunity to focus on one thing and engage my problem-solving skills. It's a chance to take a break while brushing up on my art history at the same time. The 1,000-piece puzzle box has fun facts of the time period that provides interesting tidbits on Monet, Van Gogh, Baudelaire and more famous people and landmarks of Paris. If anything else, The Story of Impressionism keeps my desk colorful, gives me motivation to finish my assignments and keeps conversation going as my fellow writers pass my desk and their curiosity is piqued.
Lenise Willis' Pick: Tech Taffy for Clean Up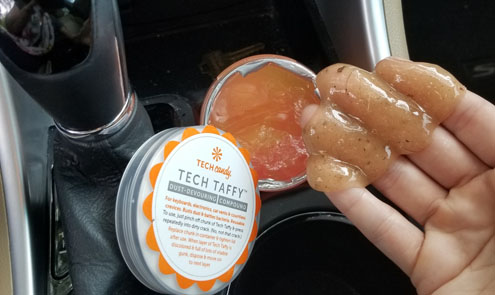 It's embarrassing how dirty my car is. I honestly didn't want to admit it for this blog, but I decided it was worth it to tell you about Tech Candy's Tech Taffy. In between working a full day, traveling nonstop for markets and events, and taking care of my home, there's not a lot of leftover time. This means that my car is always neglected. I didn't realize just how dirty my poor Sonata was until my boyfriend had to help me fix my car one day—that's when I noticed how much dirt and grime had been encrusted into the crevices of my console. Ew! So when I saw this tech taffy, while shopping at a local boutique with my mom, I had to have it.
I immediately went straight back to my car, took it out of the gift bag and got to work. It was actually really fun to use—just pinch off a piece of the neon-orange ombre goop, smash it into the cracks and compartments of your car and, BAM, the putty "devours" the dust and grime, leaving behind a clean surface. It was fun and easy to use, and most importantly I actually did it. No more making excuses for going to get my car detailed or trying to wash and vacuum it out. It took only a few short minutes to get great results. It didn't leave behind a sticky or slimy residue, smelled nice and is actually re-usable until it's too filled with dirt. It's color—before it absorbs the grossness—it actually mesmerizing, too.  
Alex Herring's Pick: Flower Diffuser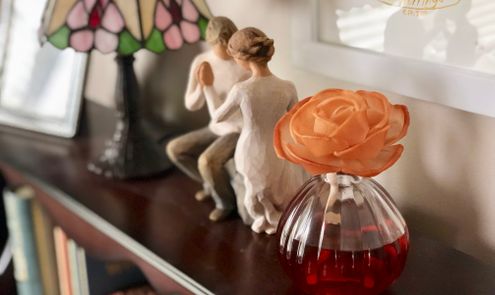 This past Valentine's Day, my husband gifted me a beautiful antique escritoire which now stands in a special corner of our bedroom, housing my various stationery sets, beloved books, pictures and more. As I like to read and journal in my free time, I spend a lot of time at my desk, escaping through a good story, recording the day's events or processing my own feelings. To make the space feel even more my own, I recently added a Cashmere Kiss Flower Diffuser by Greenleaf to the top of my escritoire. I love the romantic touch it adds to the furniture and the room décor at large, as well as the lovely floral bouquet it disperses as I sit down to write (an elegant blend of jasmine, roses, vanilla, patchouli, vetiver and more). What's more, as the flower absorbs the fragrant oil through its wick, the petals change color, making this a wonderful gift for anyone who loves pretty florals.