It is a world away from the modernist lines and sparse concrete floors and walls of many interior design magazines. Perhaps that's why a uniquely decorated terraced house in Chelsea, southwest London, has caused a stir on social media since going on the market for £1.85m last month.
Most people don't greet yet another £2m property in London with enthusiasm. But the four-bedroom end-of-terrace house, which the estate agent is advertising as "extraordinary", is quite different. It has a mix of vivid colour, baroque stylings, paisley, Indian decor, Persian rugs, gold tiling and book-lined walls. There are striped floors and a bright, burnt orange kitchen; Moroccan lamps hanging from the ceilings; art deco clocks; what looks to be an original Edwardian bed, a fuchsia boudoir; gold chandeliers; glossy black ceilings; satin ottomans; wall-mounted china.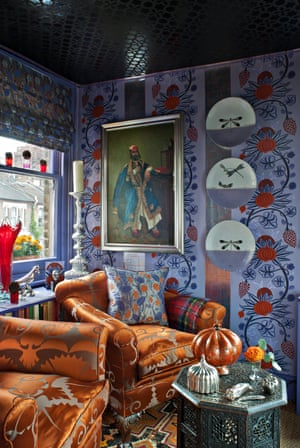 This is the creative vision of the late photographer and designer, Henry Wilson. Wilson, who died aged 57 in a cycling accident in May 2017, was revered for his photography work in India (it is thought he took as many as 40,000 photographs in the country), and the wallpaper he designed for Osborne & Little. (Much of the wallpaper in the home is self-designed and stencilled).
Online, admirers are the sharing the property listing for Wilson's former house, which (unfortunately, I think) is split into two flats. There's a touch of unease with the colonial oil portraits that hang in many rooms – Wilson grew up in Nigeria, where his father was a trader – but it's the glorious patterns that dominate, and a keen respect for the craftsmanship that goes into Indian textiles and design. He compiled a book dedicated to them in 2001.
"Strong colour is joyous and uplifting, particularly pink (which I've always loved), and I love certain combinations like navy blue and orange. These are the types of colours you see in women's saris and on painted walls," Wilson once told Elle Decor. Modernism, he said, is "the enemy of pattern".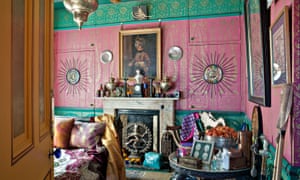 It's possible that in a world of shrinking properties, our imaginations are shrinking, too – living rooms are 30% smaller than they were in the UK in the 1970s – which means less space for the likes of Wilson's decorative ornaments and trinkets. Landlords also give their investments safe, low-maintenance decor, with restrictions against tenants decorating. Wilson's vibrant palatial pad no doubt makes a refreshing change for many younger people. There have even been suggestions that the house should be preserved as it is and donated to English Heritage.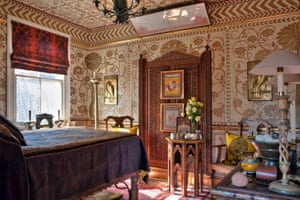 Of course, not everybody on social media is so keen on the decor. But then that's part of the fun of having put such a bold stamp on a property.
The Guardian has contacted the agents responsible for selling the property, Martin & Co, but at time of writing has yet to receive a reply. Probably too busy fielding viewing requests for the gold standard of homes. One can dream. Or, at least an offshore millionaire can. Hopefully one from India.