YAKIMA, Wash. — Since you've come for the dolls, it's just what you'd expect.
"And it seems like everywhere you look, there's dolls and doll heads and doll parts and more parts," Star Allen says, her hands gesturing around the room.
She's right. Pick any point to focus your attention inside Star Baby's Porcelain Doll Studio at 481 N. 112th Ave. and you'll see it's exactly as she's just described.
Along one wall are heavy white cases — molds for their bodies, their heads and their limbs. Across the room is another shelf lined with plastic bins labeled with shoe sizes — 1, 2, 3 and all the way up to 7-8. Just below them are more containers, these showing specific names for the intricately detailed masterpieces created in this room. There's Donna G. and Jane S., Mary D. and Judy B. waiting beside the friends they've yet to make.
In the main room of Allen's studio center is a long table flanked by a tiered plastic shelf holding spools of thread in every color. Atop the table is an ironing board and an iron, an assortment of sewing machines and a small, tabletop fir decorated and lit for Christmas.
Farther down the table, three women — all at different points in the process — marvel at the creations being born from their hands. It's Allen's regular Wednesday night class, one of the two she has every week.
"There's so much," Allen says. "So much to learn and a lot of it I learned on my own. When I started, it was all very secretive. People who knew about dolls didn't want to share with outsiders. Most of my knowledge came from doing and failing and then doing and succeeding."
She tells me antique doll making started in Germany, rising to popularity during the 1800s.
"It was mostly a man's hobby — they painted them and dressed them," she explains, marveling at how much things have changed. They'd already changed 27 years ago when Allen met the woman who introduced her to the craft.
"You know what's funny is I did a lot of different hobbies before," she says. "I crocheted and did cake decorating. I tried my hand at scrapbooking, but I didn't care for it. Once I got into dolls, I knew that it was over. I knew that this was my life's passion."
At her daughter's insistence, Allen went to a doll-making class led by a woman named Mary Ellen Deprey, who didn't just introduce Allen to the basics.
"She taught me how to be the teacher," she says. "I was one of those students who would just hang out after class."
Basics included working with the greenware, the material used to create the arms and the legs and the heads. Very fragile, it has a chalk-like consistency  created from mixing liquid porcelain and pouring it into a mold. After setting at the necessary thickness, it's dumped out so the mold can release.
Then it's wrapped in tissue paper and taken to another area to be cleaned and cleared of the seams left by the mold, worked until it more closely resembles baby doll skin.
Greenware is fired in the kiln for about 131/2 hours at 2,800 degrees. When the painted pieces need firing, they're inside for somewhere around 8 to 9 hours at 2,100 degrees, Allen explains.
Much has changed since she started.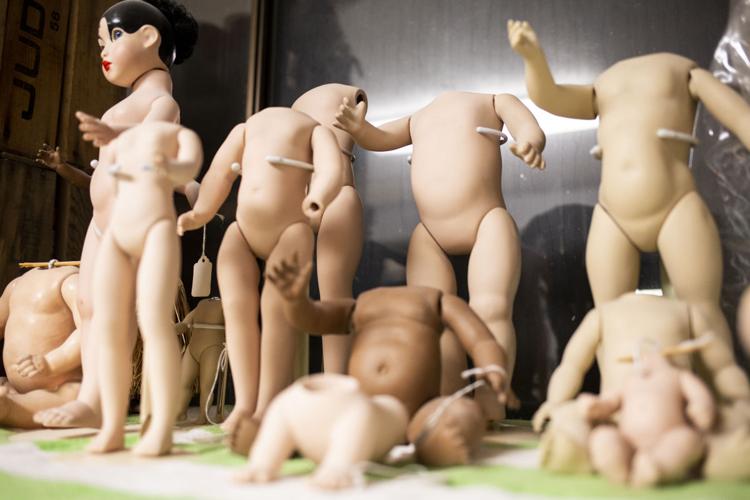 The kiln her husband bought her one Christmas when she was just getting started has been replaced by a computerized version that she's had longer than the five years she's actually used it.
And the gallons of porcelain slip once delivered directly to her door for only $8.98 now cost more to ship than the $20 the material has risen to. But many other changes are those that make her proud.
When her teacher, Mary Ellen, was ready to give things up, Allen borrowed money from her mother to open the studio.
In the beginning, she only had five molds, but that number has risen to more than 10,000.
And then there's the friendships she's made over the years, the men and women who come back to a place each of them finds so very special.
Once there were 26 of them, but now there's only seven. Three of them died, two moved away and a couple decided they could no longer afford it.
"And some of them just got old," Allen muses.
But age doesn't really seem to be a factor for Allen or the others.
Her oldest student was around 94 and the youngest was 6.
"So I can teach anybody," Allen says as the others continue their work.
As many vendors close their doors and parts become increasingly difficult to find, many other doll makers have decided to fold.
But not Allen. She's got what it takes to keep this art going. Especially now that she thinks she's the only one left in the Valley.
"The only one on this side of the mountain that I know of," she says.
Behind her sits Judy Bates, a woman Allen calls her "right arm" who's been in the class for 15 years.
"She bugged me into it — she kept telling me I was her only friend," Bates says and the two share a laugh. "I'm not artistic, but I found out it was something I could do and enjoy. And it's very relaxing."
Relaxing and rewarding are two benefits the women all agree on. They know they'll get finished and stand back and see that a new baby has been born.
Sandy Vanattan started about one week after Allen. They've been something of a duo ever since.
"I went to a bazaar and a lady had a bunch of dolls she made up — she made her own dolls," Vanattan explained. "I told her I wouldn't be able to afford any and she said, 'Well, come make your own.'"
Nearly three decades later, it's more than a hobby for them. Even class attendee Vickie Bechard admits she returned after work took her away 20 years ago.
"We are all friends," Allen says. "Anybody's welcome any time. They can sit and watch and learn and I'll let 'em play if they want."
But if new attendees just want to observe, Allen's open to that as well.
After all, she's not going anywhere.
"I ain't old enough to retire and quit," she said with a smile. "I'll quit when the molds get too heavy to pick up and that might not be ever."