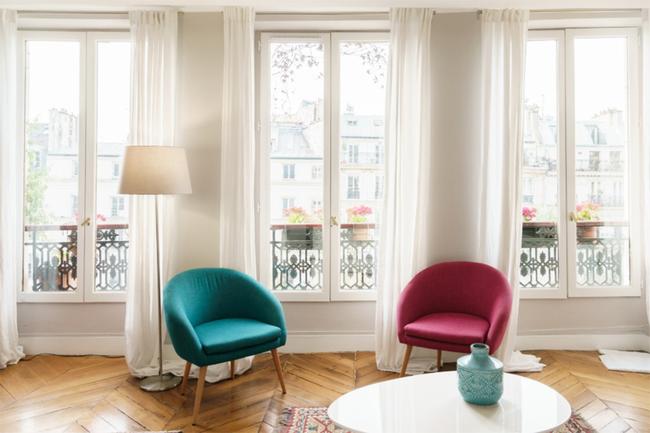 Most who dream of being in Paris do so as a local rather than a tourist. Herein lies the appeal of Airbnb, via which we really can reside in the homes of Parisians for an experience with a certain je ne sais quoi and a definite ooh la la.
Whether you're freeflying or a family of four, there's a temporary home in the French capital just waiting to fulfil your fantasy. From an artful loft to a glamorous suite in a hôtel particulier, we've found a Superhost-run Airbnb home for every Francophile.
Chic petite (above)
A delightful place with parquet floors and perfectly pared back decor, this one-bedroom home in fashionable Le Marais marries "vintage elegance with modern design" — the combination that has always set Parisian interiors apart.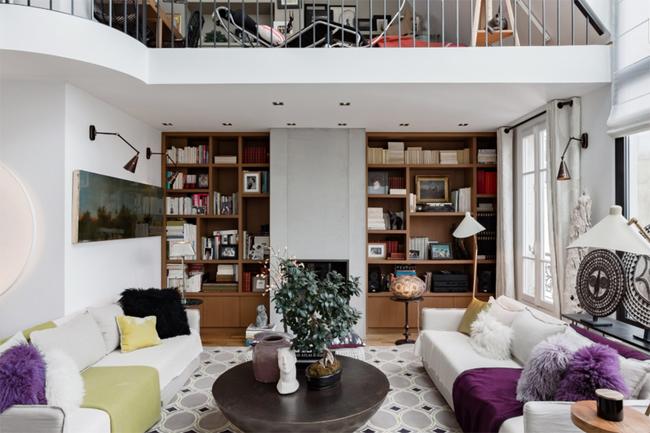 Artist's eye
Make like Lee Miller or Jean Cocteau in this former artist's studio, also in the 6th Arrondissement. The sun beams down through a large pitched glass roof above the double-height living space with its statement balustrade and mezzanine. A balcony terrace overlooks a church and the rooftops of Paris.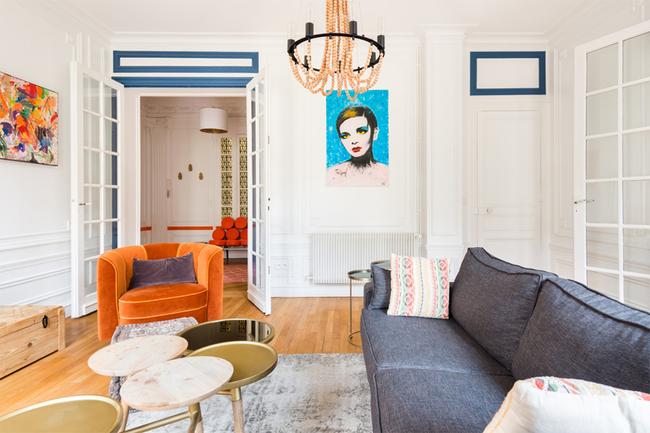 New Haussmann
The gorgeous interior of this Haussmannian third floor flat is all pop art and pops of colour against classic Parisian mouldings and architraves. You won't want to leave but if you do, its location in the 6th Arrondissement — former artist hangout and now stupendous shopping destination Saint-Germain-des-Prés — could not disappoint.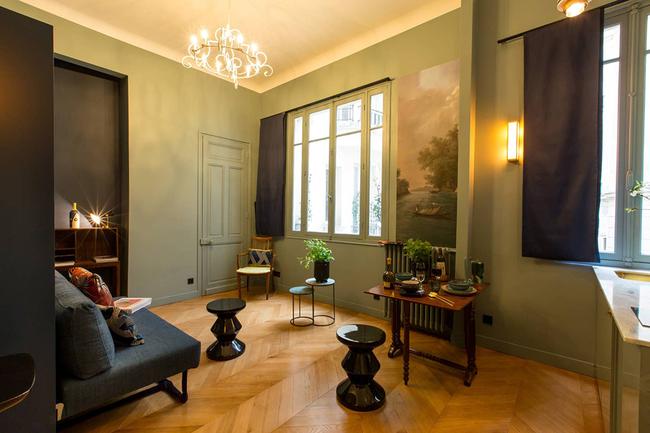 Hôtel particulier
Located on the first floor of a 19th century hôtel particulier (or grand townhouse) is this utterly elegant one-bedroom suite — just moments away from the Yves Saint Laurent museum in the esteemed golden triangle between Montaigne, the Museum of Modern Art and the Eiffel Tower. Entered via an intricately carved listed staircase and a marble lobby (painted in Dior grey of course), the suite has four-metre high ceilings with decor in the style of acclaimed designer Ilse Crawford. You'll even be greeted with fresh flowers from the renowned neighbouring florist Claude QuinQuaud.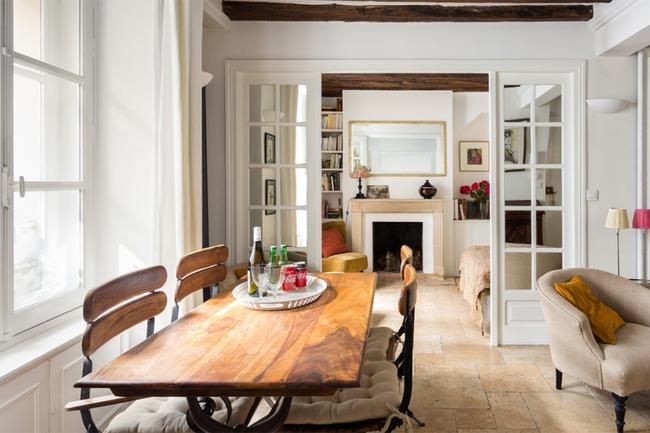 Country charm
More French country than metropolitan, this two-bedroom apartment in historical neighbourhood Le Marais is the perfect retreat within the heart of Paris. Think provincial sophistication, rustic timber beams and flagstone floors. A stone's throw from the Centre Pompidou and Notre-Dame Cathedral, the Marais's array of bars and cafes, markets, delis and of course boulangeries means you can have your cake and eat it too.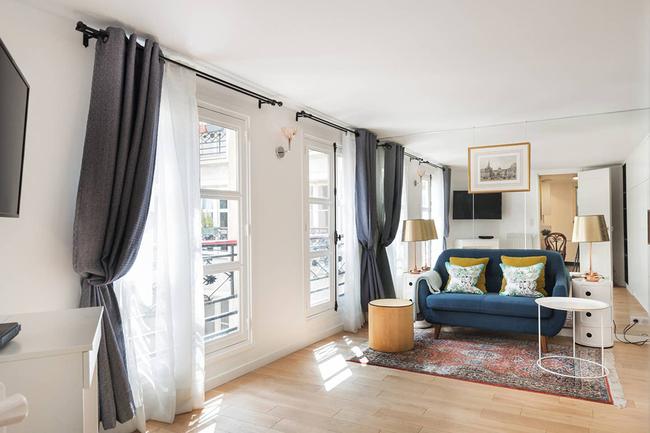 Modern love
Set in a classically Parisian building is this petite flat just moments away from Saint Eustache Church, the Gardens of Les Halles and the Louvre museum. A clever pull-out bed allows for a multi-functional space and interior elements in this brand new refurb range from mod Kartell storage units to classic drapes and velvet accents for a fresh, contemporary feel.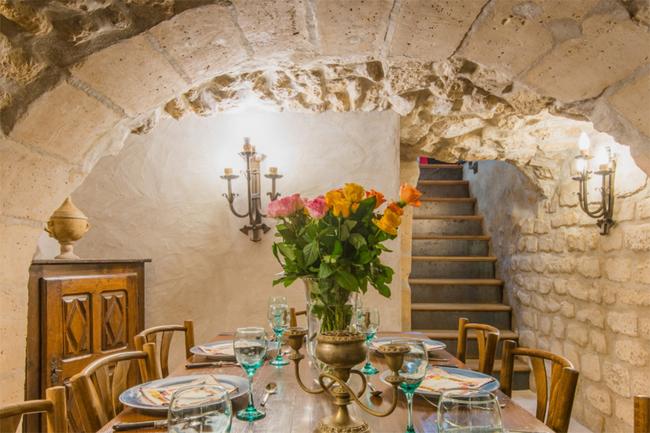 Medieval Paris
Even further back in time and down below the ground of Le Marais is this 15th century apartment of exposed stone and timber beams, and cosy medieval vaults that make up the spaces within this unique family-sized abode.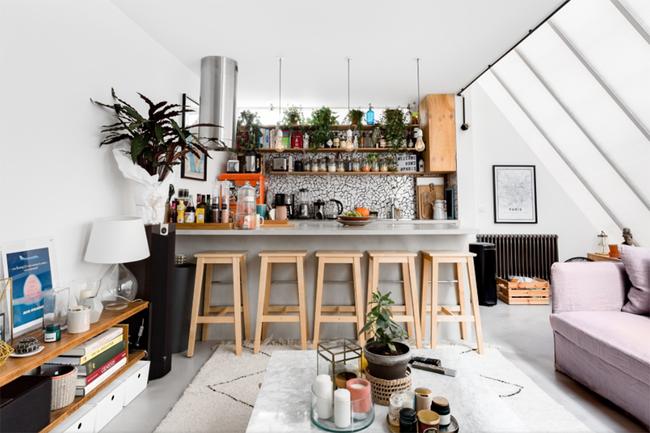 Loft living
You'll feel like a local in this stylish former factory-turned 'mini loft' because it's artfully lived-in; ideal for those wanting to experience the youthful vibe of Paris. The pitched roof is entirely in glass so that house plants flourish in this modern-bohemian space of Berbers and baskets, jar-filled timber shelves and exposed light fittings. Just a nonchalant stroll to Canal St-Martin, the metro and enough wine bars to keep you happy for life.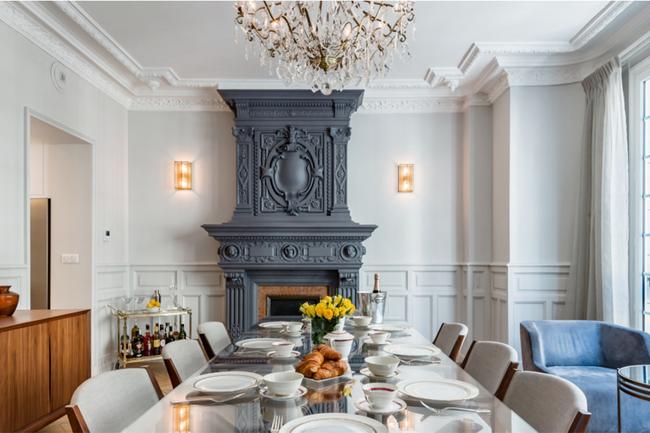 Pied-à-terre
The ultimate Parisian fantasy is to live in a pied-à-terre not too dissimilar to this one. With three bedrooms and 160 square metres of space, it spans the entire third floor of a turn-of-the-century Haussmann building in the centre of St-Germain-des-Prés. High ceilings? Tick. Tall windows? Tick. Chandelier and to-die-for fireplace? Tick, tick, tick.