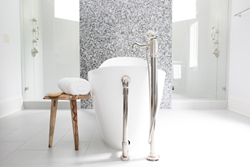 This is a tremendous honor to be recognized nationally by the Master Design Awards for our interior designs in two North Carolina residences, said Rima Nasser.

DURHAM, N.C. (PRWEB)
September 24, 2018
North Carolina-based interior design firm TEW Design Studio was recently recognized with two awards at the 40th annual Master Design Awards presented by Qualified Remodeler. The Master Design Awards is considered the premier national contest recognizing outstanding achievement in residential remodeling. Winners in 22 categories are featured in the September issue of Qualified Remodeler, the leading publication for the remodeling and home improvement trade industries. Winning projects are showcased at the Qualified Remodeler website.
"This is a tremendous honor to be recognized with silver and bronze awards for two residential remodeling projects we completed in Cary, N.C.," said Rima Nasser, founder and lead interior designer at TEW Design Studio. "We cherish the opportunity to be recognized alongside an outstanding collection of national interior design firms and remodelers."
TEW Design Studio won a Silver award in the "Residential Interior Under $100,000" category for its vibrant designs in a comprehensive remodel. Nasser and her interior design team also won Bronze in the "Bathroom $50,000-75,000" category for its modern remodel to illuminate an outdated master bathroom at another residence in Cary.
Nominees are residential remodeling and interior design companies from across the country, judged by a panel of six design and construction industry experts. Entries are judged on aesthetic appeal, construction techniques used, handling of unusual situations, attention to detail, functionality of space, and overall impression of the project.
For each of the past 40 years, Qualified Remodeler has received hundreds of entries to its Master Design Awards from companies across the U.S. According to the judges, winners this year comprised some of the top projects in program history.
About TEW Design Studio

Based in Durham, N.C., TEW Design Studio offers a fresh approach to the uniquely personal process of interior design, forming distinctive spaces of the highest quality and intricate detail. Founded by Rima Nasser on the principle that design should be fun, exciting and daring, TEW Design Studio creates uplifting residential and commercial interiors that are visually inspiring and easy to live in. The studio offers comprehensive interior design services using the latest techniques and construction best practices. Rima and her team bring a unique cultural insight with design experience both domestically and abroad, bolstered by advanced training at Florence Design Academy in Italy.
About Qualified Remodeler

Founded in 1975, Qualified Remodeler was the first magazine dedicated to serving residential remodeling and today stands apart as the leading media brand covering the remodeling and home improvement trade industries. In print, online and in-person, Qualified Remodeler serves the business information needs of owners and executives with news, new products, business best practices and design ideas. Published 12 times each year by SOLA Group, Inc., Qualified Remodeler offers a circulation of 83,671 subscribers. The magazine is best known for its Annual Top 500 List of the largest remodeling firms in the U.S., and is also well known for its industry leading design award program, the Master Design Awards. Additional information and the 2018 winners can be viewed online: http://www.qualifiedremodeler.com/207719/2018-master-design-awards-remodeling-forte-3/
Share article on social media or email: