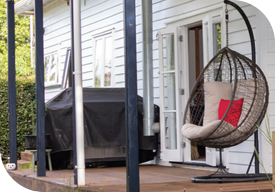 March 2019
Dedication and commitment reveal historic personality
A grand old lady, re-located twice in her 114 years, and brought back to prime condition by the lavish care and commitment of a couple determined to reveal her full glory, is now for sale in Waikato.
In 2007 Marianne and Ian Sanderson returned from two years in Australia. They found a small lifestyle block in Tamahere, eight kilometres north west of Cambridge, with a house that was the worse for wear. Initially they fell for the land. As time went by, they also became beguiled by the house, as Marianne explains.
"At first, the state she was in, we didn't realise how many things had been covered up. The bedrooms were dark, the bathroom was tiny, and we had to use dehumidifiers to pump 30 litres of water out of the rear part of the house, which was cold and damp. She hadn't been treated with the respect she deserved.

"Initially, we could see she had good bones and all we intended was to freshen her up. We thought 'we can cope with this.' At that stage, we didn't have any visions of what could be done, though as we progressed, we became more and more hooked into revealing her past glory, and making sure she could serve and be enjoyed for another 50 or 100 years," she says.
Originally built in Thames in approximately 1905, the house was constructed from local timbers, predominately matai. Initially it served as a hostelry, one of the over 100 pubs in the township at the time. In 1915 the house was moved by ox and dray to the Firth of Thames, where it was loaded onto a barge and transported up the Ngatea River to a farm on the Ngatea Plains, where it remained as a farmhouse until the 1990s, when the house was re-located again, this time to its current position.
By the time Marianne and Ian found her, the house was in a dilapidated state. Fortunately, they were exactly the right people to supply the necessary TLC.
"We didn't know where to start, so we started in the bathroom, which was tiny. We took the chainsaw out to cut a hole in the wall. That was how we discovered the walls were made of thick tongue and groove, which was how she had survived.
"We went on from there, inch by inch. Our biggest challenge was our lack of knowledge and inexperience. It was three years of solid painting, renovations, cutting holes, putting new carpet in. We put in new windows, added French doors, and fell in love with her as we did it, as we exposed the soul she had always had.
"Even though we spent our life savings, there are no regrets over that. We were committed, and this house deserved it. After all she has gone through, we cannot help but admire her, and we know her personality holds us so safe. She started life as a pub, and we can still sense a lot of very happy drunks in our house," says Marianne.
Acknowledging their time in Australia, they named the house Gumnut Cottage. Now, another piece of good fortune has prompted Marianne and Ian to sell.
"About two years ago, Ian received an invitation to purchase raffle tickets from CoastGuard NZ. One of the main prizes was a $10,000 gift card for a new kitchen. I liked the idea of that, and we needed it for the house, so we decided to go into the raffle. There was a deal, if you bought ten tickets, you received one free, so we spent $100 on the raffle, which seemed like a lot at the time.

"We received tickets with ten consecutive numbers back, plus one out of sequence. Then, when the draw was made, our bonus ticket was a winner, though we didn't win the kitchen, we won an even better prize, a $45,000 Haines Hunter boat. Wow!
"Anyway, since we have had the boat, we have only had 10 hours use on the engine. We decided that we want to use it more, so being newly retired we are now looking for a beach lifestyle," explains Marianne.
To make that happen, they have brought in Angela and Russell Thomas of PGG Wrightson Real Estate, Hamilton to find new owners for Gumnut Cottage. Angela describes the property as like no other.
"As well as Gumnut Cottage, it includes outbuildings and a studio flat suitable for an elderly parent, older child, boarder or as a B&B.
"Describing Marianne and Ian's efforts as a labour of love is understating it. They have completely transformed this into a home for all seasons that is virtually unrecognisable from her previous incarnation.
"In addition to the complete interior and exterior refurbishment; French doors, big sash windows and native timbers paying homage to the past; a pellet fire, underfloor bathroom heating and a heat pump; a six month old stone-look kitchen and two modern bathrooms fully exploit the grand old dame's personality and create a sense of comfort that is beyond reproach," says Angela.
Expertly planted grounds developed to create a native bush feel, three paddocks, house gardens and spring sourced water all add to the tranquil picture, as do the property's resident birds, including tui, ring neck doves, waxeyes, fantails, morepork and pukeko.
Marianne says these have created an extra chapter to the Gumnut Cottage story.
"Last spring our native birds had a visitor for two weeks. Playing in the kowhai with the tui was a kaka. This bird is on the highly endangered list, and the bird society was delighted, as they have a kaka breeding programme in the Maungtautari Forest, which is 15 kilometres from us. Our visiting kaka was un-banded, meaning he was attracted to the flock up there and doing his bit to keep the species going," she says.
 ◰ Read more in our Latest Lifestyle Collection publication