If the walls could talk at the home of Maria and Michael Rolfsen, they may tell the story of embracing a young family in a place that is not unfamiliar with the sounds of children playing and friends gathering.
The Rolfsens purchased the home at 2612 Eldridge Lane last July for its welcoming floor plan and wonderful yard. It's known in the community as the "Pattillo House," where Sherry and Spike Pattillo raised their family and entertained friends for 30 years.
Michael is an ophthalmologist in Waco, and Maria has a background in graphic design.
Both did their undergraduate studies at Notre Dame and fly a Notre Dame flag out front.
They moved their family to Texas from Louisiana to put down roots for their three children Jourdan, 5; Lucy Jane, 4; and John Michael, 2. A little sister is on board to join the family in November.
"What we really liked about this house was the ability to entertain, the layout and the way kitchen and living room open together," Michael said. "With our kids, we spend a lot of time outside. We love the wide-open space in the backyard and front yard. The backyard opens up to a forest."
The family has transformed the house into the kind of home where memories are made.
The backyard has a fire pit with tree stumps around it, a perfect place for roasting marshmallows.
"Maria has already made our different houses feel homey and special," he said. "The way she lays out the furniture and the decorations and her special touch makes it feel like home."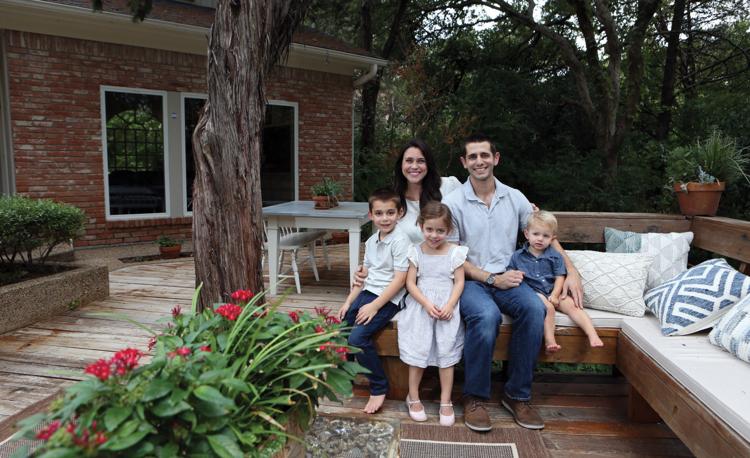 When the large lot next door became available, the Rolfsens purchased it to expand the space their family can enjoy.
"It feels like a big forest back there," Maria said. "Such a big appeal of the house was the wooded area in the back."
The 3,525-square-foot house has four bedrooms and two and a half bathrooms. The Rolfsens have updated the colors and paint in the home to coordinate with their own design style.
Built in 1979, the house retains its original character in terms of floor plan and flooring, particularly the herringbone pattern that permeates through the kitchen, the formal dining room, the entrance and the family room.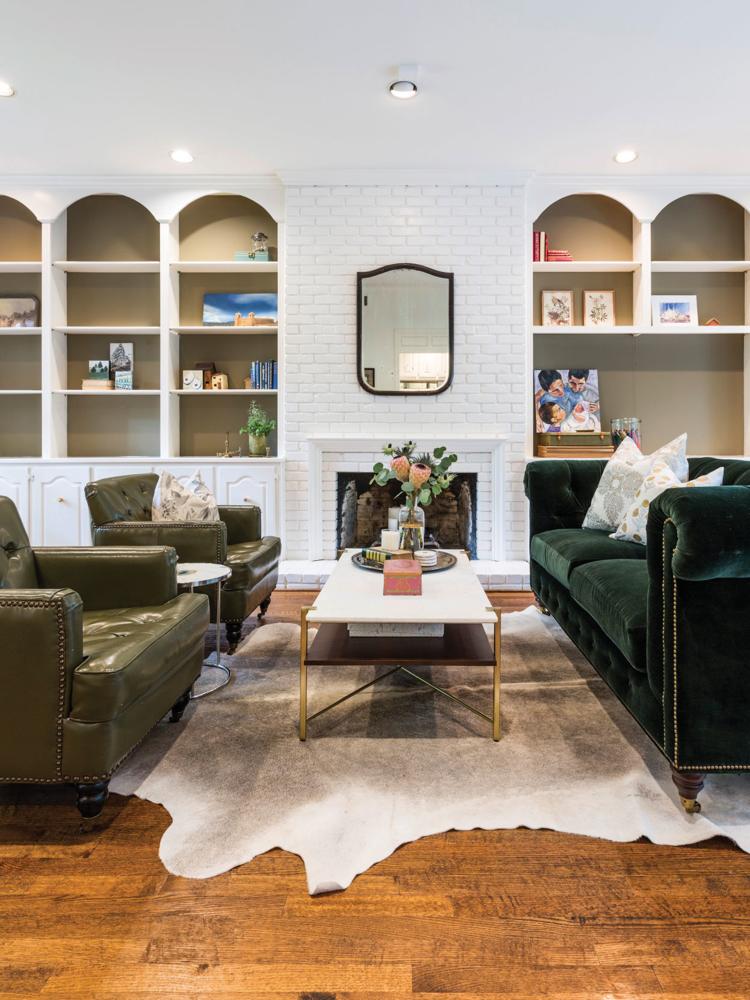 The wood floors in the formal living room were redone about 10 years ago by the Pattillos, Maria said.
"It's a family home and it feels like a family home," said Maria. "We've changed out fixtures and updated it to our style."
Comfortable Fit
The Rolfsens wanted their home to be comfortable for their family and friends as well.
"We love to entertain and have people over," she said. "The layout is great and really open. The doors open to the backyard, which is one of our favorite parts of the house."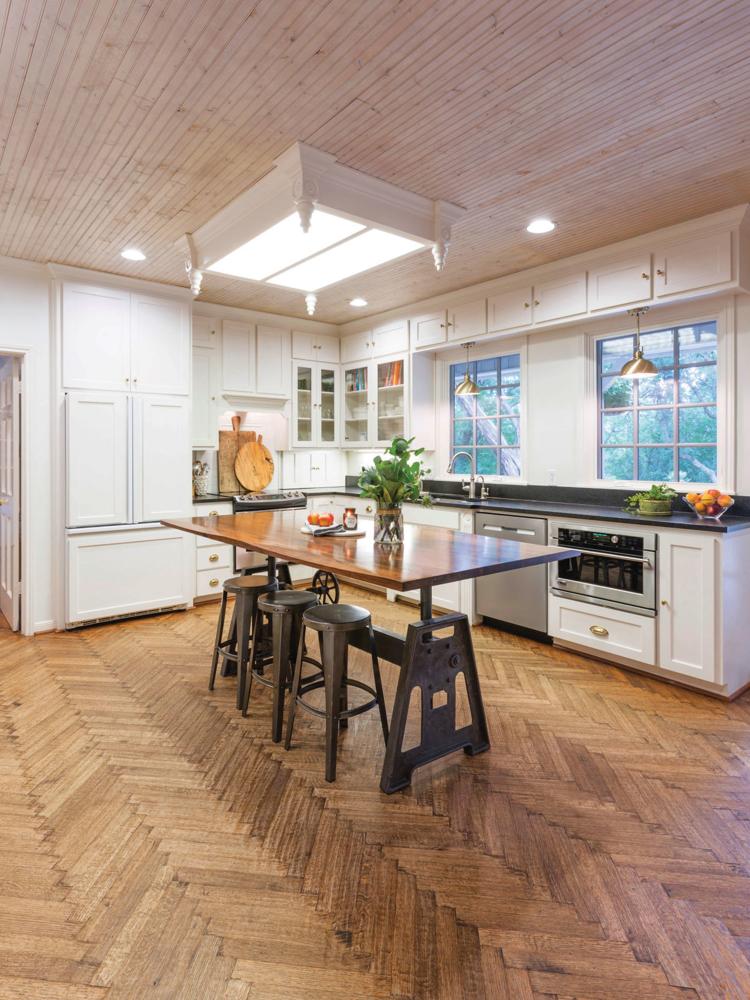 Maria spends a lot of time in the kitchen, so its functionality makes managing a large family more enjoyable. Their kitchen table was designed by Austin-based Arhaus and can be raised or lowered, which helps when Maria is baking.
"The kitchen was a big selling point for me because I'm in the kitchen 90 percent of the time cooking and cleaning," she said. "We live in that area so much of that time and in the backyard and the back porch."
The Rolfsens have filled their home with heritage pieces of furniture that honor their family members.
"The dining room table is my grandmother's, I think from the '70s," she said. "We've been blessed to inherit so many wonderful items."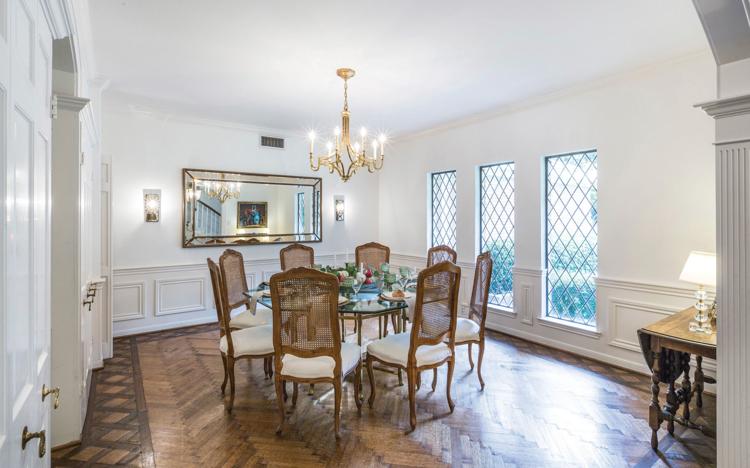 Her daughter's room has a pink library book cart from Maria's school.
"The locker in my son's room was from my dad's school," Maria said. "There are pieces from our lives and our family. When we moved here, we had a lot more space to fill, and we were able to fill it with what we had and then get a few other pieces."
The turquoise sectional was one of them and has become a statement piece in the family room where world globes grace the shelves with their bright colors and exotic locales.
"I am a graphic designer by trade, so for me it wasn't about traveling to all these places," Maria said. "I just love graphically how a globe has different sizes and colors.
"In my son's room is a globe my brother had growing up in his room. I started gathering them here and there. We've lived so many places; I feel like I have globes from every state, but not quite."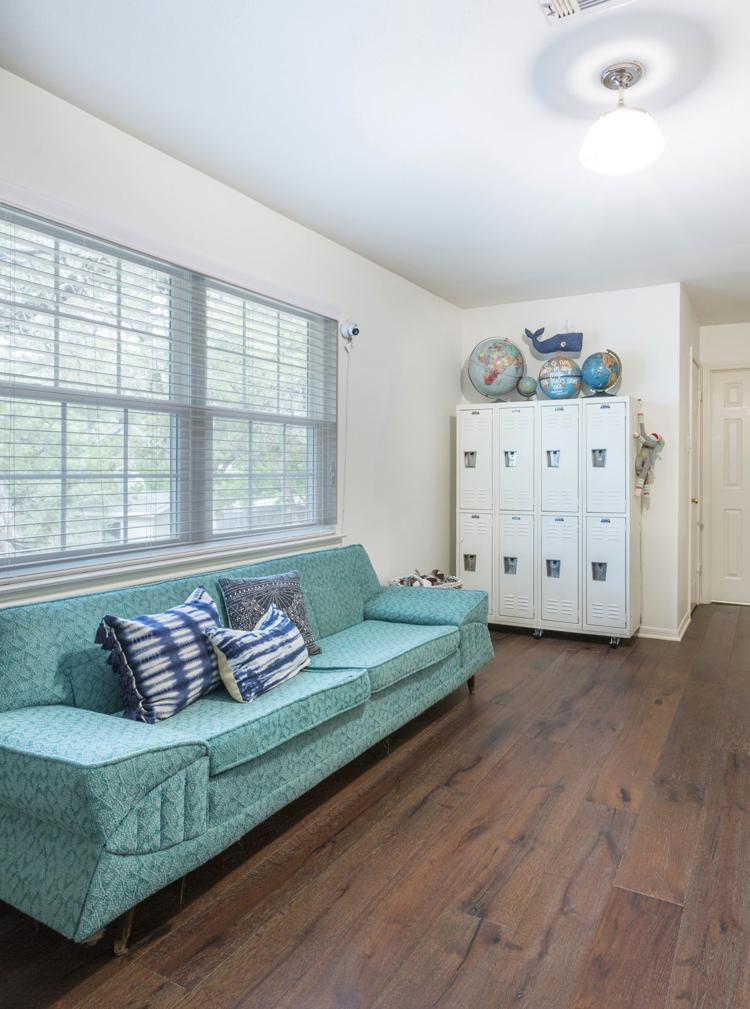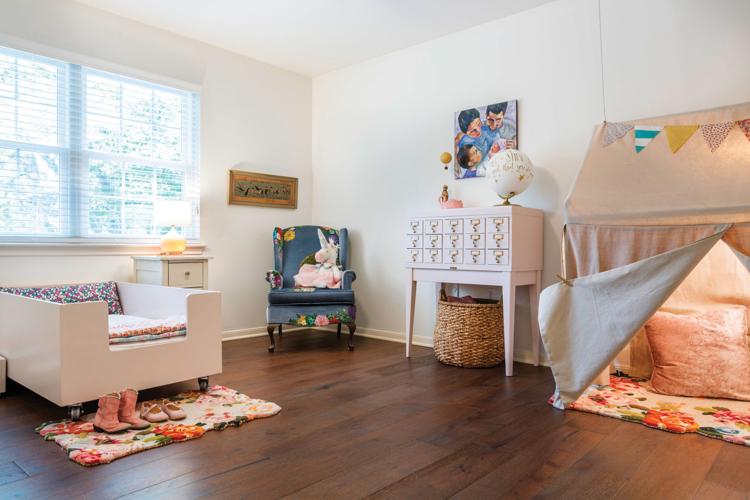 Antique Appeal
Keeping with her style of having a connection to her decor, Maria is selective and discerning about the pieces in her home.
"I love antiques," she said. "I want things that have purpose or meaning to me. All of the art we have or knick-knacks have a meaning or a story."
She tunes into her mother's decorating energy to collect and rearrange her own things to bring a room to life.
"My mom is my main inspiration," Maria said. "Everywhere we've lived, she made it feel so special. With whatever we had, she made it feel so warm and cozy."
"I feel like I've kind of learned that from her. She never had a decorator and I've never had a decorator, but she would be my interior designer if I had one."
Growing up, Maria recalls the women in her family re-decorating a room by "starting over."
"My aunts would come over and put all the furniture out and then put it all back in and rearrange it again," she said. "It was just a different way of thinking about it."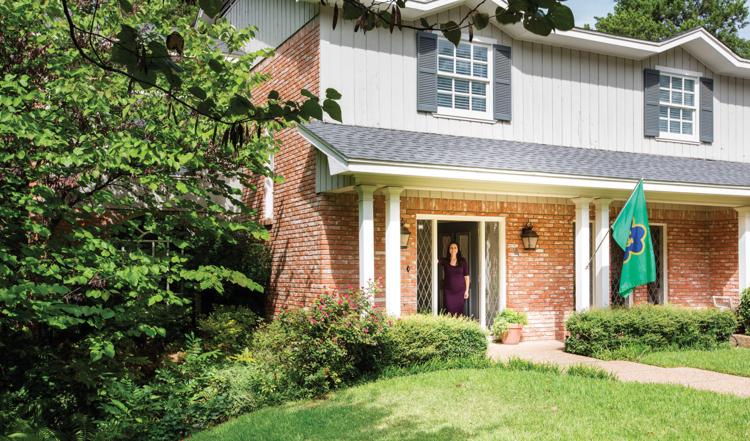 Design Insights
The Rolfsens enlisted the insights of Melissa Hoekstra at James & Reid Home + Antiquities to accentuate the pieces they already had and loved.
"Maria is a regular shopper with us along with her mom and aunt," Hoekstra said. "They come in often just for inspiration and ideas and unique finds.
"They were looking for a sectional and as they started talking about the room they were getting furniture for they mentioned the centerpiece of the room was globes. The room is the central hub for the house and is long and narrow and feeds into the kitchen."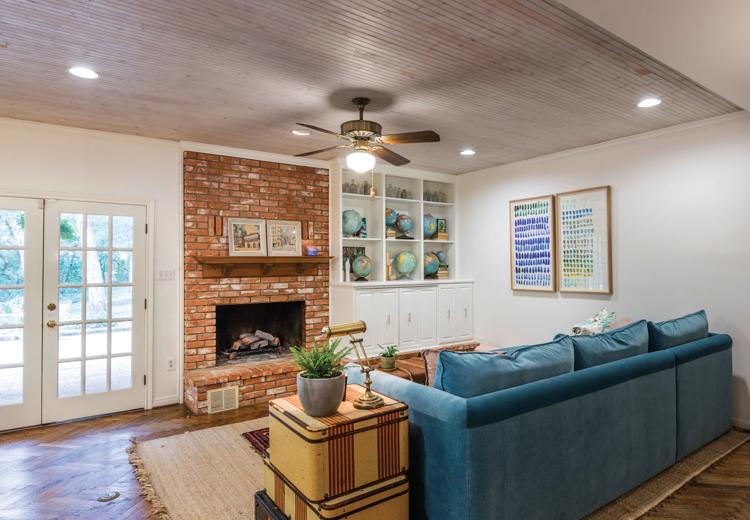 That prompted Hoekstra to consider the best color and size for this piece of furniture where the family would spend so much time.
"As we looked at the photos and talked about how their family lives, we were able to find the perfect sectional," she said. "We selected the color based on her globes so it's a turquoise, which happens to be very on-trend currently."
Hoekstra said it's important to her to understand her customers' style and taste and complement what they like.
"Our clients, we really get to know them and we work in their homes a lot," she saod. "That's one way we get to know them is being in their environment, which is sacred territory to them."
Hoekstra suggested adding sconces to the family room to highlight the global flavor and energize the room with light.
"When you get to know people, you just know she's going to love this," she said. "It's going to be perfect for them. Even though that room was great as it was, we found something to make it extraordinary."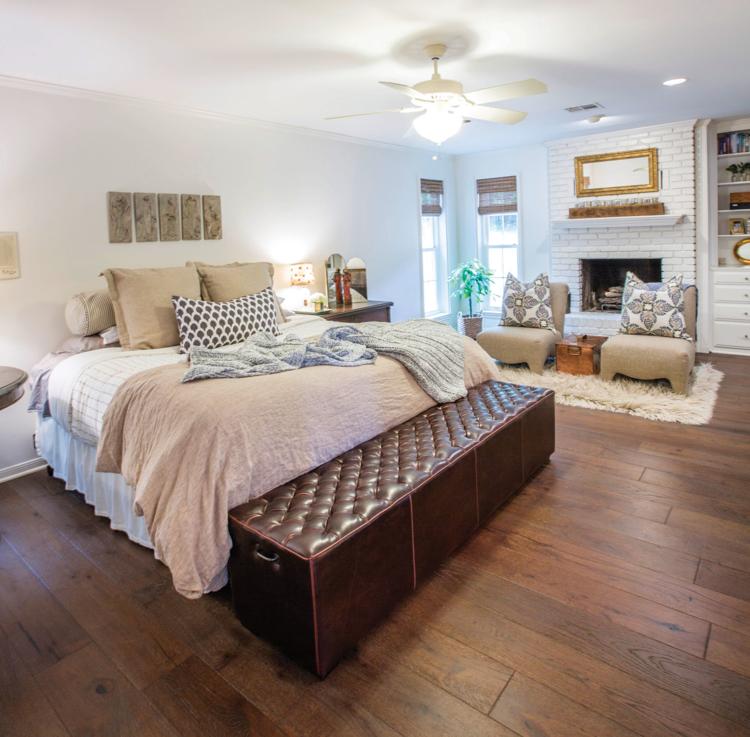 She said she enjoyed working with Maria to meld the old with the new to create a unique style for her home.
"One of the great things about Maria is she loves all things old, whether it's a 25-cent something she found at a garage sale or something much more than that," Hoekstra said. "It doesn't matter to her. She loves it for the authenticity of the piece and how it will work in her room."
That sense of decorating a home with a nod to something meaningful and traditional fits well with Hoekstra's style as well.
"At James & Reid we are such a collection of new and old. It's just blending those and using things that were your grandmother's," she said. "We are all about incorporating what people already have in their home. We really respect that your house is yours and you live there. It should be a reflection of you and not us. It's making your home yours and walking in and feeling like you can breathe in it and you are proud of it."
Always Changing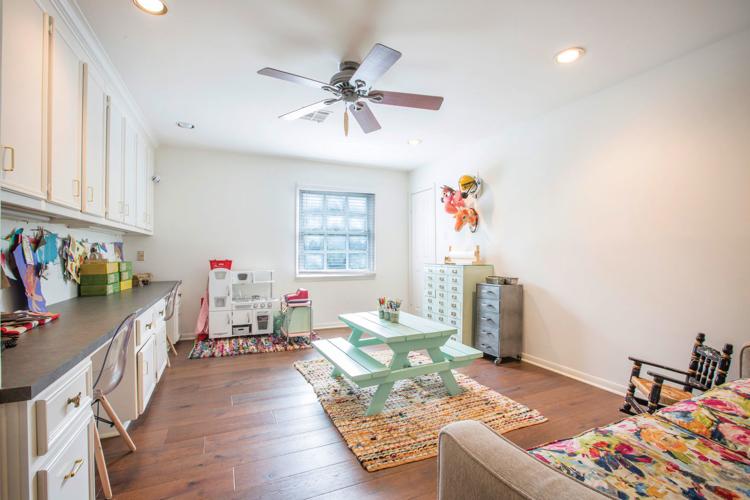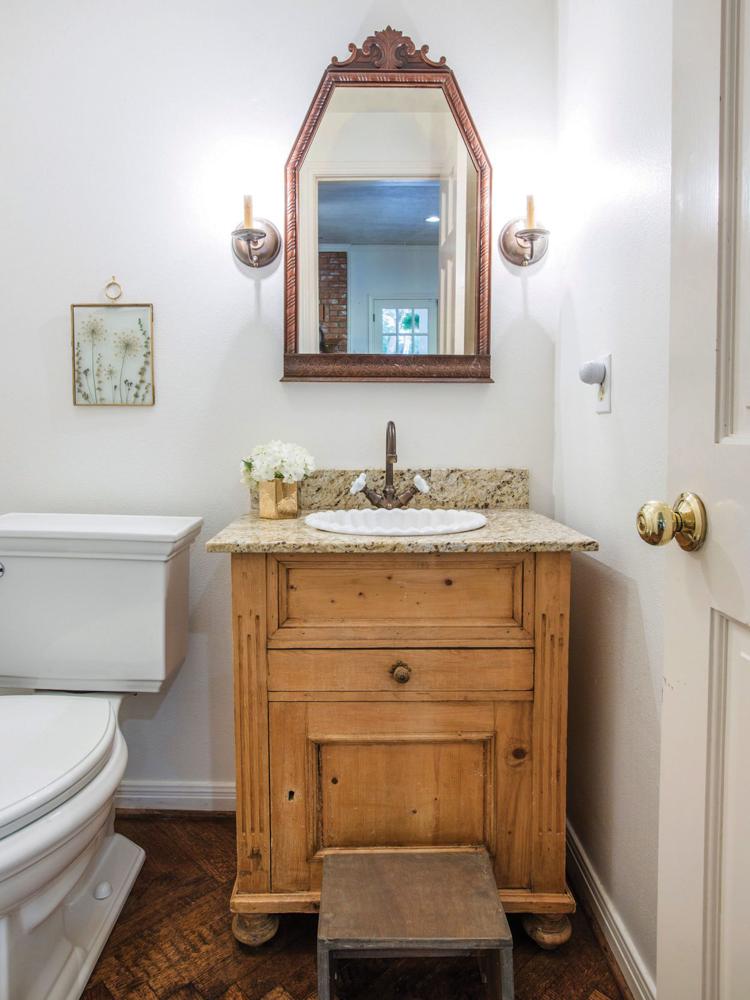 As Maria's family is growing, she changes her children's rooms as they get older.
"So far I've been able to pass it down to the next one," she said. "You design based on the needs of your family."
It's important to her that every room in her home is welcoming and that no place is off-limits.
"We have this formal living room, but I want every space to be able to be lived in," she said. "It doubles as the kids' play room.
"It is a growing family and there are little ones running around everywhere, and they love every part of it."