As clichéd as it may sound, "East meets West" perfectly sums up both Nicole Shaw and the Happy Valley flat she shares with her husband, Martin, and their two young children. Shaw, whose mother is Chinese and father English, grew up in Hong Kong and went to school in Britain. She met and married Martin in London, then moved with him to Beijing and Shanghai, before finally returning to Hong Kong. While searching for somewhere to buy, the couple rented a flat in a block adjacent to their current home.
"The apartment had been on the market for a long time and was very run-down," recalls Martin, a marketing professional. "It had peach and avocado-green bathrooms, bars on the windows and a tiny kitchen. However, as the flat is in an old colonial block, which dates back to 1967, it was well built with high ceilings."
My idea was to make the flat feel half Chinese and half English. I wanted it to be practical, with a lot of storage, but also somewhere we would enjoy living, a space that would reflect our personalities
Nicole Shaw
The couple viewed the 1,250 sq ft flat with interior designer Nirender Lehar, of Leehar Home, and it was his enthusiasm for the unit that, they say, helped to seal the deal.
"My idea was to make the flat feel half Chinese and half English," says Shaw. "I wanted it to be practical, with a lot of storage, but also somewhere we would enjoy living, a space that would reflect our personalities. For example, in true Chinese fashion, I love bling and, as I used to be a diamond grader in London's Hatton Garden [the centre of the British diamond trade], I wanted a luxurious touch."
Armed with these initial ideas, Lehar created a 3D model on screen that gave the couple options and allowed them to pick favourites (doors, for example).
However, compromises had to be made. The sizes of the three bedrooms, one of which is now a playroom, had to be reduced to donate space to the living areas, bath­rooms and kitchen, and Shaw's desire for a walk-in larder had to be modified to an almost-walk-in corner cupboard.
The balcony, which had been enclosed with a waist-high wall and bars and sepa­rated from the rest of the flat with flimsy metal folding doors, had to be sacrificed, too. Lehar incorporated it into the living area and installed bi-fold sash windows above a wall of glass bricks to bring more natural light into the flat. Full-length concertina shutters in front of the outer wall offer privacy when needed.
"As the apartment is on a lower floor, with relatively restricted window sizes and a busy outlook, one of the challenges was how to bring in more natural light," says Lehar. "The glass bricks let in the light but blur the view of the carport and are also a style feature that echoes the retro feel of the building."
The couple wanted to avoid dust-collecting curtains because their son suffers from allergies, so instead chose shutters – custom made by Thai crafts­men – for the whole flat.
Inside a Hong Kong newlywed couple's minimal first home together
"Even though they are made out of solid wood and had to be shipped here, they still cost less than composite wood shutters made in Hong Kong," says Martin. "But it was a bit of a gamble and a coordination challenge. We just had to cross our fingers and hope they all fitted."
With the shutters ticking off the Eastern feel, Shaw's desired slice of England came in the form of black-and-white floor tiles in the two bathrooms, white wall tiles remini­scent of those used in London Underground stations, and an entrance hall, complete with a faux mantelpiece and checkerboard flooring.
"Most of the time you don't get the opportunity to gut a property and do exactly what you want. You value it more if you put effort into it and we certainly did that," she says. "We must have walked up and down Lockhart Road a million times, looking for the smallest details."
---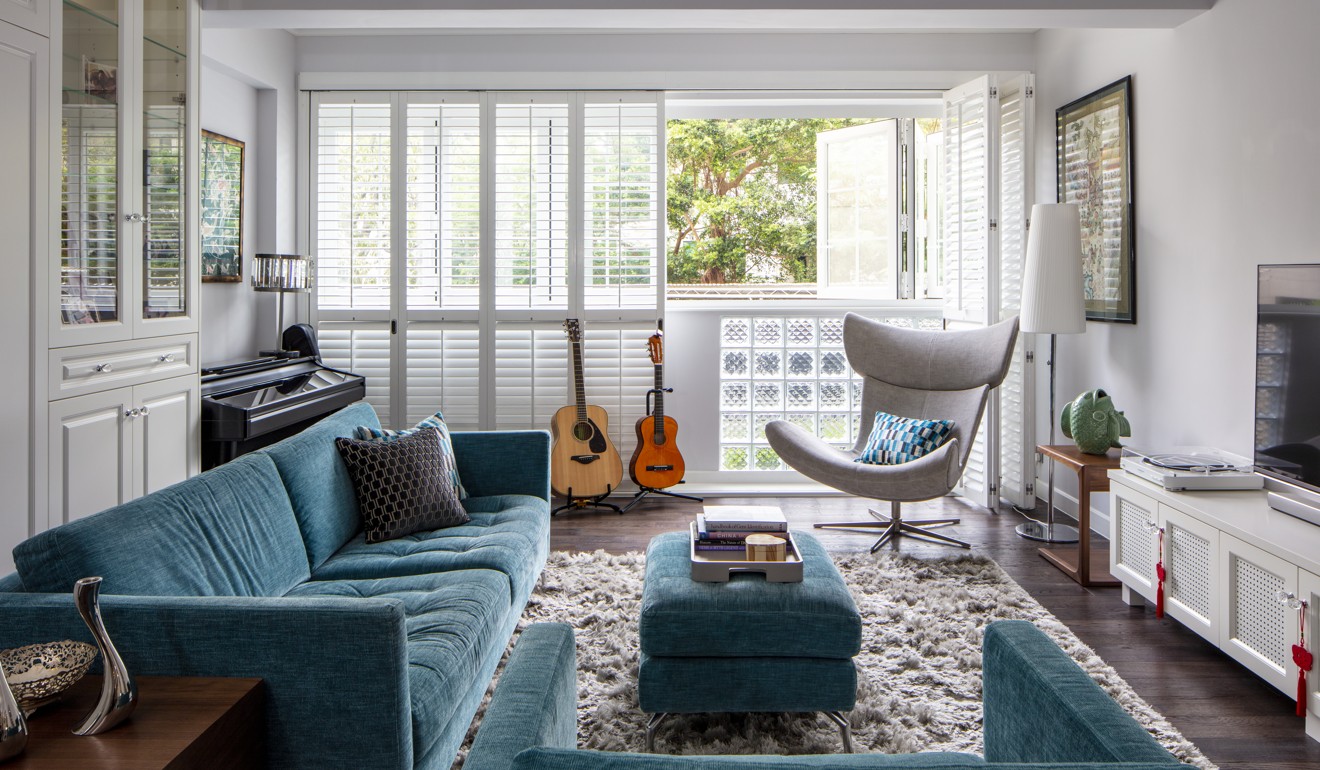 Living area The sofa (HK$20,500/US$2,613), armchair (HK$11,500), footstool (HK$5,900), rug (HK$11,890) and swivel chair (HK$20,500) were from BoConcept. The audiovisual unit (HK$11,500) and cabinetry (HK$20,000), which stretches across the left-hand wall, were designed and made by Leehar Home.
The side tables (left, foreground: HK$6,300; next to A/V unit: HK$6,700) came from HC28. The floor lamp cost HK$899 from Ikea. On the walls are hand-embroidered tapestries from Chinese Arts & Crafts (cachk.com).
The shutters (about HK$60,000 for the whole home) were made by Fine Wood Shutter, in Bangkok, Thailand. The glass bricks cost HK$5,000 from Hop Hing Lung Material (235 Lockhart Road, Wan Chai, tel: 2511 3013). The Odeon lamp on the piano was HK$6,800 from Timothy Oulton.
Dining area The artwork, by Yu Nancheng, came from Nancy's Gallery, in Shanghai. The teak dining table (HK$18,950) and chairs (HK$1,950 each) were from Tree. The Cobra silver candleholders (HK$2,550 a pair) came from Georg Jensen and the Odeon pendant lamp (HK$18,500) from Timothy Oulton.
The bench seat (HK$22,000) and sideboard (HK$11,000) were designed and built by Leehar Home. The cushions (HK$550 each), by Kirkby Design, are a modern twist on iconic London Underground seat-fabric designs and were from John Lewis. The lamp on the sideboard was about HK$800 from 798 Art Zone, in Beijing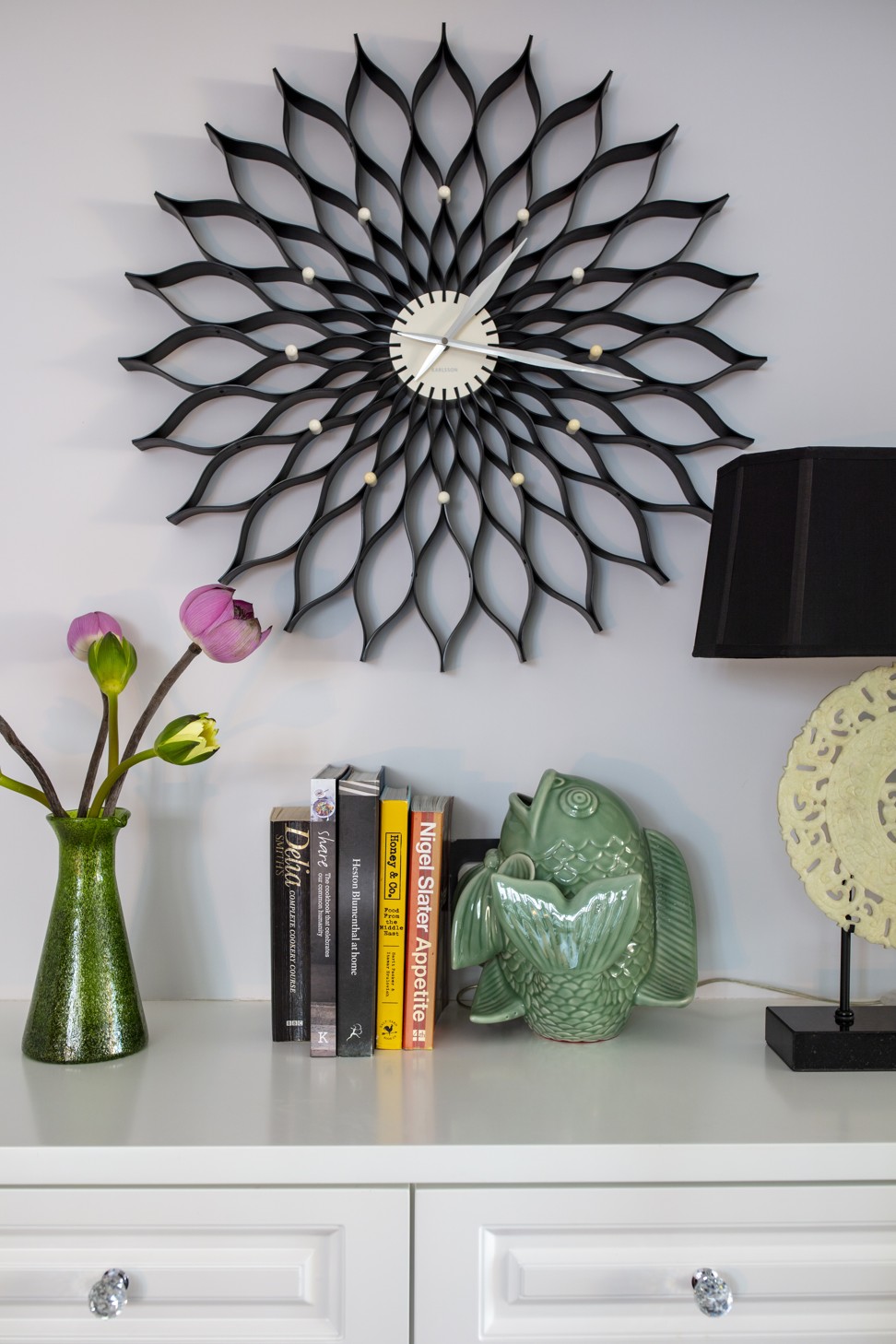 Dining area detail The wall clock (HK$1,200) was from a shop in Beijing's Solana mall. The lamp (about HK$2,000) came from 798 Art Zone. The vase (HK$400) was from Inside while the green celadon fish was bought more than 20 years ago in Chiang Mai, Thailand.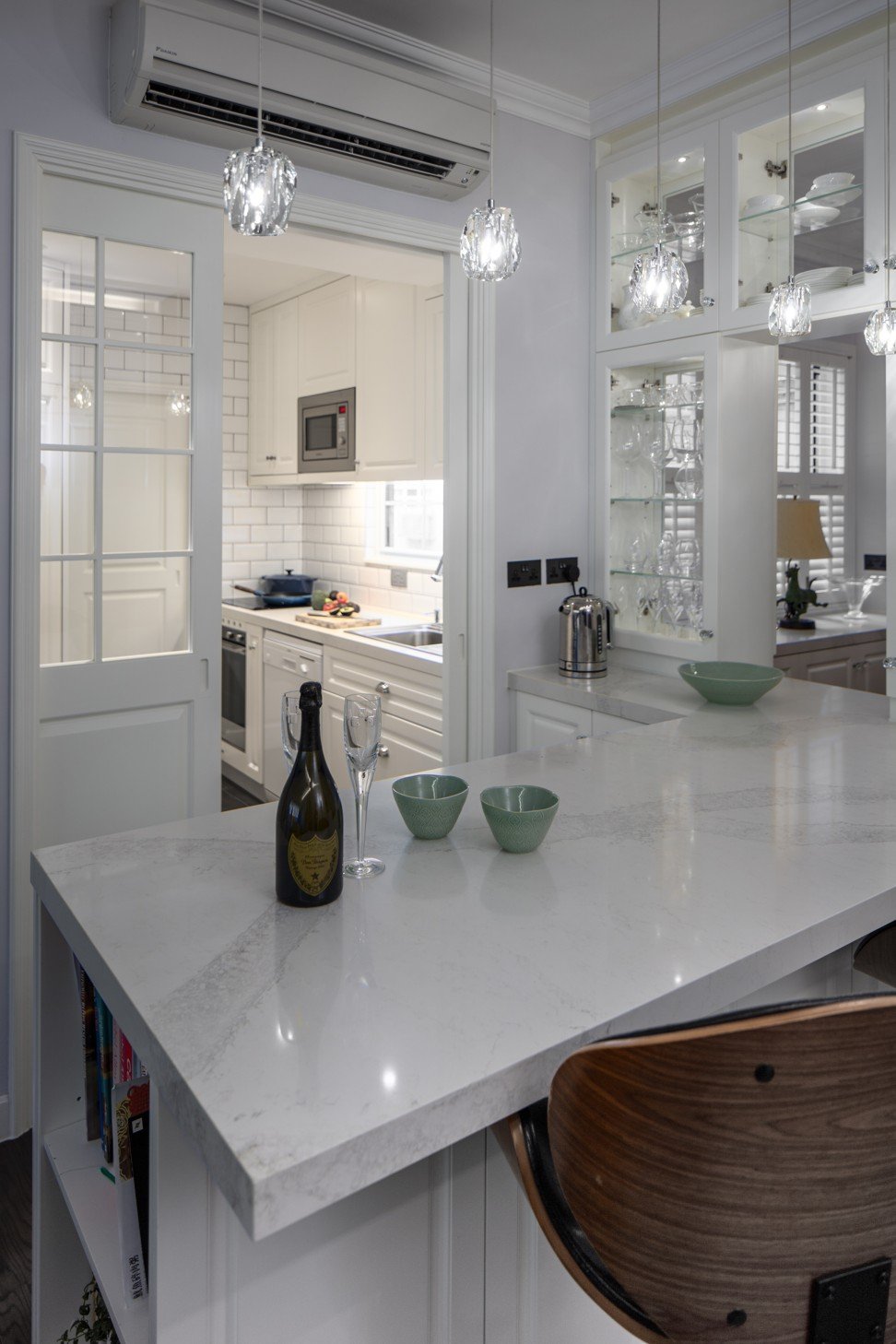 Kitchen The island (HK$10,000) was designed by Leehar Home to extend the kitchen when the sliding doors are open and also act as a breakfast bar. The stone countertop (HK$35,000) came from Caesarstone. The pendant lamps (HK$1,980 each) were from Future Lighting Collection.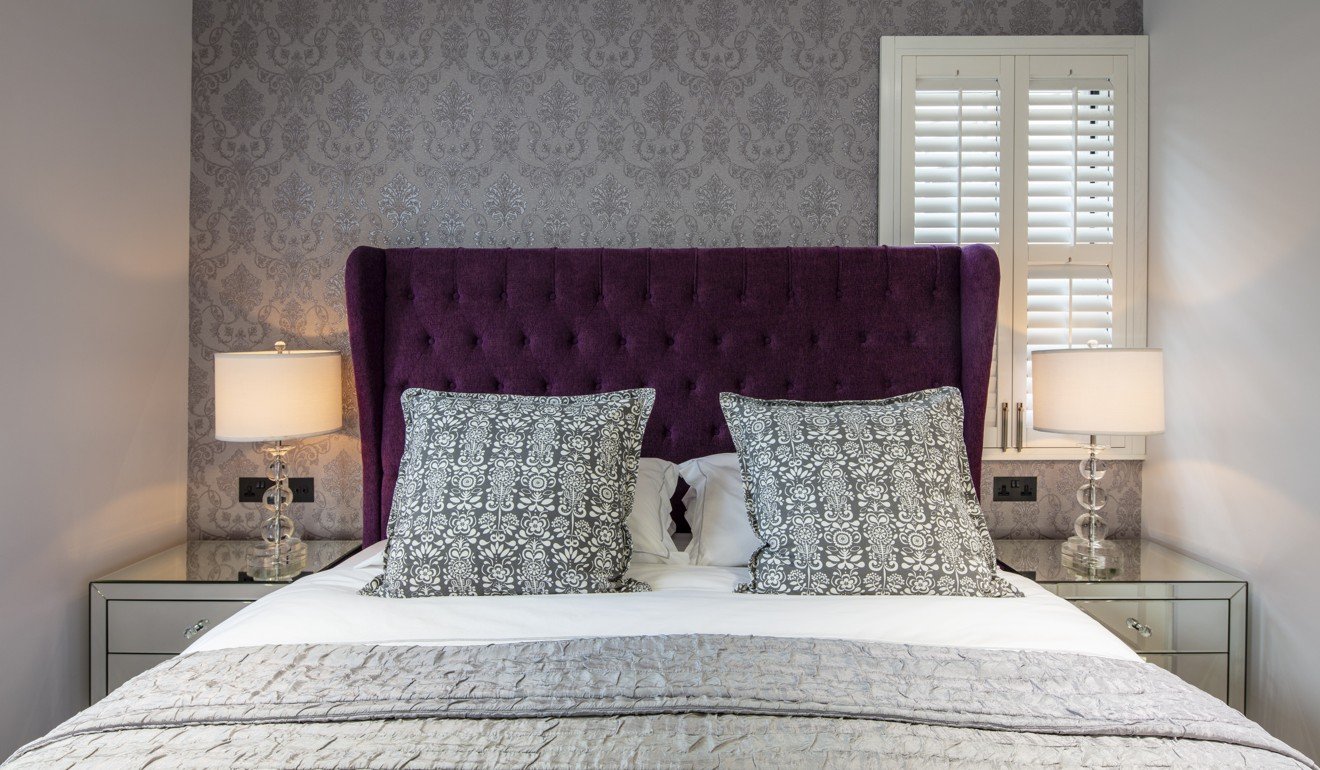 Master bedroom The master bedroom fulfilled Nicole Shaw's desire for a bit of bling. The Toccata wallpaper, by Masureel, was HK$1,500 per roll from Tat Ming Wallpaper. The bed (HK$14,000) was custom made by SofaSale. The cushions were HK$80 each from Ikea. The bedside tables (HK$2,100 each) were sourced by Leehar Home while the lamps were HK$1,800 each from Tequila Kola.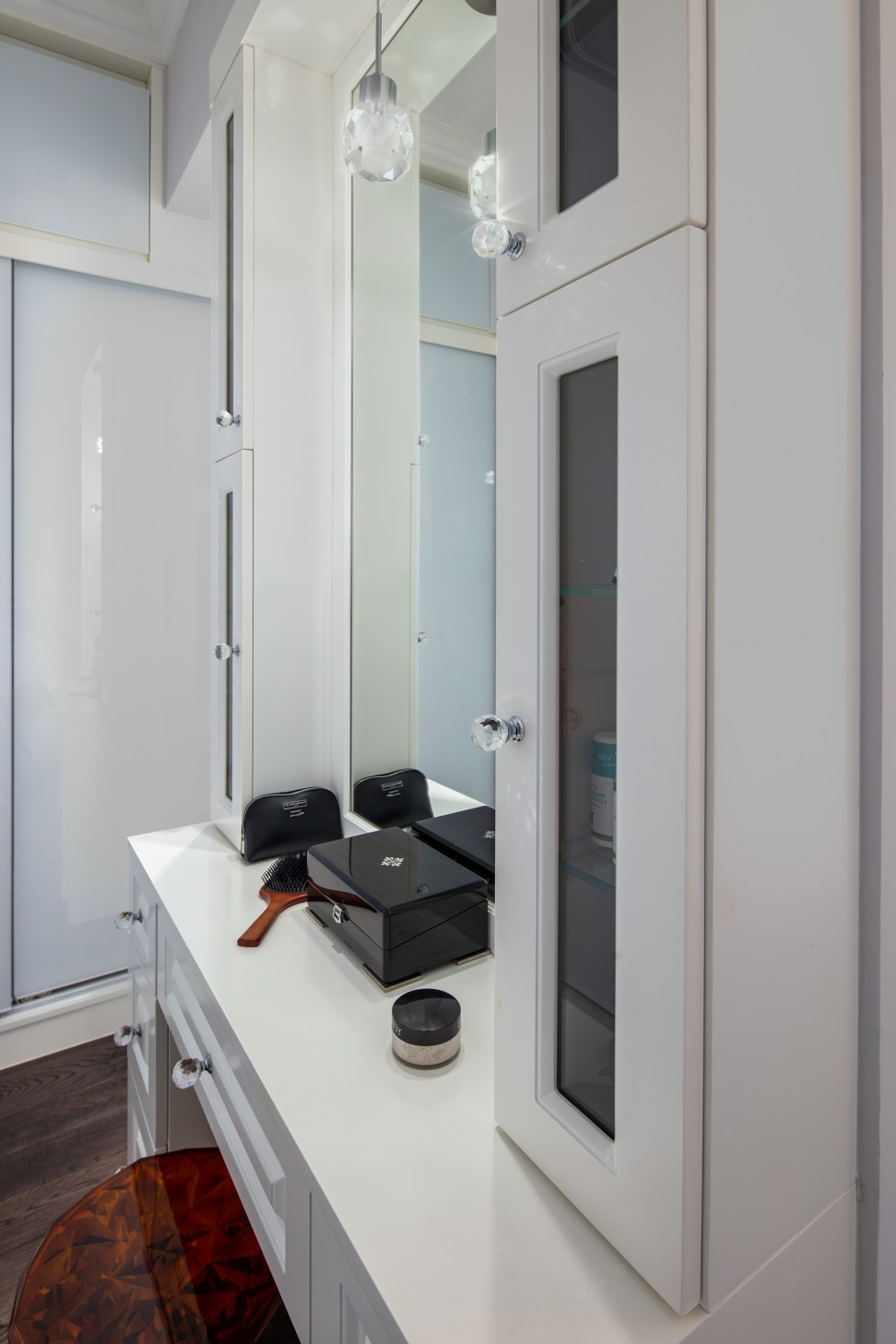 Dressing area The dressing table (HK$9,900), which was designed and built by Leehar Home, acts as a divider between the sleeping and dressing areas. The stool (HK$1,750) came from Kartell.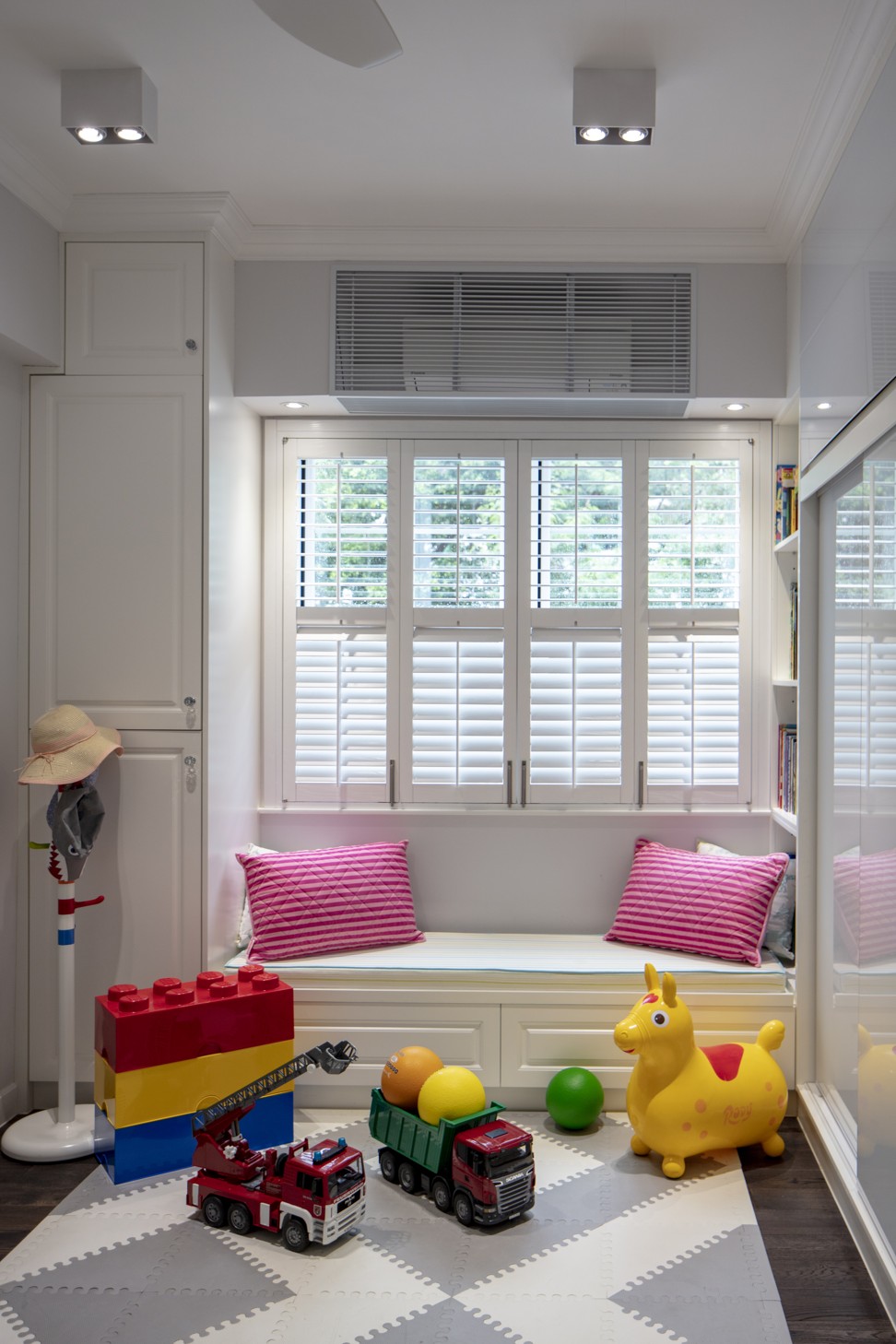 Playroom The bench seat and cabinetry were designed and built by Leehar Home for HK$54,500 in total. The Playspot rug (HK$900) was from Skip Hop. The hat stand was HK$199 from Ikea.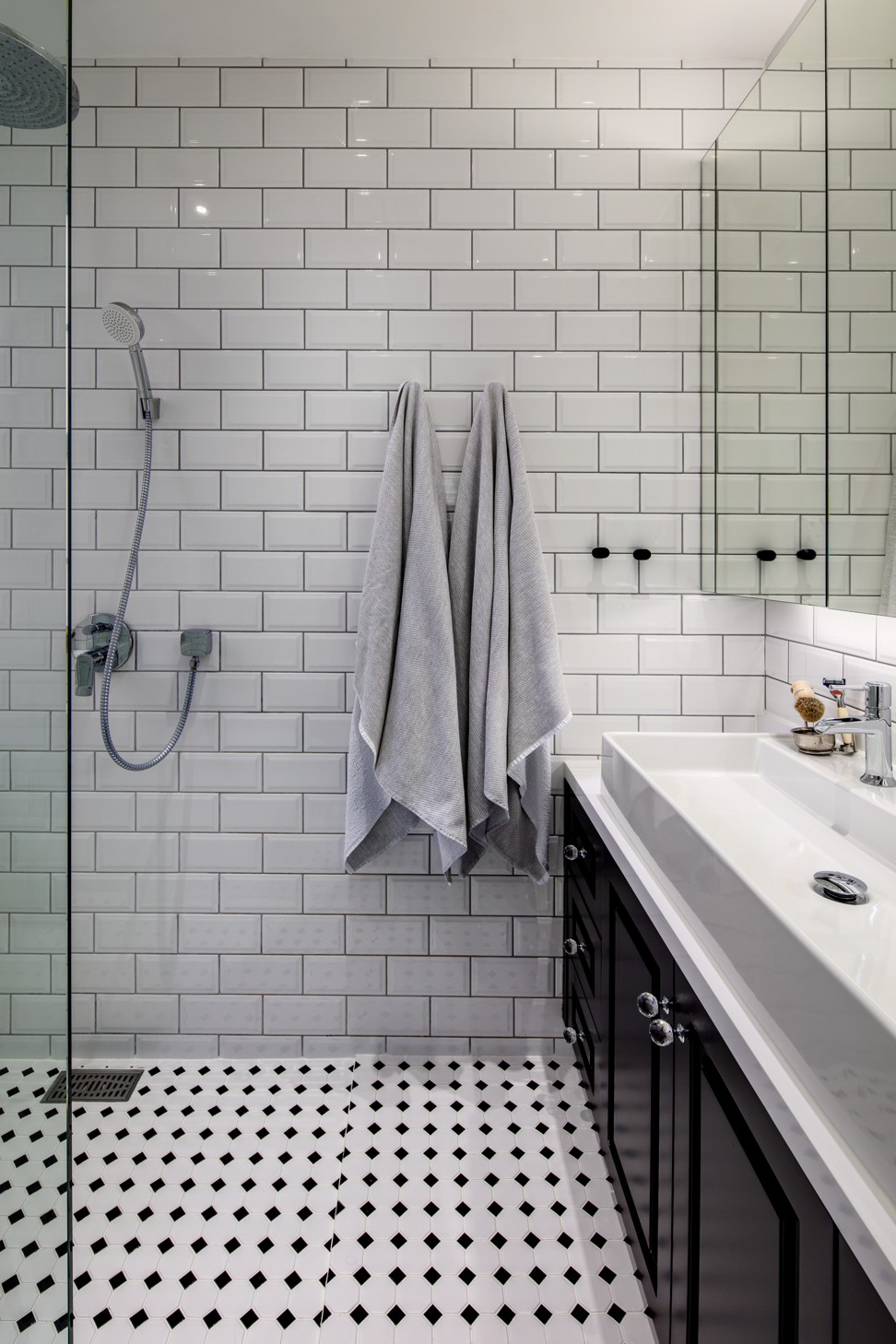 Bathroom The sink (HK$8,500) came from Galaxy Bathroom Collection. The solid wood unit (HK$8,000) was designed and built by Leehar Home, as were the mirror-fronted cabinets (HK$7,000). The wall tiles (HK$5,500) and floor tiles (HK$5,000) were from Hop Hing Lung Material.
---
Tried + tested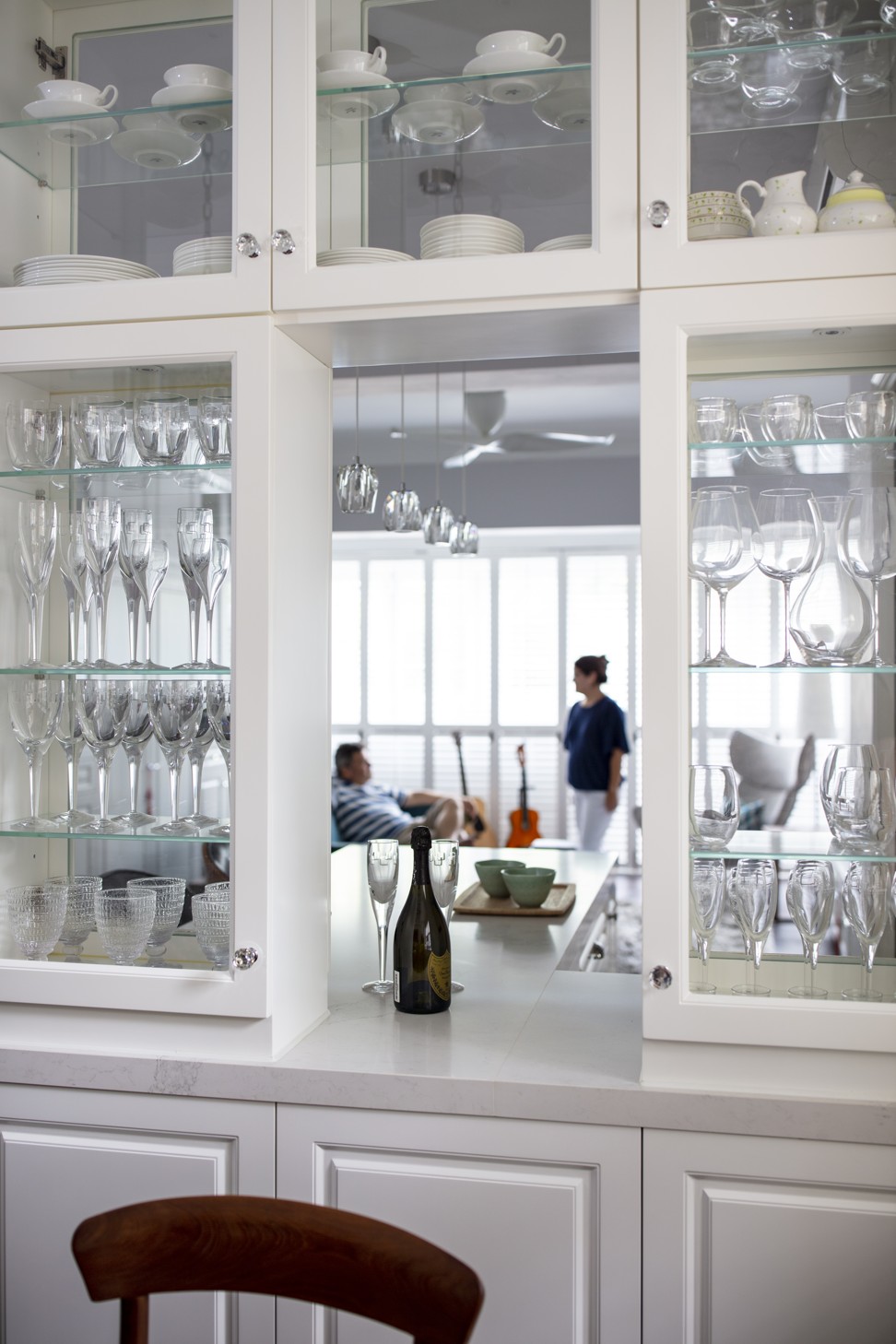 Let there be light A separate dining room was on Martin and Nicole Shaw's must-have list but, served only by a small window, the space would have been too dark to enclose.
Instead, Nirender Lehar designed and built glass cabinets (HK$19,000), which allow plenty of light to pass through and offer storage galore. The cabinets incorporate a handy hatch and open on both sides so that china and glassware can be accessed from the kitchen and the dining room.