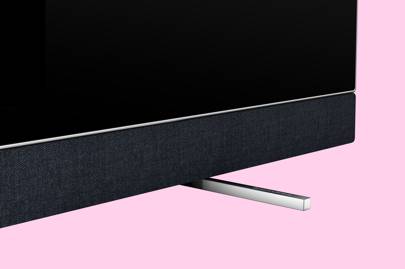 Can you think of many things you'd pay more to get less of? Certainly if you're in the market for a new television, you probably want a bigger screen, a higher resolution, and more apps than you had before. All of that is inevitably going to cost you.
Take a look at the Philips 55OLED+903. It's got the big screen, the high resolution and the smart TV functionality. But it's also got a bezel surrounding the screen that's so narrow it's virtually invisible. And in profile, its OLED panel is no wider than a beer-mat. You're paying a premium to get as little of those things as is currently possible, and paying it happily.
So a TV like this manages to embrace the 'less is more' and the 'more is more' schools of thought simultaneously. Yet there are a couple of ways the +903 manages to uniquely embody the 'bigger is better' philosophy: it's equipped with Philips' bespoke Ambilight technology, and it features an audio package built and supplied by UK loudspeaker company Bowers & Wilkins. The latter of which, on paper at least, puts it in with a shout of being the best-sounding TV on the market.
So is this television – with its big specification, slender profile and promise of big sound – worth the big price Philips is asking? Yes, in a word, is the answer.
Need a new TV? Read the WIRED Recommends guide to the best TVs for our top picks
Design
Apart from the smoothly integrated soundbar sitting below the display, the 55OLED+903 is basically all screen.
The screen surround is a minimal and discreet strip of metal. The tidy soundbar beneath is covered in an equally understated dark grey (and acoustically transparent) cloth. And its feet are slim, surprisingly weighty metal numbers that add virtually no additional height to the TV – and manage to look sophisticated and expensive as they do so. (They're quite far apart, though, so if you want to position your expensive new Philips OLED TV on a surface, make sure the rack, table-top or what-have-you is wide enough to accomodate them.)
From the front the 55OLED+903 is as confident and unobtrusive a looker as a great big telly can be. And in profile, it has the thrillingly unlikely slimness that makes such OLED such a compelling proposition in the TV showroom. The top third of the Philips is almost uncannily thin – it only reaches recognisable TV proportions around the section that houses all the electronics, processing and input sockets. This bulge also contains the left, top and right Ambilight LED array.
So while it's difficult to make a case for any TV looking like thousands-worth when idling, the Philips 55OLED+903 is about as urbane and elegant-looking a TV as you can currently buy, regardless of price.
Features
This is where we hit the 'more is more' bull's-eye. As befits a range-topping TV, the +903 has the sort of specification you have to set half an hour aside to properly assimilate.
There are obvious and expected highlights: this is a 4K UHD OLED TV, able to handle HDR content from HLG broadcast standard to HDR10+ dynamic metadata quality. (Philips/TPVision is the latest brand to sign up to the Dolby Vision-rivalling, Samsung/Panasonic-pioneered HDR10+ standard).
It has four HDMI inputs (two of which can handle 4K HDR/60fps information), three USB sockets and a digital optical audio output. There is Wi-Fi and Bluetooth connectivity on board, and broadcast TV can be accessed by either a Freeview tuner or a pair of satellite tuners.
Then there's the stuff which is unique to Philips. Not many TV brands can deliver a truly unique selling point, but Philips' Ambilight technology (implemented here in a three-sided arrangement) is a USP that really adds value to the viewing experience. All of the complicated stuff – and Philips is more fond of giving owners autonomy over numerous picture-processing options than any rival – is taken care of by the second generation of Philips' effective P5 picture processing engine.
And as the pièce de résistance, of course, there's that Bowers & Wilkins-supplied audio package. Given it comes at roughly a £500 premium (the 55OLED803, which is identical to this screen aside from the audio specification, goes for around £2,000), it needs to offer performance on a par with one of some very capable soundbars.
To make this dream a reality, B&W has engineered a rear-firing low-frequency array, comprising a bass driver reinforced by a couple of low-frequency passive radiators, that occupies a significant portion of the Philips' rear panel. And up front, beneath that unassuming acoustic cloth, there are twin titanium tweeter/glassfibre midrange arrays firing forwards rather than angled downwards.
The best 4K TVs for gaming, movies and more in 2018
Control
The 55OLED+903's on-screen interface and smart TV functionality is mostly derived from Android TV (Nougat). It's neither smooth nor elegant – although Philips does, at least, have it working stably. No one likes an interface that occupies the entire screen, do they? And no one likes an interface that's tricky to customise and doesn't carry all the UK's on-demand/catch-up TV services.
Still, at least it includes 4K content via its Netflix, Amazon Prime and YouTube apps (the first two with HDR, too). And the eventual upgrade to Android TV (Oreo) promises Google Assistant built-in and Amazon Alexa functionality.
Until that day comes your interaction with the +903 will be via one of two supplied remote controls. The first is the regular full-function handset – all the functions, many buttons (and that's without counting the QWERTY keyboard Philips fits on the back as a matter of course). The other is an altogether more slender, more minimal and more expensive-looking silver wand with just seven buttons.
Picture quality
You're not short of options when it comes to fine-tuning the picture quality of your 55OLED+903. It makes first acquaintance with your new TV a slightly more laborious experience than you might have been anticipating, but be in no doubt: each and every option is worth investigating. The P5 processing chip is as effective and wide-ranging an engine as was ever fitted to a TV.
Once it's fettled to your satisfaction, give the +903 the best opportunity to strut its stuff (4K UHD HDR Blu-ray, obviously) and the Philips is capable of truly engrossing performance.
Displaying a 4K HDR disc of Inception, the +903 impresses across the board. Consider those black levels – it's the ability to produce inkily depthless black tones that, along with the staggering slimness, makes OLED such an easy sell for the salesman. The Philips serves up deep blacks that remain unsullied even when there are areas of white brightness in the same scene. It's hard to imagine anyone ever becoming blase about the incorruptible black levels the +903 is capable of.
As a consequence, contrasts are just as impressive. The distance between 'pitch black' and 'dazzling white' is a very long distance indeed where the Philips is concerned.
In-between the two extremes, colours are extremely lifelike – the +903 manages to make HDR pictures look very vivid without ever getting carried away. So the palette is convincing rather than overdriven, and is capable of describing nuance and detail that's barely there at all. Even the most testing images (the texture of clothing material, the fine patterning thereof) are delivered with absolute confidence and look utterly authentic. Picture noise is notable only by its absence.
The best soundbars for any budget in 2018
So the Philips is as composed as you like when it comes to static or slow-moving pictures. And it's a similar story when on-screen movement become rapid, unpredictable or both. As long as you've put in the necessary leg-work with the set-up menus, the P5 engine ensures motion of all kinds and every severity is handled with absolute assurance. The +903 is unflappable: even televised football, with its swathes of green and on-screen movement that is routinely in two or three directions at a time, causes no alarms. The Philips simply gets on with the job in a manner so casual it speaks of complete authority.
And the P5 also does very confident work with non-HDR and Full HD content too. It upscales 1080p sources well, bringing sharp crispness and gratifying detail to this superseded picture standard – there's a little more picture noise, it's true, and it's sometimes apparent the TV is working hard to keep motion under control, but the overall drop-off in picture quality compared to native 4K content is remarkably small.
The colour gamut remains wide, brightness remains impressive (Philips is claiming peak brightness of 1000 nits, which is pretty potent by OLED standards) and the overriding impression is of a thoroughly capable and adaptable TV. (The P5 chip can get a little over-confident, though. Beware of the 'Ultra Resolution' option in the menus – leave it set to 'off' unless you want upscaled images so sharp they look like dioramas.)
In every situation, the three-sided Ambilight arrangement here offers greater immersion into the on-screen action and gives the impression of a TV is even larger than it actually is. When the Ambilight premise is written down, it sounds a bit gimmicky. When you see it in action, it's remarkably effective and a strong selling-point.
Audio quality
The flatscreen TV review (be it of a plasma, LCD, OLED or QLED screen) that doesn't mention the need to budget for a proper audio upgrade to do the images some justice is rare indeed. No matter if the TV in question costs £500 or £5,000, its sound quality will lag behind its picture quality by a distance.
Except here. The work Bowers & WIlkins has done with the unhelpful shape and composition of an OLED TV has to be heard to be believed. Admittedly you're paying for it – and £500 is not a trifling amount to be chucking at TV sound, especially when it's possible to buy some very decent soundbars indeed for that sort of money. But no soundbar at any price is so beautifully integrated with your TV, and not every soundbar demonstrates the sonic authority of this B&W arrangement.
Naturally, you're not about to confuse the sound the +903 makes with a dedicated audio system. But by the standards of modern TVs the Philips sounds dynamic, expansive, detailed and thoroughly absorbing. In quieter moments it has enough detail to ratchet up the tension, and in the noisier scenes it can punch pretty hard without exposing any sharp edges. It describes a soundstage far wider than the bar it emanates from. It will even do proper justice to music, whether from the YouTube app or something like Netflix's Grace Jones: Bloodlight and Bami.
Verdict
So Philips (with significant assistance from Bowers & Wilkins) has picked up the acknowledged virtues of OLED TV technology and run with them. Across the board, the 55OLED+903 has picture quality to rival the best alternatives and audio quality to trounce the lot of them. If the screen size is right and the price not off-putting, you need to see (and hear) this.
More great stories from WIRED
– Why you don't need to skip sleep to be successful
– Scientists explain why Hyperloop is so dangerous and difficult
– The suspicious Facebook page pushing Brexit ads to millions
– Why India is turning off the internet to fight fake news
– These photos show the devastating impact of human progress
Don't miss out. Sign-up to WIRED Weekender to get the best of WIRED in your inbox every weekend