Back in January, Roku revealed a grand vision for expanding from smart TVs and streaming boxes into the broader realm of home entertainment. The company's plans called for smart speakers, soundbars, surround sound systems, and whole-home audio, all integrated with Roku's TV software and controlled by voice. Behind it all would be the Roku Entertainment Assistant, a voice assistant to rival Amazon's Alexa, Google Assistant, and Apple's Siri.
Eight months later, Roku has delayed its plans to launch some of those initiatives this fall. Although the company will still release its first wireless speakers this year–in November, a month behind schedule–the Roku Entertainment Assistant won't arrive until 2019. Roku also won't comment on the state of its third-party audio program, which will let other companies build their own Roku-powered speakers and soundbars. TCL, which was supposed to be Roku's first partner, reportedly scrapped its soundbar plans earlier this year.
So for now, Roku's vision looks a lot like it did in 2017. That means new streaming devices for cheap, more partnerships with TV makers, and more ways to connect viewers with ad-supported video, which has become a key revenue driver for the company.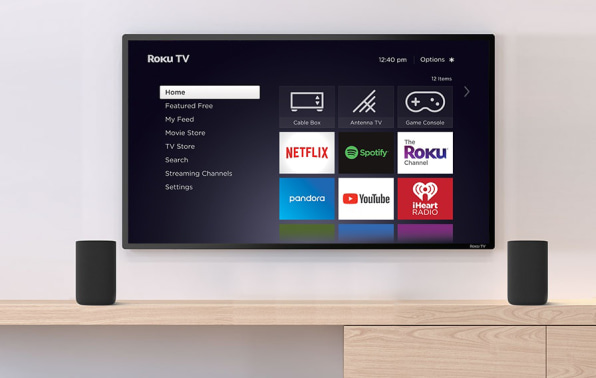 More users, new players
Roku still has plenty to be happy about at the moment. Its smart TV software now runs on roughly a quarter of all televisions sold in the United States, and JVC recently became Roku's 11th TV licensing partner. The Roku Channel–a source of free, ad-supported movies and shows–is among the top five most popular Roku apps, and is now available on the web as well. The company finished last quarter with 22 million active user accounts–up 46% year-over-year–and those users stream 57% more hours on the platform than they did a year ago. In the first quarter of 2018, Roku's revenue from ads and services surpassed its hardware revenues for the first time, and the company–now public–says it's close to being profitable.
Roku's streaming player business reflects the company's emphasis on growth above all else. Instead of introducing flashy new features–like the hands-free voice controls of Amazon's Fire TV Cube, or the blazing-fast processor inside the Apple TV 4K–Roku has favored small, incremental improvements and novel ways to drive prices down.
To that end, the company is announcing a couple of new players and tweaking one existing model:
The new Roku Premiere ($40) is the company's cheapest 4K HDR-compatible streaming device to date. Unlike pricier models with point-anywhere RF remotes, it includes a lower-cost infrared remote that requires line-of-sight to the streaming device, and it uses single-band 802.11n Wi-Fi, which doesn't support the speedy 5 GHz band of newer routers. (The Premiere name is recycled from an older 4K box, which launched in 2016 and disappeared from last year's lineup.)
The new Roku Premiere+ ($50) is also 4K HDR-compatible and uses the aging 802.11n Wi-Fi standard, but it has an RF remote that you can point anywhere. The remote also supports voice commands and has TV volume and power controls built in.
The Roku Ultra ($100) now comes with a set of JBL earbuds to make use of the remote's private listening feature, but is otherwise unchanged. This remains the only Roku box with USB, MicroSD, and Ethernet ports, and the only one with a button that plays a sound on the remote so you can find it.
Other existing Roku players are sticking around as-is. On the low end, the Roku Express ($30) is a 1,080p player with an infrared remote, while the Roku Express+ ($40) adds composite video for old tube TVs. The mid-range Roku Streaming Stick ($50) caters to users who want a 1,080p player with better Wi-Fi connectivity and a more portable design than the Premiere Line, while the Roku Streaming Stick+ ($70) supports 4K HDR.
Roku's new lineup is more confusing than those of its competitors, with seven streaming players to choose from (versus Amazon's three Fire TVs, Google's two Chromecasts, and Apple's two Apple TVs). But in Roku's view, a broader lineup lets people choose the features they care about–like 4K HDR streaming–without having to spend more.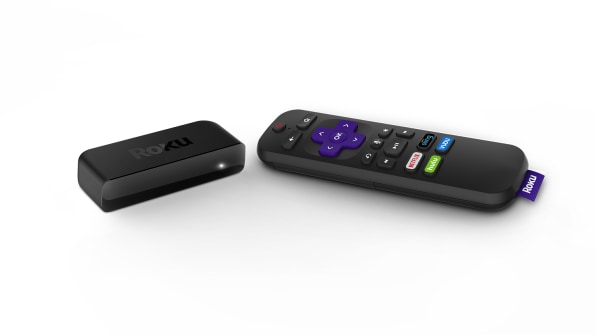 A little more voice
Roku's voice control and smart speaker strategy is more ambitious than its approach to streaming hardware. It's not just about keeping prices down, but about creating an ecosystem of entertainment devices throughout the home, all controlled by a voice assistant.
The company won't get into detail on why its voice assistant and broader home audio plans have been delayed. The company merely says it will be "working towards our vision for Roku Entertainment Assistant" in 2019.
But in lieu of an immediate AI overhaul, Roku is making some more modest improvements to the voice controls in some of its remotes. With a forthcoming software update, users will be able to launch music by voice in Pandora, iHeartRadio, and TuneIn, and will be able to search specifically for free videos by genre. (Spotify is also returning to Roku with an updated app, after departing the platform late last year, but it won't support voice controls.)
For hands-free voice control, Roku will soon work with Google Home and other Google Assistant devices, albeit in limited capacity. All Roku devices will support basic playback controls (such as pausing and rewinding), launching apps, and searching. Roku TVs in particular will support power control, volume control, input switching, and changing channels with an over-the-air antenna.
The missing piece is the ability to launch directly into videos from apps like Netflix, HBO Now, or YouTube TV. Google Assistant can only access videos this way through Chromecast devices. And if you want to control your TV with an Amazon Echo or other Alexa device, you'll need one of Amazon's Fire TV players or Fire TV Edition smart televisions.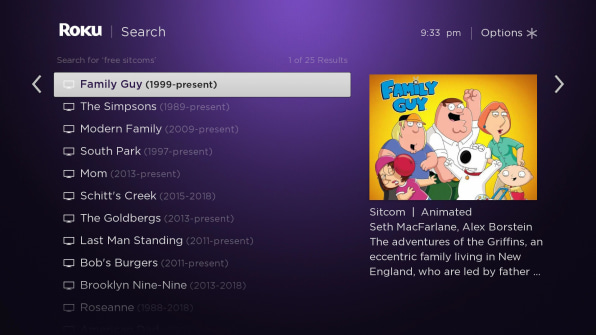 To be fair, using your voice as the TV remote still feels rudimentary on those devices. I've spent a lot of time testing Alexa with Fire TV and Google Assistant with Chromecast and have run into plenty of situations where they fail to understand requests and can't get things done without me turning to the physical remote. It's hard to imagine slow-and-steady Roku releasing something that might introduce frustration, even if it's theoretically a neat idea.
Even so, Roku's rivals are blazing ahead in smart speakers and whole-home audio. Apple TV, for instance, can output audio to one or two HomePod speakers, which in turn can connect with other AirPlay 2 speakers around the house. Amazon just announced new ways to bring Alexa to home stereos. Google is working with JBL on a soundbar that has Android TV and Chromecast built in. Meanwhile, Sonos is stealing Roku's strategy of playing the neutral party, offering soundbars and speakers that work with Alexa, Google Assistant, and AirPlay 2. The home entertainment land grab is happening right now, and the longer Roku delays, the more it stands to miss out.