Parliament has lots of arcane rules that can seem baffling to an outsider.
One of these is a ban on photography inside the House of Commons chamber.
But increasingly MPs – including the defence secretary this week – are breaking that rule on Instagram and other social media sites.
A Commons spokesperson confirmed to the BBC that these sorts of photos are not allowed despite politicians from all parties uploading them.
Who is doing it?
The most high-profile politician to flout the ban is Defence Secretary Gavin Williamson, who uploaded this picture on Monday during a Theresa May statement about Brexit.
The post was uploaded to Mr Williamson's Instagram "story", where pictures automatically disappear after 24 hours – and it's not the first time Mr Williamson has done it.
A Commons spokesperson refused to comment on individual cases but said "photography is not generally permitted in the House of Commons Chamber, and where it is seen or reported to be happening the individual in question will be asked to stop and reminded of the rules."
Mr Williamson's office has been contacted for a response.
The defence secretary has form for unorthodox Commons behaviour involving his mobile phone – earlier this year he was interrupted by Siri on his iPhone while addressing MPs about Syria.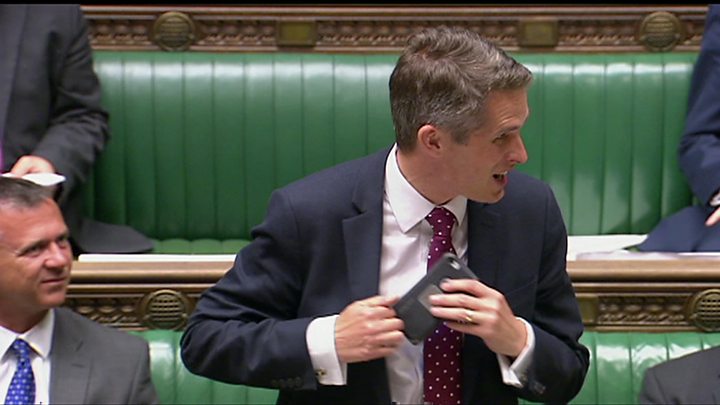 The defence secretary is not the only minister to have uploaded Commons snaps – Liz Truss, Chief Secretary to the Treasury, did so in April but appears not to have done since.
Tobias Ellwood, a defence minister, has also done it.
Other parties
It's not just Conservatives though – Labour's Stella Creasy uploaded a shot of the green benches on Tuesday,
The SNP are guilty as well – this post by Brendan O'Hara MP dates from May 2015, the month that he and dozens of other new SNP MPs were elected for the first time.
Will the ban survive?
This rule might seem quaint in a world where people increasingly upload pictures of their surroundings on social media, but we know far more about what goes on inside the Commons than we used to.
Continuous audio recording of the Commons only began in 1978, following a successful trial period two years earlier.
"Members who had been silent since I had been elected Speaker suddenly came to life" said then Speaker George Thomas, who initially opposed installing microphones, according to the parliament website.
"It was as though the dead had been restored to life and had found a new aggressiveness."
A decade later there was an even bigger revolution – MPs voted to allow television cameras into the Commons.
The 1988 vote was passed despite Prime Minister Margaret Thatcher's opposition, and followed multiple unsuccessful attempts.
History of the BBC – Broadcasting Parliament
Three decades later Parliamentary footage is taken for granted, although there are still strict rules governing its distribution.
Parliamentary rules forbid using footage for "satire, ridicule, or denigration" – which is why you will never see shots of the Commons on programmes like Have I Got News for You? – or for commercial purposes.
It is also forbidden to "edit, alter, add to, distort, or digitally manipulate the material in any way, except to select and reproduce excerpts from it or to make colour corrections".
One day Parliament's photography ban could go the way of its audio and TV bans.
But for now, the Instagram ban stands, and MPs flouting it will continue to be "asked to stop and reminded of the rules".