What to Know
At least six officers were shot during an hours-long standoff Wednesday.

Gunfire erupted after narcotics police served a warrant to a home in Nicetown-Tioga.

One suspect is in custody but police continue to battle with another gunman.
Two Philadelphia police officers trapped inside a rowhome with a suspected gunman were safely evacuated Wednesday evening, five hours after a shootout earlier in the afternoon that left six other officers wounded by gunfire.
None of the officers suffered life-threatening injuries, Police Commissioner Richard Ross said, adding that at least one officer suffered a graze wound to the head.
A standoff with the suspect, believed to be heavily armed with weapons including an AK-47, continued past 9:30 p.m. in the Nicetown-Tioga section of North Philadelphia.
The initial shooting prompted a massive response to the largely residential North Philadelphia neighborhood, which is roughly 2 miles north of Temple University and about 4 miles north of Center City.
Officials were still attempting to communicate with the gunman and "imploring him to surrender," police said.
"We have a very volatile situation unfolding," Ross said. "There is no indication [the gunman] is trying to surrender," he added.
Gunfire initially erupted around 4:30 p.m. after narcotics officers served a warrant to a house near the corner of North 15th and West Butler streets, according to officials.
As officers rushed upstairs, a gunman waiting downstairs with an AK-47 fired several rounds through the ceiling. Police returned fire while several officers escaped through windows and doors.  
"I'm a little angry about someone having … that much firepower," Philadelphia Mayor Jim Kenney said outside a hospital where officers were being treated for their injuries.
Listen to the Moment Shooting Broke Out in North Philadelphia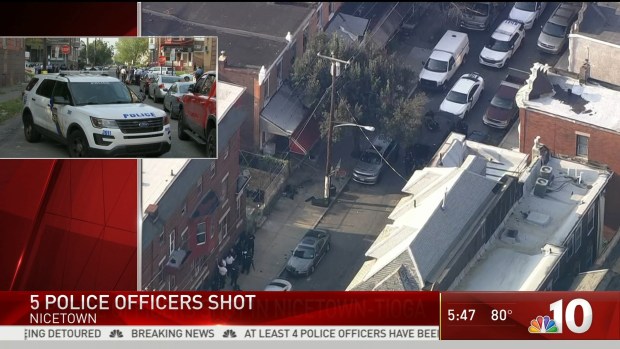 A seventh police officer responding to the scene was injured in a car accident at the nearby intersection of North Broad and West Cayuga streets. A pedestrian was also injured, police say.
All of the officers were in stable condition, officials said.
There have been conflicting reports about others who may have been taken into police custody in the aftermath of the initial raid. Police initially said at least one suspect was taken into custody, but Ross said at a press briefing that he couldn't say with certainty that anyone remained in custody.
Neighbors said they watched in terror as the violent scene unfolded on their block. 
"It was like a war – like a scene that you see in war," a resident told NBC10. "The guns, the fire, the noise – it was like bombs going off simultaneously at a time where people are having dinner."
Injured Police Officer Rescued From Gunfire in North Philadelphia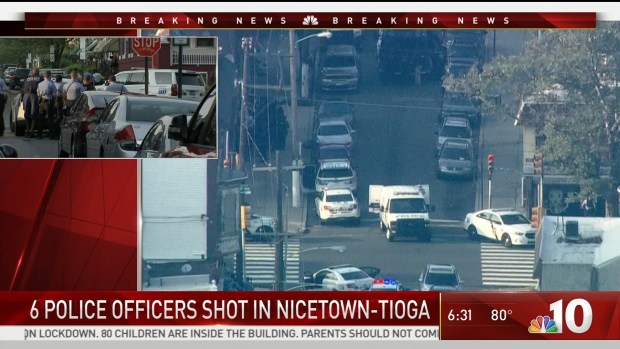 Frantic calls from responding officers were obtained by NBC10 via Broadcastify. Policed pleaded for back-up shortly after the shooting started.
"Officer calls for everything you got. SWAT, long gun," a law enforcement officer can be heard saying on the audio. "I got an officer shot."
The officers were seen crouching behind cars, blocking off surrounding streets and surrounding several nearby homes as the firefight unfolded. 
Nearby, stunned families and neighbors gathered behind police tape. Several churches and a day care are in the immediate area.
That day care, Precious Babies Learning Academy, serves children as young as 8 weeks old. It was placed on on lockdown while some 80 children huddled inside, according to owner Yvonne Thomas-Curry.
"It was reported that all the children are safe, however we still are asking the parents to not come near the scene," she said. "It still is dangerous. Children will remain in shelter in place and safe inside with their teachers."
As Thomas-Curry spoke to NBC10, the children were escorted out of the day care by police. They were reunited with their families at a safe location.
Second Witness Describes Chaos in North Philadelphia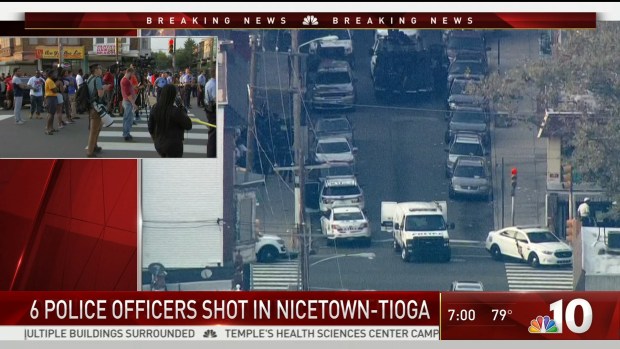 The stunning "firefight," as police described it, gripped the region and garnered national attention.
Pennsylvania Gov. Tom Wolf and President Donald Trump both said they were monitoring the developing situation. Gov. Wolf also postponed a planned announcement on Thursday on the signing of an executive order to reduce gun violence.
"Tonight is another reminder of the selfless sacrifice of our law enforcement officers and first responders," Wolf said. "We are praying for a peaceful resolution and the full recovery of all those injured. We must remain committed to combatting violence and getting dangerous weapons out of our communities."
Democratic vice presidential candidate, Joe Biden, a Scranton, Pennsylvania, native, tweeted his response to the shooting:
"Dr. Biden and I send our prayers to the police officers injured today in Philadelphia, and to their families who wake up every day knowing that their loved ones are walking into harm's way when they put on the badge. We're grateful for the selfless work they do to keep us safe."
District Attorney Larry Krasner and U.S. Attorney William McSwain were among several local leaders who arrived at the hospital shortly after injured officers were taken for medical treatment.
Mayor Kenney and Commissioner Ross Speak on Shootout That Injured 6 Officers
A lockdown at Temple University's Health Sciences Center campus was lifted after several hours.
The shooting caused major delays for SEPTA's bus and trolley services.
Neighbor Reacts to Dangerous North Philadelphia Shooting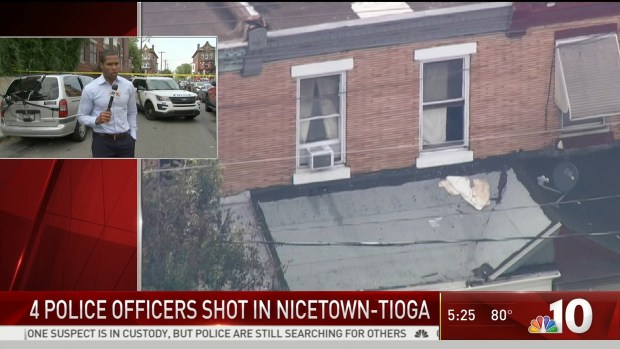 This story is developing. Check back frequently for updates.